BlackBerry DTEK50
Info Photos News Forum 5 Reviews 1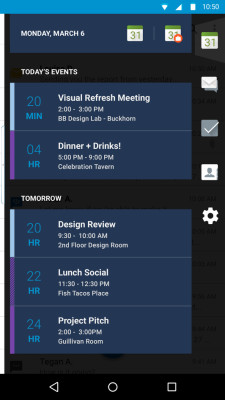 BlackBerry today pushed out a brand new version of the Productivity Tab application for Android handsets, including the Priv, DTEK50, and DTEK60. BlackBerry says the Productivity Tab is now cleaner and more user friendly thanks to the addition of features such as Quick Triage for items in the Hub. It also introduces a new Quick Actions tool for entries in the contacts app. BlackBerry says Android device owners who use this app will be notified of the update over the next few days. It should appear automatically. The Productivity Tab will be installed on BlackBerry's newest handset, the KeyOne, when it is released later this year.
---
BlackBerry is pushing the March security patches from Google to its BlackBerry Priv, DTEK60, and DTEK50 smartphones. Google made the security patches available to its own Nexus and Pixel devices earlier this week. The combined March 1 and March 5 patch plugs a significant number of vulnerabilities, including at least 10 classified as critical. Critical holes can lead to remote code execution, which means hackers can take control over devices from afar. BlackBerry says Priv, DTEK60, and DTEK50 owners should see the update appear over the next few days. Alternately, users can seek the update manually via their phone's system settings.
---
TCL, the parent corporation of Alcatel, unveiled its new handset strategy moving forward. The company will continue to build its Alcatel-branded smartphones that target the low/value end of the market. These devices will run Android and will generally be sold via carriers and the open market. The company will also work closely with BlackBerry to design BlackBerry-branded handsets for North America and other markets. TCL will make the hardware, but it will rely on BlackBerry's hardened version of Android with government-grade security and business software on board. TCL sees its new partnership with BlackBerry as a way to get its phones into the high-end and enterprise segments of the market. BlackBerry and TCL hope to regain the trust of corporations that have in recent years turned to Apple and Samsung for employee devices. TCL plans to work with BlackBerry's sales team to sell BlackBerry-branded handsets directly to businesses, but it also intends to forge new carrier deals to reach consumers via carrier stores over time. TCL's Steve Cistulli says the BlackBerry DTEK50 and DTEK60, which are rebranded variants of the Alcatel Idol 4 and 4S, are performing well and have helped level off the decline of BlackBerry sales in North America. TCL believes it can reverse that decline over time with a range of unique BlackBerry handsets. The company also revealed its first entirely new BlackBerry smartphone that is scheduled to debut later this year. The phone is a slab with a physical QWERTY keyboard and touch screen. TCL did not announce the phone's name, nor its specs. BlackBerry said it will continue to support BBOS 10, and pointed out that it recently released BBOS 10.3.3 for older phones such as the BlackBerry Classic.
---
BlackBerry today said moving forward TCL Communications, the parent company of Alcatel, will be responsible for designing, manufacturing, selling, and supporting all BlackBerry-branded smartphones. The companies struck an agreement that sees TCL licensing BlackBerry's security software and service suite along with the BlackBerry brand. TCL has already made two BlackBerry smartphones, the DTEK50 and DTEK60, which are variants of the Alcatel Idol 4 and Idol 4S, respectively. BlackBerry said it will continue to control and develop its security and software solutions, as well as serve enterprise customers' needs. BlackBerry called the agreement "a key step in our strategy to focus on putting the 'smart in the phone' by providing state-of-the-art security and device software on a platform that mobile users prefer and are comfortable with. We are confident that BlackBerry-branded products developed and distributed by TCL Communication will address the needs of BlackBerry users and expand the availability of BlackBerry Secure products throughout the world." BlackBerry has been winding down its own hardware business for some time and in September announced plans to halt making smartphones altogether. At the time, BlackBerry had not yet named a manufacturing partner.
---
BlackBerry's trio of Android smartphones can now download a series of system and software updates that add features and bolster performance. BlackBerry Hub+, for example, now allows users to hide specific accounts or stop them from syncing, as well as create custom views for emails from specific contacts. The BlackBerry Keyboard app has been improved with easier switching between languages, expanded Chinese language input, and support for fingerprint authentication (DTEK60 only). The BlackBerry Launcher has a new dark theme, and BlackBerry Password Keeper introduces a built-in browser, autofill tweaks, and support for non-Latin characters. Google says Priv, DTEK50, and DTEK60 owners should receive notifications once the updates are available to their handset.
---
BlackBerry today announced an update to its Hub+ subscription service for Android devices. Hub+ users will now be able add Facebook Messenger to Hub+ and manage Messenger communications directly in the Hub. Hub+ also makes it easier to save inline images and improves support for admin-defined signatures for business users. Beyond Hub+, BlackBerry updated the BlackBerry Android Keyboard, BlackBerry Launcher, and Password Keeper apps. The Keyboard gains new ways to switch languages and global gesture support. The Launcher now includes a dynamic calendar icon that will show the current date. BlackBerry's Password Keeper adds secure lists and support for fingerprint sensors, and makes organizational changes to the settings panel. In addition to the new features, all the apps gain performance improvements. BlackBerry's own Priv and DTEK50 handsets will see speed enhancements in the camera app. BlackBerry's Hub+ and other Android apps are available from the Google Play Store. Hub+ requires a monthly subscription.
---
BlackBerry today said it will no longer make and sell its own smartphones. Instead, it will rely on original device manufacturers to design and make devices that will carry BlackBerry branding and software. The company employed this strategy earlier this year with the DTEK50, which was a rebranded Alcatel Idol 4. BlackBerry uses Google's Android platform as a base and hardens it with respect to bugs and security. It then packages this with its BlackBerry Suite of apps and services. "We are reaching an inflection point with our strategy," said CEO John Chen. "Our financial foundation is strong, and our pivot to software is taking hold. Under this strategy, we are focusing on software development, including security and applications. The company plans to end all internal hardware development and will outsource that function to partners." BlackBerry calls this its Mobility Solutions strategy. The company has already forged a licensing agreement with a telecom joint venture in Indonesia. BlackBerry announced the news along with its fiscal 2017 second quarter earnings report. The company generated $352 million in revenue, of which $156 million came from its software business.
---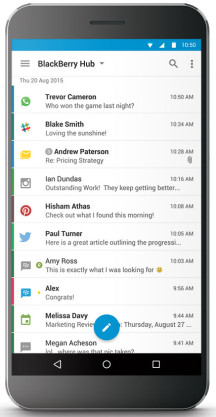 BlackBerry today made its BlackBerry Hub+ suite of enterprise applications available to a wider range of devices. At the same time, it added five more apps to the suite. BlackBerry released Hub+ last month as a free trial for Android Marshmallow devices, but it was limited to the Hub, Calendar, and Password Keeper apps. Today, Hub+ becomes available to devices running Android 5 Lollipop and low-res Android 6 phones. Moreover, Hub+ now includes BlackBerry's Contacts, Tasks, Device Search, Notes, and Launcher apps. Hub+ is being offered to Android users for a free 30-day trial period and for 99 cents a month thereafter. For those not interested in the monthly fee, an ad-supported version of BlackBerry Hub, Calendar, Password Keeper, and Launcher will remain available. The Hub+ is the same software BlackBerry's own Priv and DTEK50 smartphones use for communications. The Hub+ provides a central place to manage email, text, IM, and social media messages. BlackBerry said it is still working to bring Hub+ to iOS.
---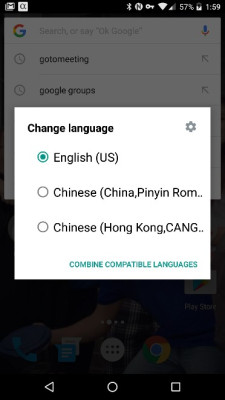 BlackBerry today began rolling out a series of software updates to its Android-based handsets, the Priv and DTEK50. The upgraded software adds new features and improves functionality across various apps. The Hub gains pinch-to-filter, quick send, Viber integration, and Twitter refresh along with WhatsApp and other, general performance improvements, such as quicker load times for long email threads. BlackBerry tweaked the BlackBerry keyboard with quicker language switching, Chinese support, and an on-screen pointer mode for the Priv. The camera app now includes remote shutter triggering, video preview imagery, manual control settings, and a toggle for managing video capture resolution. The calendar adds support for free/busy suggestions for Microsoft Exchange ActiveSync users and cleans up the event invite user interface. BlackBerry said Priv and DTEK50 owners can update these apps individually via the Google Play Store.
---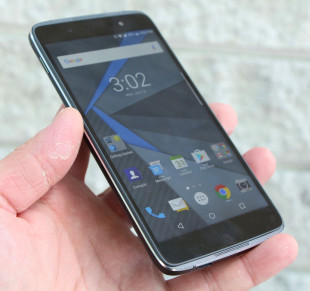 BlackBerry's DTEK50 may be a rebadge of the Alcatel Idol 4, but it still manages to look and feel like a BlackBerry. This slim slab should appeal most to those who need enterprise-class security for their business smartphone. Here are Phonescoop's first impressions of the DTEK50.
---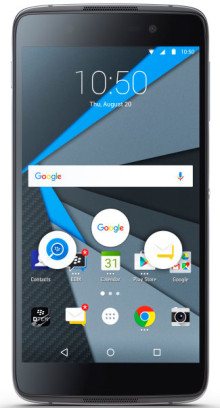 BlackBerry today announced the DTEK50 smartphone, a slab-style handset that runs Android and features BlackBerry's signature communications and security software. BlackBerry says the DTEK50 features FIPS-2 hardware encryption, rapid security patching, secure boot process, and a hardened Android OS core. It includes Android for Work and Google Play for Work, as well as support for BlackBerry's full enterprise mobility management suite. Other features include BBM, BlackBerry Hub, the BlackBerry intelligent keyboard, and a customizable action key. The hardware is a rebadged version of the Alcatel Idol 4, which was announced earlier this year. The DTEK50 has a 5.2-inch full-HD LCD display, Snapdragon 617 processor with 3 GB of RAM, and 16 GB of storage. It has a 13-megapixel camera main camera, 8-megapixel front camera, NFC, Cat 6 LTE, memory card slot, and Quick Charge 2.0. The phone ships with Android 6.0 Marshmallow. The DTEK50 is available for preorder in the U.S. and other countries starting today for $299. BlackBerry said it will reveal shipping dates on a regional basis over the coming weeks.
---