Nokia N-Gage QD
Info Photos News Forum 100+ Reviews 18
Nokia has acknowledged that it will be shuttering its N-Gage gaming service next year. Gamers will be able to download and purchase games that have already been published on the N-Gage platform through September 2010, and the N-Gage community web site will remain open until the end of 2010. Nokia said that it will no longer publish new games for the N-Gage service. N-Gage started life as a hardware-based gaming platform, and later moved online. After N-Gage is fully shut down, games will only be available from the Ovi Store.
---
Early users of Nokia's N-Gage gaming platform discovered phrases in the licensing agreement that said users would be unable to transfer purchased games from one handset to another. Nokia initially confirmed that discovery. Today, it clarified that there had been miscommunication and that users will be allowed to transfer games. The mechanism to do so, however, is not yet available and Nokia has not said when it will be ready.
---
Nokia plans to make a formal announcement launching the full availability of its N-Gage gaming platform on Monday, but the service is already up and running and ready for download.
---
Nokia has finally begun making a beta version of its N-Gage gaming platform available to users of the N81 multimedia phone. The N81 is optimized to take advantage of N-Gage, which is why it is the first phone supported. N-Gage will eventually support other phones. N-Gage had been delayed twice due to software testing issues. Nokia also launched a new social networking site called Share On Ovi. The Share site takes advantage of technology Nokia acquired when it bought Twango. It will allow users to share photo and video content.
---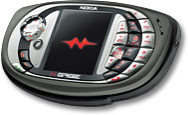 Nokia today announced the second iteration of its N-Gage gaming device - the N-Gage QD. Key differences compared to the original N-Gage include a lower price tag, smaller size, an easily-accessible hot-swap card slot for games, and a "reoriented ... speaker and microphone to support 'classic talking'." Other upgrades include longer battery life, improved gaming controls, and a brighter screen. The GSM 900/1800 version will be released next month, with a GSM 850/1900 variant for the Americas to follow in June. The unit is expected to retail for $199, or $99 subsidized with a contract.
---