Kyocera DuraForce XD
Info Photos News Forum 1 Hands-On › Our Review ›
Kyocera today said T-Mobile will soon be selling the DuraForce XD rugged Android smartphone. Starting May 11, the DuraForce XD will be available online and in stores for $449.99. The DuraForce has a 5.7-inch display, 3,700mAh battery, and 1.6 GHz quad-core processor. The phone had been available from AT&T since earlier this year.
---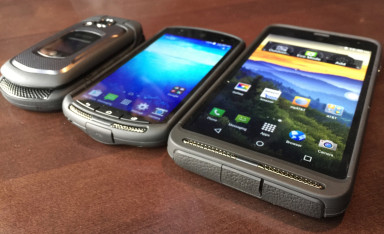 Kyocera kicked off CES with two new phones for AT&T. The DuraXE is a rugged flip and the DuraForce XD is a rugged phablet. Both are practically unbreakable and come with business and consumer-friendly features. Here are our first impressions of these two handsome handsets.
---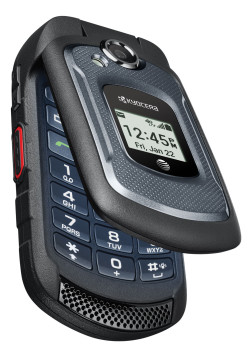 Kyocera and AT&T today announced the DuraXE, an ultra-rugged feature phone that includes PTT and hotspot capabilities. The DuraXE is rated mil-spec 810G for durability and IP68 for protection against water and dust. The phone can handle shock, vibrations, blowing rain, temperature extremes, high humidity, and immersion in 6 feet of water for up to 30 minutes. The DuraXE has dual screens, including a 1.08-inch external monochrome display and a 2.6-inch main color display. The phone is powered by a 1.1 GHz quad-core Snapdragon 210 processor and includes 1 GB of RAM, 8 GB of storage, and supports memory cards up to 32 GB. The phone runs on AT&T's LTE network and includes GPS, Bluetooth, and WiFi. It can serve as a mobile hotspot for up to 10 other devices, which is novel for a non-smart phone. Kyocera says the 1500mAh battery provides extended standby time. AT&T will begin selling the DuraXE January 8. It will cost $13.50 per month for 20 months on an AT&T installment plan. AT&T will also sell the DuraForce XD phablet, announced several months ago, on January 8. The DuraForce XD will cost $14.97 per month with an AT&T Next 24 plan. Contract pricing is available only to business customers.
---