Review: Kyocera DuraForce XD for AT&T
Hardware Software Wrap-Up Comments
Jan 19, 2016, 6:00 PM by Eric M. Zeman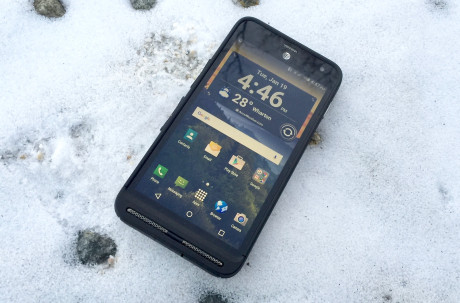 Kyocera's latest rugged hardware is built like a tank, which means it's tougher than hell, but also huge and heavy. If you need a hardy handset, this Android phablet has you covered and then some. Phone Scoop put the DuraForce XD through its paces in this in-depth report.
Is It Your Type?
The DuraForce XD is one of the largest, most-rugged handsets to ever come from Kyocera. This monster of a phablet is for the outdoor adventurer or field force worker who wants/needs the biggest, toughest phone they can get their dirty, gloved hands on.
Body
Kyocera has long made some of the world's toughest and strongest cell phones. The DuraForce XD is a fully ruggedized handset that can take a beating and a bath, and emerge unscathed. The XD picks a up where last year's DuraForce left off. Where the DuraForce is rugged and somewhat compact, the XD amps up the screen size and overall footprint to the extreme. It is quite possibly the biggest (modern) smartphone I've come across.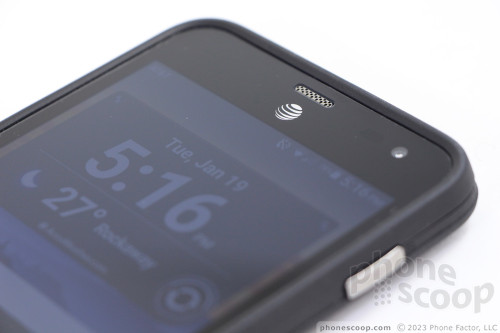 As is typically the case for rugged phones, the XD is formed by layers of protective materials to keep it safe from bumps and bruises. The tough materials necessitate a certain industrial design that is blunt and lacking finesse in any capacity. The XD has chunky lines, thick buttons, and hardware such as exposed screws. Nearly everything is matte black. The only exceptions are a red stripe on the programmable action key and several chrome accents. The XD is plain, but that's expected. It would fit right in taped to the dashboard of a tractor or backhoe. I'd bring something more refined out to your dinner date on Saturday night.
The XD is ludicrously large. Thanks to the 5.7-inch screen and surrounding protection, the XD measures 6.57 inches tall by 3.4 inches wide and 0.55 inches thick. It weighs in at 10.83 ounces, or 0.68 pounds. That's a much as some tablets. The XD often requires two hands to use effectively. My thumb can barely reach half the display when I try to use it one-handed. (Kyocera offers software to alleviate this issue.) This phone does not fit easily into pockets unless you're wearing MC Hammer pants from the early 90s. I could barely jam the XD into my jeans, and even then it was very uncomfortable to walk around with. This thing needs a man-purse, tactical vest, satchel, or some other means of on-body transport. It will fit into coat pockets, which makes it easier to carry around when it's cool outside.
The materials and build are not all that surprising for this class of device. As noted, there's an amalgamation of tough plastics, glass, metal, and some semi-rubberized surfaces. The plastic that forms the rear shell is rather coarse. There are large, faux-leather trapezoidal shapes on the back surface that stand out visually. For a watertight device, I wish some of the seams were a bit tighter (at least visually). I was surprised by how uneven some of the joints were and the gaps made me question the integrity of the build, but the issues are merely cosmetic. Despite the gaps the XD is rugged as all heck.
Of course we tested the ruggedness claims made by Kyocera. I left the phone outside in the freezing rain one night. It was covered in ice and snow the next morning and still functioned without issue. I dropped it a lot, threw it down the street, drove over it with my car, dunked it in the sink, held it under running water, and so on. There's not a scratch on the darned thing. Kyocera knows how to make a tough-as-nails phone. The mil-spec rating lives up to its billing.
The shiny glass face is rimmed by a raised rubber frame. This frame protects the glass when the XD is placed face down. The rubber extends perhaps 40% down the side edges, which adds to its protective layer. The glass collects fingerprint grime, but not as severely as some phones.
Every surface of the XD has something going on. The left edge holds the user-programmable button and volume-toggle. The programmable button is enormous and protected by a thick frame. The frame makes the button easy to find, but this is a key you have to *want* to press. It's buried a bit deep and takes focus to push; I had trouble with it when wearing gloves. The volume toggle, placed closer to the top edge, stands out nicely. The volume up/down buttons are angled just a bit and the buttons have near perfect travel and feedback. Then right edge houses the screen lock / power button. It's got a rounded shape and is covered in chrome. The size and shape make it a cinch to find and use, and the action is great.
A dedicated speakerphone button sits on the top edge. It's small, but I didn't have any trouble finding or using it, even with gloves on. A beefy hatch is located on the top as well. It protects the headphone jack. The hatch must be closed to maintain integrity of the phone against water. The same goes for the hatch on the bottom surface, which protects the USB port. I was unable to open the hatches with gloves on, but that's not surprising.
Kyocera took a strange design path with the back surface. Many waterproof, rugged phones have a rear shell that's screwed on. You'll see the XD's battery cover is screwed on, too. Rather than use a rectangular piece of plastic, the XD's rear panel is sort of shaped like a butterfly, with crazy wings that extend from the four corners. It's an odd design choice, made to accommodate the faux leather trapezoidal blocks mentioned earlier. The panel takes some effort to pry loose.
Once removed, you have access to the battery, SIM card, and memory card slots. The battery has a sliding lock mechanism to help keep it in place. You have to unlock this mechanism in order to remove the battery, and you have to yank the battery to get at the two card trays. The tray for the SIM card is a bit tricky to use and is a wee bit delicate. The memory card module is protected by a rubber flap that must be moved to one side in order to insert a card. Hopefully these are things you only have to do once.
Kyocera created a beast in the DuraForce XD. It's tough, it's huge, it's the Godzilla of rugged smartphones.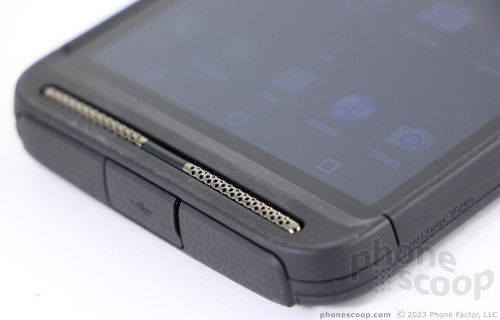 Screen
The XD's screen is squarely in the middle of phablet territory. It measures 5.7 inches across the diagonal, which lands between the 5.2- and 6-inch dimensions that seem to define what is and isn't a phablet thsee days. The panel includes 720p HD resolution (1280 x 720). I wish the resolution were higher for the size. Individual pixels aren't quite visible, but you can see some jagged edges on some icons/graphics here and there. Viewing angles are good. The screen is acceptably bright for indoor/outdoor use, but it leans toward the yellow end of the color spectrum. What should be pure whites appear a bit yellowish, which I found distracting from time to time. However, the XD's screen offers some benefits few others do: namely, wet-finger tracking and gloved-finger sensitivity. The XD's screen functions just fine in the blowing rain or with work gloves on. Those are key for this class of device.
Signal
AT&T sells the DuraForce XD and I tested the phone on AT&T's network in and around NYC. I'd rate its performance as average when compared to other phones I've reviewed on AT&T's network. I didn't have any trouble connecting calls no matter where I took it. The phone held a call at highway speeds without issue, but it did miss a couple calls in poor coverage areas. Data speeds felt quick across AT&T's LTE network. I was pleased enough when browsing the web, perusing Facebook, or scrolling through Twitter. Instagram, which is image/video heavy, was the only app that felt a little sluggish from time to time over LTE. The XD's cellular radio does its job.
Sound
The XD is a very good voice phone. I wish voices were just a wee bit clearer in the earpiece, but dangit are they loud. The volume goes a long way to helping ensure you can maintain conversations indoors, outdoors, and everywhere in between. I easily managed to hold a conversation in a really loud bar during a playoff football game. The clarity came across as a bit robotic, and the earpiece was prone to distortion every now and then. But those I spoke to through the XD said I sounded great. The speakerphone is also ridiculously loud. You're more likely to experience some distortion via the speakerphone, but calls are still manageable. You'll have no problem using the speakerphone in a moving car, truck, or tank. Accordingly, ringers and alerts are stupefyingly loud. The vibrate alert could be better.
Battery
Kyocera gifted the DuraForce XD with a 3,700 mAh battery for flat-out insane battery life. It typically took two days to kill the XD's battery fully. In fact, it was a chore to drain this phone's battery. I tested it over a span of about a week, and was barely able to get the phone down to 0%. The DuraForce XD delivers when it comes to the battery.
If you somehow manage to find yourself in trouble, the XD includes Kyocera's Eco Mode for curtailing power drainage. This tool is highly configurable and make a significant impact on overall battery life when needed. You can coax up to three days out of this phone easily, if you truly want/need to. Huzzah!
Bluetooth, GPS, NFC, WiFi
The XD's various wireless radios all connected seamlessly with the networks and gear they were meant to. The Bluetooth radio, for example, easily paired with other phones, as well as headsets, headphones, PCs, speakers, and my car's hands-free system. Calls routed via Bluetooth headsets were pretty good. Volume was particularly impressive. The same is true of calls sent through my car's speakers. Music passed to a good Bluetooth speaker was good, though not the best I've heard.
I was able to make use of the NFC radio to pair with Bluetooth devices as well as setup Android Pay. (Finding places that accept Android Pay is another story.) The NFC radio was also handy for snagging device settings from an older Android handset.
The GPS radio worked perfectly. It located me quickly and accurately, and interfaced with Google Maps without problem. I'd say accuracy was as good as about 15 feet. The XD worked well in navigation mode and was able to route me from point to point without issue.
I didn't have any trouble with the WiFi radio.
No messages