Review: Kyocera DuraForce XD for AT&T
Hardware Software Wrap-Up Comments
Lock Screen
Kyocera didn't do much to differentiate the XD's lock screen experience from other Android phones. The screen will not turn on automatically to show incoming notifications and there are no fancy gestures to wake the display; instead, you need to press the screen lock button or the programmable key.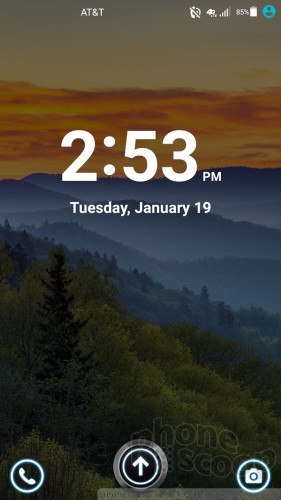 The information displayed on the lock screen includes a humongous clock, notifications, and shortcuts to the phone/camera. This is pretty typical. I love that the clock is so chunky and readable. Individual notifications can be hidden for privacy reasons, or exposed so you know exactly who left the most recent voicemail.
Advertisements article continues below...
The XD does not make use of fancy biometrics, such as fingerprint reader or iris detector, to secure it. You'll need to rely on the old PIN, password, or pattern options available to most Android phones. You can tweak how long before a password is required and what happens when people try to break into the phone (i.e., locks permanently, erases content, etc.)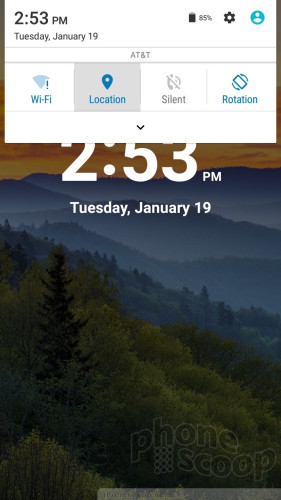 Home Screens
The XD runs Android 5.1 Lollipop. The home screen experience is close to stock, but Kyocera did make a few changes here and there.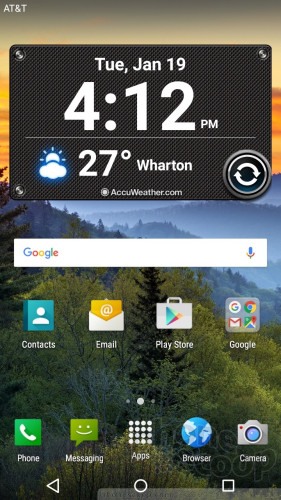 There are three home screen panels active out of the box and two are pre-loaded with app shortcuts and widgets. The behavior of these panels is more or less unchanged and you can customize them at will. One thing unique to the XD: you can choose to turn the home screen panels off entirely and use only the app menu.
The app menu is arranged in side-by-side panels that can be arranged alphabetically (default) or customized to suit your tastes. A slide-out tray also makes it possible to sort between all apps, those recently downloaded, and those frequently used.
The Quick Settings tray, settings tools, and app menu have been reskinned. I don't care much for the fonts/colors selected by Kyocera in the Quick Settings Tray and settings menu, but each is organized more or less how you expect them to be for an Android handset.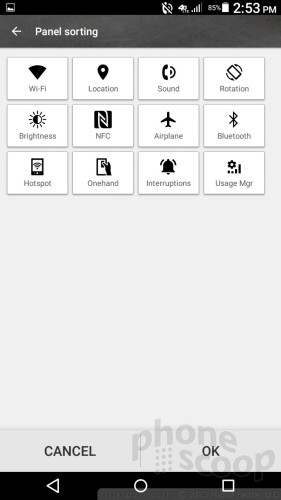 The XD includes an extensive array of home screen widgets from Kyocera that are related to its "outdoor" apps/functions, such as the barometer, altimeter, weather, and so on.
Perhaps my biggest gripe with the XD is performance. The phone has a 1.6 GHz quad-core Snapdragon 400 processor with 2 GB of RAM and it feels underpowered from time to time. The phone was sometimes sluggish when transitioning between screens and opening apps. A number of times, it paused for one or more seconds after a screen press before recognizing the input and taking action. I haven't seen a phone behave like this in a long time.
Camera
The XD's camera app is fairly robust, but the phone's performance issues make it frustrating to use.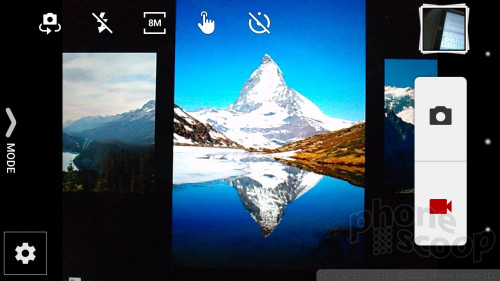 As noted, the action key can be programmed to open the camera if you want. This is the quickest method to launch the camera app, though it's only marginally faster than using the lock screen shortcut. The camera can be set to bypass your security lock if you choose.
The main screen is somewhat busy, but is thankfully customizable to some degree. Shooting modes are accessed through a slide-out tray on the left. Access to the settings is found on the left, too. Several quick action buttons line the top of the viewfinder.
The shooting modes include normal, burst, effect, scene, manual, slow-motion, time-lapse, and panorama. Each mode is self-explanatory and behaves as you'd expect. Effects are essentially Instagram-style filters for artistic purposes, and "scenes" account for different shooting locations/lighting, such as landscapes, portraits, night, etc. The manual mode doesn't afford as much control as I'd like, and only permits a few adjustable parameters, such as exposure and white balance.
Using the settings tools, you can select which quick actions appear at the top of the screen. You can choose up to four. I like this.
The camera is by far the most sluggish app on the phone. It's slow to open, slow to adjust settings, and slow to focus and capture images. I've seen worse, but it's not up to speed with some mid-range phones I've tested lately, such as the Blu Studio Selfie.
Photos
The XD's 8-megapixel sensor does an acceptable job of snagging images, but it lags the competition. Photos ranged from poor to good, but I'd rate the majority at just below average.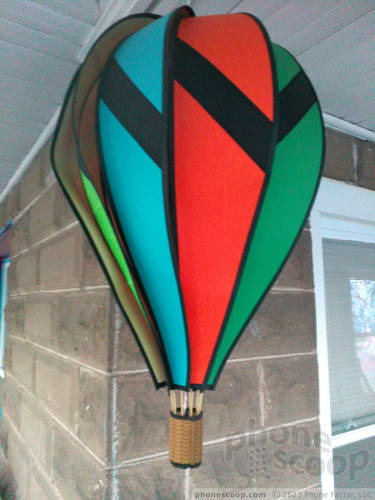 The biggest issue is focus (see trees and hanging pot below). Because the camera is slow, I found I often moved the XD before the phone was done capturing the picture. This led to lots of blurry shots. Even when I held the camera still, images were a bit soft. Exposure ranged all over, but was generally okay. White balance was most often accurate. I did see some problems in balancing exposure in scenes that have bright and dark areas. (HDR — which the XD lacks — would help solve this.)
The XD suffices for everyday use, but I'd take dedicated gear with me to important events that require good results.
The same goes for the XD's video camera. The slow-mo and time lapse tools are fun, but the standard 1080p HD footage is average at best.
AT&T/Kyocera Stuff
Both AT&T and Kyocera have installed a number of apps on the XD. AT&T crammed its usual selection of branded services, such as Navigator, YellowPages, FamilyMap, myATT, MobileTV, and so on. Perhaps the most important is EPTT, which adds push-to-talk capabilities to the handset. This requires an additional service fee, but makes walkie-talkie conversations possible with other similarly equipped devices. I am happy to report that at least some of these preloaded apps can be uninstalled if you wish.
Kyocera's additions are outdoorsy in nature. The overarching app is called Outdoor Report, and it bundles together a handful of other apps that check the weather, barometric reports, tidal reports, and so on. Each of these functions has a large and useful widget of its own, but they can also be viewed collectively in one combined widget. These tools can be useful to folks who spend time outside and regularly check such things.