Samsung Galaxy S6 (CDMA)
Info Photos News Forum 20 Reviews 6
Samsung today said it is introducing a new policy to distribute security patches to its mobile devices once per month. The company said the change will help protect its device owners. "With the recent security issues, we have been rethinking the approach to getting security updates to our devices in a more timely manner," explained Samsung. "Since software is constantly exploited in new ways, developing a fast response process to deliver security patches to our devices is critical to keep them protected." Samsung said it will work with its carrier partners to make sure the patches are distributed as soon as possible. Samsung recently fast-tracked a security update for its newest Galaxy smartphones to repair the Android Stagefright vulnerability. The patch is being distributed to some Galaxy S6 and S6 Edge smartphones.
---
Sprint today introduced a new plan that combines the cost of a service plan with the cost of a handset in one monthly payment. The Sprint All-In plan costs $80 per month and includes unlimited talk, text, and data, and a Sprint Lease on handsets such as the Apple iPhone 6, Samsung Galaxy S6, and HTC One M9. There are no up-front phone costs aside from a one-time, $36 activation fee. The $80 monthly rate does not include taxes. Sprint believes this is the simplest, most straight-forward plan in the market. Sprint will use soccer star David Beckham to advertise the plan, which is available in Sprint stores beginning today.
---
Samsung and Think Tank today introduced a beta app called Flow, which is meant to help people transition tasks from one Samsung device to another. It is similar in concept to Apple's Continuity feature for iOS and Mac hardware. Flow offers Samsung smartphone owners two distinct use-cases: transfer an activity or defer an activity. With transfer, people can work on a particular activity and then move it to another device and pick up right where they left off. For example, users can listen to clips on Soundcloud on their smartphone and then transfer the activity to their tablet without missing a beat. The deferring feature lets people defer an incoming activity request on one device if, for example, it's not the right device for that particular task. They can then pick up the activity on whichever other device they prefer when they're ready. According to Samsung, Flow supports existing applications through Android's share mechanism. Samsung expects to add more features, including notify, mirror, and divide, to Flow over time. For the moment, Flow is limited to the Galaxy S5, S6, and S6 Edge; Galaxy Alpha; Galaxy Note 4 and Note Edge; and the Galaxy Tab S. The beta app is free to download from the Google Play Store.
---
Verizon Wireless today marked the one-year anniversary of its XLTE service by expanding coverage to six additional markets. XLTE is now available in Marshalltown, Iowa; Madisonville and Owensboro, Ky.; Traverse City, Mich.; Meridian, Miss.; and Martinsville, Va. Verizon's XLTE coverage is available in more than 400 markets. It combines Verizon's 700MHz and AWS spectrum to boost capacity of its LTE 4G network. Verizon says it has more than 40 XLTE-capable devices, including the Apple iPhone 6 and Samsung Galaxy S6.
---
U.S. Cellular has begun accepting preorders on its web site for the Samsung Galaxy S6. U.S. Cellular wants $199.99 for the 32 GB S6 or $299.99 for the S6 Edge, each with a two-year contract. Customers who prefer to pay over time can score the S6 for $34 per month or the S6 Edge for $39.50 per month. The 64GB models of the S6 and S6 Edge cost $299.99 and $399.99 with a two year contract, respectively, or $38.50 and $44 per month. U.S. Cellular is offering the Galaxy S6 and S6 Edge in black or white, but not the gold color being sold by the big four carriers. U.S. Cellular didn't specify shipping dates.
---
Sprint is hoping to attract customers to its network with a combined promotion that includes the Samsung Galaxy S6 and a Sprint Unlimited Plus service plan for $80 per month. The plan includes the 32GB GS6 for "free" after a $20-per-month credit with a 24-month lease; unlimited talk, text, and data; international value roaming; and annual upgrades. Customers who want the 64GB or 128GB models can get them for $85 and $90 per month, respectively, with the same service plan. Families interested in the Galaxy S6 can score four of them with unlimited talk and text, and 20GB of shared data for a total monthly price of $200 per month. Annual upgrades would cost another $10 per line per month. Customers looking for the Galaxy S6 Edge can snag one for $85 per month ($5 per month after $20-per-month lease credit) with the Sprint Unlimited plan. Customers not interested in contracts or leases can pay full price for the Galaxy S6 ($649.99) and pair it with a Boost Mobile plan. The Galaxy S6 and S6 Edge go on sale in Sprint stores April 10, with pre-orders beginning March 27.
---
Verizon Wireless today indicated via one of its official Twitter accounts that preorders for the Samsung Galaxy S6 and S6 Edge will start April 1. Verizon did not provide pricing nor availabiliy details.
---
The Car Connectivity Consortium today announced that the Samsung Galaxy S6 and S6 Edge, and the HTC One M9 support the MirrorLink standard for connecting to cars. MirrorLink is a platform-agnostic tool that allows smartphones to push apps and content to in-dash consoles. It competes with Google's Android Auto and Apple's CarPlay. With MirrorLink on board, the GS6, GS6 Edge, and One M9 will be able to connect to the infotainment systems of supported cars.
---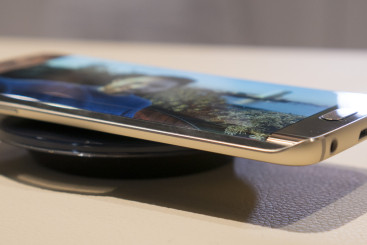 Samsung trotted out two versions of its flagship smartphone for 2015 and took them in a new direction with respect to design. The Galaxy S6 and S6 Edge boast the highest quality materials and build we've seen from Samsung. Here are our first impressions of these two phones
---
Samsung today announced the Galaxy S6 and Galaxy S6 Edge, two Android smartphones that marry high-quality design with leading specs. The devices are made with a mix of metal and glass materials, with the GS6 Edge offering a curved display on two sides. According to Samsung, the display is protected by Corning Gorilla Glass 4 and comes in several jewel tones with names like black sapphire, white pearl, blue topaz, and gold platinum. Aside from the display, all specs are shared between the two phones. The GS6 and GS6 Edge measure 6.8mm and 7.0mm thick, respectively. The Super AMOLED display measures 5.1 inches across the diagonal and includes 2560 x 1440 pixels (quad HD). Samsung says it has enhanced brightness for better outdoor viewability. The 16-megapixel main camera boasts optical image stabilization, auto HDR, and a Quick Launch feature that starts the camera app in less than a second. The user-facing camera rates 5-megpaixels; both have an aperture of f/1.9 for better low-light performance. Samsung is relying on its own technology to power the GS6 and GS6 Edge. It ships with an octa-core processor with a quad-core bank of processors clocked at 2.1GHz and a second quad-core bank clocked at 1.5GHz. The processor is paired with 3GB of LPDDR4 memory and UFS 2.0 flash for faster storage performance. The phone includes a 2,600mAh battery that supports both the WPC and PMA wireless charging standards, in addition to quick charging. Samsung says it has upgraded its KNOX security platform to better protect the device, added a Find My Device tool and remote wipe/remote reactivate tools, and improved the fingerprint scanner. The security tools will help when Samsung launches Samsung Pay, a mobile payment service planned for the second half of the year. The device will be preloaded with several Microsoft applications, including OneDrive (115GB of free storage) and OneNote. Other specs include Category 6 LTE, dual-band WiFi, Bluetooth 4.1, ultra power-savings mode and Android 5.0 Lollipop. The Galaxy S6 and Galaxy S6 Edge will be available globally starting April 10 with 32GB, 64GB, and 128GB internal storage options.
---
Samsung today announced Samsung Pay, a mobile payment service that it claims will be readily available at tens of millions of retail locations around the world. The service can use either NFC or MST (magnetic secure transmission), technology it recently acquired via its purchase of LoopPay. The MST tech allows Samsung Pay to work at most credit card terminals, unlike solutions based solely on NFC, which require special terminals. According to Samsung, its mobile payment service will use something called tokenization to hide customer's credit card numbers and protect transactions. Samsung is working with MasterCard and Visa, and has the support of financial institutions such as American Express, Bank of America, Citi, JPMorgan Chase, and U.S. Bank. Samsung Pay will initially launch in the U.S. during the summer months and will reach select markets in Europe and Asia later this year. It will only be available to the Galaxy S6 and Galaxy S6 Edge.
---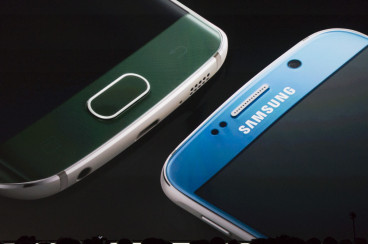 It's zero secret what Samsung is "revealing" today, but plenty of details remain unconfirmed. We're live at Samsung's Unpacked event at MWC in Barcelona for the launch of the Galaxy S6. Samsung itself has promised a new design with a metal body. Leaks point to a version with a screen that curved slightly at the side edges. We'll bring you every detail as it happens on stage.
---