Samsung Galaxy Note 4 (CDMA)
Info Photos News Forum 46 Reviews 13
Verizon Wireless has begun pushing Android 6.0 Marshmallow to the Samsung Galaxy S5 and Galaxy Note 4 smartphones. The update delivers core features from Marshmallow, such as Now On Tap for contextually relevant search, Doze for better power management, and expanded permissions for more explicit control over apps. The new software also brings with it WiFi Calling, high-quality audio, Android for Work, and refreshed app icons. Verizon recommends that S5 and Note 4 owners download and install the system update via WiFi. The update will reach most devices over the next few days, but users can manually update if they wish.
---
Samsung and Think Tank today introduced a beta app called Flow, which is meant to help people transition tasks from one Samsung device to another. It is similar in concept to Apple's Continuity feature for iOS and Mac hardware. Flow offers Samsung smartphone owners two distinct use-cases: transfer an activity or defer an activity. With transfer, people can work on a particular activity and then move it to another device and pick up right where they left off. For example, users can listen to clips on Soundcloud on their smartphone and then transfer the activity to their tablet without missing a beat. The deferring feature lets people defer an incoming activity request on one device if, for example, it's not the right device for that particular task. They can then pick up the activity on whichever other device they prefer when they're ready. According to Samsung, Flow supports existing applications through Android's share mechanism. Samsung expects to add more features, including notify, mirror, and divide, to Flow over time. For the moment, Flow is limited to the Galaxy S5, S6, and S6 Edge; Galaxy Alpha; Galaxy Note 4 and Note Edge; and the Galaxy Tab S. The beta app is free to download from the Google Play Store.
---
Verizon Wireless said its version of the Samsung Galaxy Note 3 will begin to receive Android 5.0 Lollipop today. The over-the-air update will roll out to all users gradually. According to Verizon, seven of its handsets now run Lollipop, including the Motorola Moto X (2nd gen); Galaxy Note 4, S5, and Note 3; LG G2 and G3; and the HTC One M8.
---
Sprint today said owners of the Samsung Galaxy Note 4 can expect to update their devices to Android 5.0 Lollipop over the next few days. The update adds Material Design, support for Android TV, improved multitasking, actionable lock screen notifications, and improves battery efficiency. The update is free and can be downloaded and installed over the air.
---
Sprint said it is pushing the Android 5.0 Lollipop update to the Samsung Galaxy Note 4. In addition to the new operating system, the update improves Sprint's WiFi calling service. The update is rolling out over the next few days.
---
Sprint today increased the number of devices eligible for its leasing program by adding the LG G3 and the Samsung Galaxy Note 4. Sprint said new and existing customers can lease the G3 for $15 per month for 24 months or the Note 4 for $25 per month for 24 months. Customers can take the devices home for $0 down. At the end of the lease, customers can turn the device in and lease another or return the device (as long as it is in working order) and terminate their service. Sprint already offers leases on the Apple iPhone and Samsung Galaxy S5.
---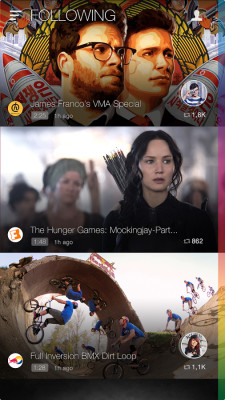 Samsung today announced Milk Video, a video content discovery service for Galaxy-branded smartphones. Like Samsung's Milk Music, Milk Video has a refined user interface that makes browsing the best way to find new and interesting videos. According to Samsung, Milk Video will learn and refine its content recommendations every time people use it to create a more personal experience. Some of the content partners include Condé Nast, Funny Or Die, Red Bull, Vevo, and VICE. Samsung says it is working to score more content down the road. Milk Video is compatible with the Galaxy Note II, 3, 4, and Edge; Galaxy Mega; and Galaxy SIII, S4, S4 Mini, and S5 smartphones. It is free for owners of these devices to download from the Play Store.
---
Samsung today announced the availability of Samsung Protection Plus Mobile Elite for the Galaxy Note 4 and Note 3. The plan extends warranty coverage to two years from the original purchase date of either phone. Subscribers to the plan will be eligible for three device replacements and/or repairs for accidental damage, including cracked screens or liquid ingress. The warranty also covers mechanical defects. Samsung Protection Plus Mobile Elite costs $129, and each replaced/repaired phone is subject to a $95 fee.
---
Nvidia announced that the U.S. International Trade Commission has agreed to investigate Nvidia's claims that Samsung is violating Nvidia's intellectual property. Nvidia filed legal action against Samsung last month, alleging some of its devices violate patents pertaining to graphics processing on mobile devices. Nvidia called out the latest Samsung handsets, including the Galaxy Note 4, Note 3, and Note Edge, as well as the Galaxy S5, in the litigation Last year, Nvidia said it would license its processor designs moving forward, but it has yet to score any such deals. The company has filed similar litigation against Qualcomm.
---
Samsung and the Car Connectivity Consortium today announced that the Galaxy Note 4 and Galaxy Note Edge are both MirrorLink compatible. MirrorLink is a connectivity tool for pairing smartphones and cars. It works across smartphone platforms and car manufacturers, and is the only vendor-neutral standard available. With MirrorLink aboard, the Note 4 and Note Edge will be able to connect to select in-car infotainment systems, allowing drivers to more safely access their phone's content when behind the wheel. Apple and Google have both announced their own connectivity solutions for cars, which are part of iOS 8 and Android Release L, respectively.
---
Samsung today said it will begin accepting preorders for the Galaxy Note 4 on September 19. The device won't ship, however, until October 17. Samsung said the Note 4 will be available in black and white, and it will be carried by AT&T, Sprint, T-Mobile, Verizon, and U.S. Cellular. Samsung said the phone will also be available at Samsung Experience Shops in Best Buy stores, as well as from Amazon, Costco, RadioShack, Sam's Club, Target, and Walmart. Individual carriers and retailers will provide their own pricing and availability details in the near future. AT&T was first to announce those details. AT&T said the Note 4 will cost $34.42 per month with AT&T Next 18; $41.30 per month with AT&T Next 12; $299.99 with a two-year agreement; or $826 at full retail. AT&T is offering a $100 bill credit to new/existing customers who activate a new line of service with the Note 4. Verizon is offering the Note 4 for $299 with a new contract and said Verizon Edge installment pricing will also be available. T-Mobile isn't accepting preorders until September 24, and it is asking for $0 down followed by $31.24 a month for 24 months.
---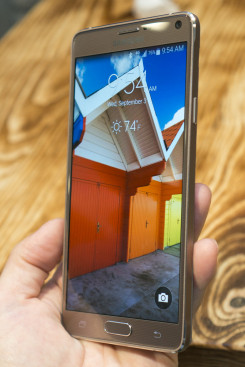 Samsung today announced its latest Galaxy Note phablet. This year's iteration refines the design with a metal frame and the latest specs, including a quad-HD display, 2.7 GHz processor, and heart rate monitor. We checked it out for you and share out first impressions.
---