LG G3 (GSM)
Info Photos News Forum 17 Reviews 7
Cricket Wireless today announced a new retail partnership with Aaron's that will make Cricket's SIM card starter kit available at about 2,000 Aaron's locations around the country. Aaron's offers goods on a lease-to-own basis. Consumers who lease a smartphone from Aaron's can now activate that phone on Cricket's network right at the Aaron's retail store. Aaron's online lineup of devices includes the Samsung Galaxy S5, Galaxy Note 3, LG G3, and Motorola Moto G. Lease prices are expensive. For example, Aaron's lists the Galaxy S5 retail price at $840. (The Galaxy S5 is available new from retailers such as Amazon.com for $360, unlocked.) Monthly lease costs from Aaron's run $90 per month for 18 months, which totals about $1,620. Finance charges are about $780 in this example. These prices don't include Cricket's service fees, which start at $40 per month.
---
AT&T has made Android 5.0 Lollipop available to its variant of the LG G3. In addition to Lollipop, the system update includes a number of stability fixes and performance improvements. The update can be downloaded and installed via WiFi.
---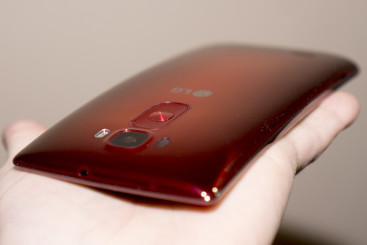 LG is back with another bendable phone. It's best to think of the G Flex 2 as a curved LG G3 - especially since it carries over most of the specs.
---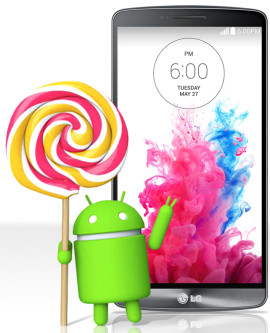 LG today said it will soon begin distributing Android 5.0 Lollipop to its G3 smartphone. LG will deliver Lollipop to G3 owners in Poland first, followed by "other key markets in the near future." The company claims it is the first handset maker to offer Android 5.0 to its existing device base. LG also said it will soon publish a schedule detailing the Lollipop upgrade for other LG phones. The G3 is available from the major U.S. carriers, but neither they nor LG made any specific announcements regarding Lollipop's arrival on the G3 in the U.S. LG happened to manufacture both the Nexus 4 and the Nexus 5 smartphones, which should be among the first to receive Lollipop. The Nexus phones will be updated directly by Google.
---
Verizon Wireless is now allowing customers to preorder the LG G3 via its web site. Verizon is asking for $99 with a two-year contract, $30 per month with Verizon Edge, or $600 at full retail. The device ships July 17 and is XLTE compatible.
---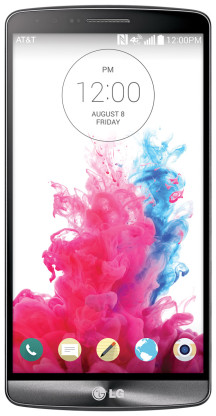 AT&T today said its variant of the LG G3 will be available in stores starting July 11, with preorders starting July 8. AT&T is charging $199 for the G3 with a new contract, or $24.17 per month with AT&T Next 18, or $29 per month with AT&T Next 12 (no down payment required with the Next plans). AT&T is also kicking off preorders for the LG G Watch on July 8. The G Watch will join the G3 in AT&T stores July 11. It costs $229. AT&T said it will offer a 50% discount on select accessories for the G3 and G Watch for a limited time when purchased in stores.
---
Sprint today revealed it will commence sales of the LG G3 on July 18 in stores, online and via telephone. Sprint is offering several different ways to pay for the device. With Sprint Easy Pay, for example, customers can buy the G3 with $0 down followed by 24 monthly payments of $25. Preorders for the device begin July 11. The company is offering award cards for early adopters of the phone. New and existing customers who buy the G3 between July 11 and July 24 will qualify for a $150 gift card, and those who buy the G3 between July 25 and August 14 will qualify for a $100 gift card. T-Mobile plans to sell the G3 beginning July 16. AT&T and Verizon have yet to announced G3 availability.
---
T-Mobile announced that customers can preorder the LG G3 beginning today. The device reaches stores July 16. The full retail price is $599. T-Mobile didn't immediately say what monthly pricing will be for Simple Choice Plans.
---
LG today made an SDK available to developers that will allow them to tap into the QuickCircle case accessory that goes along with the G3. The QuickCircle case handles several different tasks. First, the case has a circular window to the G3's screen through which users can view the time, place calls, send text messages, take photos, or listen to music. The case includes circular smart lighting to accentuate the design, and includes a Qi-based connector for wireless charging. The LG QCircle SDK will let developers customize their own apps and make them directly accessible from the QuickCircle window via LG's QCircle user interface. The SDK is free for developers to download. The LG G3 will be available in the U.S. later this summer.
---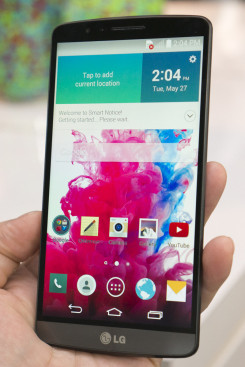 The G3 from LG shows plenty of promise, though it is far more complicated than the "simple is the new smart" message LG used to describe it. Here is our initial hands-on report.
---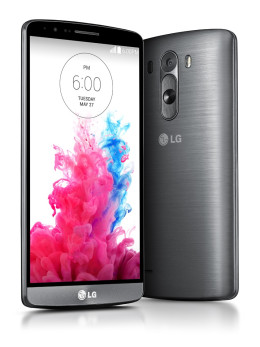 LG today announced the LG G3, its flagship smartphone for 2014. The G3 follows design ideas set by the G2 and later refined by the G Flex. The defining feature of the device is the display, which is one of the industry's first quad HD (2560 x 1440) screens. It measures 5.5 inches across the diagonal, making for a pixel density of 538 pixels per inch. The G3 has a "metallic" (but made of plastic) rear cover to boost its visual and tactile appeal. Like the G2, the volume toggle and home buttons are placed on the back of the phone rather than the sides. LG claims this makes the buttons more natural to use when the device is held in the hand. The G3 has a 13-megapixel camera aided by optical image stabilization, laser-assisted auto-focus, and dual-LED flash. The device has a 2.1-megapixel user-facing camera with wide aperture. The G3 is powered by a Qualcomm Snapdragon 801 processor with four cores at 2.5GHz each. The device will come in several different configurations with respect to memory, including a 2GB model and a 3GB model. Internal storage will range between 16GB and 32GB. The G3 has a built-in 1W speaker with Boost AMP for improved sound reproduction. The phone has a 3,000mAh battery that is removable, and it supports wireless charging. The G3 runs Android 4.4.2 KitKat and includes a new, redesigned user interface from LG that is flatter and more closely resembles that of native Android. Some of the software features include a kill switch that owners can use to disable the device; Knock Code for personalized device security; Content Lock to secure and protect individual files; as well as Smart Keyboard for adaptive learning of the owner's typing habits; and Smart Notice for a personal assistant (akin to Siri or Cortana). The LG G3 supports global LTE networks and will be sold by all four major U.S carriers later this summer. It will be offered in a handful of colors.
---