Hands-On: LG G3
Article Comments 6
May 27, 2014, 2:07 PM by Eric M. Zeman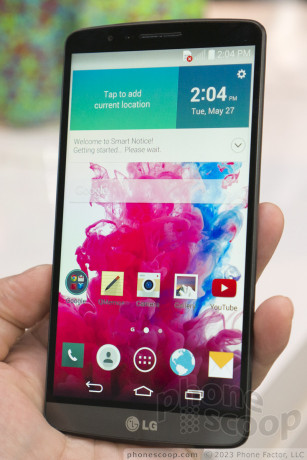 The G3 from LG shows plenty of promise, though it is far more complicated than the "simple is the new smart" message LG used to describe it. Here is our initial hands-on report.
source: LG
LG today revealed the G3, its flagship handset for the year. The G3 is an obvious evolution of the G2 as far as design language is concerned, though it is far more refined. LG is referring to the G3 as "simple" - though it is anything but. It is one of the most advanced smartphones on the planet and can claim to have one of the best screens ever made for a mobile device. Here are our initial thoughts.
The G3 is certainly a step up from the G2. The overall design is more appealing, as are the materials and build quality. The G3 carries over the G2's basic shape, but it is thinner (front to back), with finely tapered edges. The lack of buttons around the outer edge allows LG to really reduce the thickness at the outer rim. LG is using some confusing marketing. It says the G3 is "metallic." It's not metal. The back surface is made of plastic, and it is covered with a metallic film. The film - whatever it is - does have a nice feel to it. It is far more appealing both to the eyes and to the hand than last year's device was. It doesn't feel cheap or plasticky at all - something that can still be said about Samsung's flagship phones. Build quality is excellent. All the pieces fit together well, and it's obvious LG took care to assemble the phone.
The screen is large, and so is the G3. LG says it did everything possible to reduce the total footprint of the device, but with a 5.5-inch screen it has to stretch fairly far in terms of height and width in order to accommodate the panel. My thumb could not reach the entire screen unless I repositioned the handset in my grip. Make no mistake, this phone is a phablet, it has progressed beyond the bounds of comfortable daily use and often requires two hands. The slim 8.9mm thickness does allow it to slide into pockets fairly easily, but I still felt it when taking a few steps around the showroom.
Lie the G2, the G3's buttons are on the back of the phone. LG claims they are easier to reach and use. I beg to differ. The back buttons are just as funky and unintuitive as they were on last year's phone. I had no trouble telling them apart when I found them, but after spending years searching for buttons along the outer edge, it's a hard habit to break.
The screen is simply gorgeous. It measures 5.5 inches across the diagonal and includes an industry-leading 2560 x 1440 pixels. That's WQHD, or Wide Quad HD. The screen is incredibly sharp. The sample photos stored on the demo units looked amazing on the display, with rich colors and incredible amounts of detail. We noticed that the display did lose a significant amount of brightness when tilted side-to-side, though, which is odd for an in-plane switching LCD screen. It's not horrible, but it was noticeable. Most people will take one look at the screen and fall in love with it.
I'm not in love with LG's new user interface. LG seems to have borrowed a page from both Apple and Samsung in creating its new UI (shapes from Samsung, colors from Apple). It has a lot of browns and other earth tones, as well as some pastels and app icons that have been converted from squares into circles. I mean, it's OK. It's flatter and less cheesy than the old UI, bit it still feels softer and weaker than I want it to be. It is certainly fast. With a Snapdragon 801 under the hood, the G3 has plenty of power to get things done. The UI is amazingly quick and smooth.
Along with the new UI, LG id debuting a handful of new software features. Of note, the camera application has been trimmed down dramatically. It used to have tons and tons of features, and nearly all of them have been eliminated. The camera offers several different resolutions, and basics such as HDR, panorama, magic focus, and dual-shot. Gone are the silly extras that (probably) no one ever used. There are two separate buttons for recording video and taking normal images, and of course the laser-assisted focus is supposed to help with attaining razor sharp pictures. It does focus fast, even in low light. We'll reserve judgement about the 13-megapixel imager's real powers until we can perform a full review. The G3 can record Ultra HD - or 4K - video.
One thing LG spent some time talking about its its new keyboard. The keyboard is a learning keyboard that will track user behavior over time in order to improve word prediction. The keyboard also performs a neat trick - it can be resized in order to accommodate individual tastes. No other phone can claim to have a resizable keyboard. Neat.
The LG G3 runs Android 4.4.2 KitKat and comes with a range of security features from LG, including Knock Code and others. LG is among the first to add a kill switch to its devices, which debuts on the G3. The kill switch can be used to remotely lock and disable the phone for piece of mind and the phone lets users lock away individual folders or files so users can lend the phone to someone to make a call and feel safe that they're not risking their content.
The G3 will be sold by AT&T, Sprint, T-Mobile, and Verizon Wireless in the coming months. Exact pricing and availability were not shared.
Stylus?
I was wondering if it comes with a built in stylus like the Note 3. In the pictures when they show the top of the phone it looks like there is a spot for a stylus.
No, that's an extending antenna for TV. That's a standard feature on Korean phones, and they only had the Korean version on hand at this event. The US version, of course, will not have that.
kill switch
>> LG is among the first to add a kill switch to its devices, which debuts on the G3.

There is a kill switch built into Android. Anyone with a Google account synced to their phone can use it.
resizable keyboard
>>The keyboard also performs a neat trick - it can be resized in order to accommodate individual tastes. No other phone can claim to have a resizable keyboard. Neat.

I run multiple keyboards on my Note 3 for different purposes. I have been able to resize most of them. This is not new.