Asus PadFone X
Info Photos News Forum 27 Hands-On › Our Review ›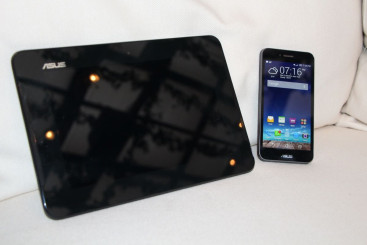 Asus' smartphone-tablet hybrid is finally here! The combo device includes a smartphone and dock that transforms the PadFone X into a tablet. Can this device really succeed at being two things at once? Here are our first thoughts.
---
AT&T today announced the availability and pricing details for the Asus PadFone X. The smartphone-tablet hybrid can be purchased from AT&T's web site and stores beginning June 6. The device will cost $200 with a two-year contract, or $22.92 for 18 months, or $29.80 for 12 months with AT&T Next plans. Asus announced the PadFone X at the Consumer Electronics Show in January. It includes both a 5-inch Android smartphone and a 9-inch dock that converts the PadFone X into a tablet.
---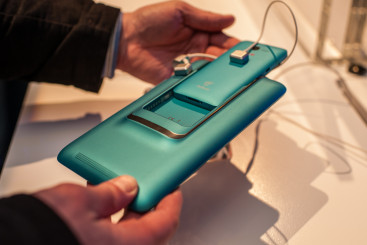 Asus introduced a flurry of new devices at CES today, the most interesting of which are those that combine a smartphone and a tablet. Here are our thoughts about the PadFone Mini and PadFone X.
---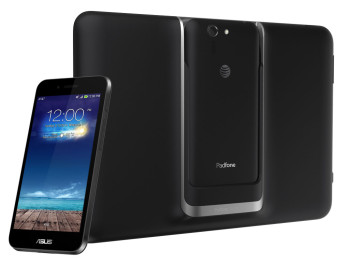 AT&T and Asus today announced that AT&T will carry the PadFone X, which is a smartphone/tablet combo device. The PadFone X has both a 5-inch smartphone and a 9-inch tablet that dock with one another. Both screens are full 1080p HD. The screen and apps will instantly transition from the smartphone to the tablet when the smartphone is docked with the tablet. The PadFone X tablet device has a soft-touch back cover, a metallic frame, and stereo speakers. It includes a large battery that will charge the smartphone device when it is docked. The PadFone is one of the first from AT&T to include LTE-Advanced technologies, such as Carrier Aggregation. It supports both VoLTE and HD Voice, which are firsts for AT&T. The Asus PadFone X runs Android 4.4 Kit Kat. Pricing and availability will be shared closer to launch.
---
Asus CEO Jerry Shen said that the company is developing a PadFone for a U.S. network operator. Shen made the revelation in an interview with Engadget. To-date, Asus has only made its PadFone products available in Asian markets. The company wants to expand its smartphones to the U.S. and Europe, and is targeting the U.S. first. The PadFone includes a tablet and phone that work together as one, with the phone docking in the tablet. "Once this product is launched [in the US], we will definitely have no problem tackling Europe with the same product, because this U.S. operator is very big," said Shen. The device is set to arrive during the second quarter of 2014, but Shen didn't provide any specifics, such as the name of the network operator.
---