AT&T to Sell Asus PadFone X June 6 for $200
Article Comments 9
May 28, 2014, 8:36 AM by Eric M. Zeman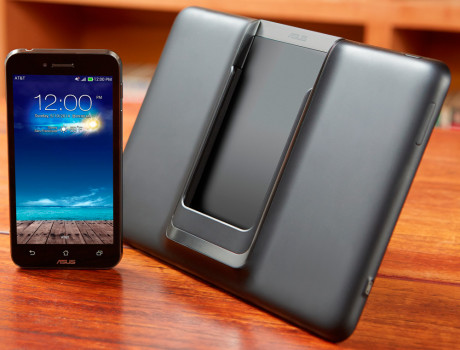 AT&T today announced the availability and pricing details for the Asus PadFone X. The smartphone-tablet hybrid can be purchased from AT&T's web site and stores beginning June 6. The device will cost $200 with a two-year contract, or $22.92 for 18 months, or $29.80 for 12 months with AT&T Next plans. Asus announced the PadFone X at the Consumer Electronics Show in January. It includes both a 5-inch Android smartphone and a 9-inch dock that converts the PadFone X into a tablet.
It's actually a good deal
Some say the dock may not be compatible with the next model, but nobody ever said it would. In two years with the next phone, get the newest dock too. It'll probably be better anyway.

The cool part here is you get phone and tablet functionality, and don't have to pay the carrier extra for having it. If that saves $10 per month in access fees, you're good for $240 of the price of the equipment. Not too shabby!
Same Product, Differnt Package...Looser!
They tried this years ago with the Motorola Atrix. While the docking device was vastly more expensive, the Atrix 2 was not compatible. This makes buying such a device pointless.

I don't see people buying this pad device, when they can buy a stand alone Android tablet for around the same price. If they can guarantee that Asus' next couple of phone upgrades will be compatible, then maybe, but unlikely it will happen.
This is actually a different form factor than that of the Atrix, which btw was not made by ASUS but Motorola.

I find this form factor appealing whereas the Atrix form factor was not.
Monthly installments are incorrect
The installment price is correct but with the AT&T Next Program, the payment is broken down into 20 monthly payments with the ability to trade in your device after 12 months and 26 monthly payments with the ability to trade in your device after 18 months. Please correct this. This is the second time I've noticed the installment plan quoted incorrectly.