Motorola Droid Ultra
Info Photos News Forum 29 Reviews 2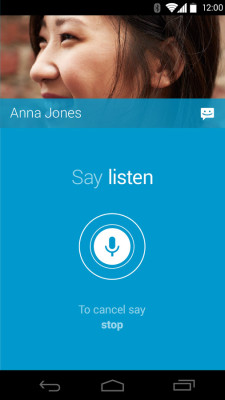 Motorola recently published a version of its new Moto Voice app that is compatible with the 2013 Moto X, as well as the Droid Ultra, Droid Mini, and Droid Maxx. Moto Voice, formerly Touchless Control, combines several of the key functions found on the 2013 Moto X, such as the Active Display, Google Now voice prompts, and Google Assist. It allows users to customize their own catchphrase; and adds voice command support for YouTube, Facebook, and WhatsApp; allows users to switch modes via voice commands; and includes support for Moto Hint and Moto 360. Moto Voice requires Android 4.4 KitKat and is free to download from the Google Play Store.
---
Verizon Wireless today announced the launch of XLTE service, which is a new way for the company to market its dual-band LTE network. Verizon Wireless initially deployed LTE in the 700MHz band. Verizon's build-out of LTE in the 700MHz band is functionally complete. Verizon began rolling out LTE on its 1700MHz AWS spectrum late last year, and has been slowly adding markets over time. As of today, Verizon says it has initiated service on its AWS spectrum in half its existing LTE footprint. Moving forward, Verizon Wireless will market its dual-band LTE coverage as XLTE in much the same way that Sprint is marketing its tri-band LTE service as Sprint Spark. According to Verizon, XLTE markets offer consumers far more headroom thanks to dramatically improved capacity. With twice the spectrum to work with, XLTE markets can deliver faster peak data speeds when compared to Verizon's 700MHz-only LTE markets. Verizon said a number of its most popular devices are already compatible with its XLTE service, including the Samsung Galaxy S4, S5, and Note 3; the Apple iPhone 5s and iPhone 5c; and the Motorola Droid Maxx, Ultra, and Mini. Customers who own these devices don't need to do anything in order to take advantage of XLTE. They'll automatically connect to Verizon's dual-band LTE network where it is available. Non-XLTE devices will still be able to access Verizon's LTE network as normal. Verizon will continue to roll out XLTE to more markets over time. Verizon didn't say how long it will take to build-out its AWS LTE coverage. Verizon acquired the AWS spectrum from a consortium of cable companies in 2012.
---
Motorola recently updated its camera application for the Moto G, Moto G, and several Droids. The app has a single new feature: users can now press the volume button to take a picture. The app is free to download from the Play Store.
---
Motorola has made its Moto Assist and Moto Connect apps available to more of its devices by publishing them in the Google Play Store. Previously, they were only available on select devices, notably the Moto X, as preinstalled apps. Moto Assist is a tool that lets device owners set certain times when they shouldn't be bothered, such as when sleeping, in meetings, or driving. Moto Connect is a utility that let's people see incoming text messages and calls in their computer's Chrome browser. Both apps are compatible with the Moto X, Droid Ultra, Droid Maxx, and Droid Mini. Motorola also recently made the Moto X Camera and Touchless Control apps available in the Play Store.
---
Motorola's support site revealed that the handset maker plans to update some of its more recent smartphones to Android 4.4 KitKat. Among those to be updated are all variants of the Moto X, as well as the Droid Mini, Ultra, and Maxx. The latter three are sold by Verizon Wireless. Older phones, such as the Droid Bionic, RAZR Maxx, and Droid 4, will remain on Android 4.1.2. Timing for the update will depend on the carrier and the exact model in question.
---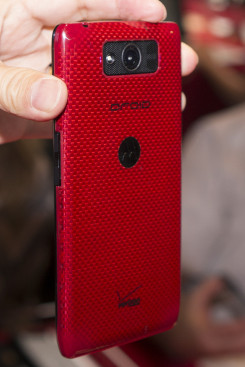 Verizon and Motorola today announced this year's trio of Droid phones. Like last year's RAZR HD, the Droid Ultra is the thin one. The Maxx has the great battery life, and the Mini is the smaller model with the 4.3-inch display. Otherwise they have a surprising amount in common. How do they stack up against the competition? Read on for our first impressions.
---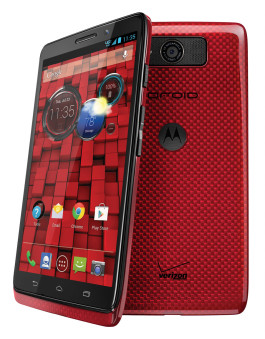 Verizon Wireless today announced the Droid Ultra, Droid Mini, and Droid Maxx, all made by Motorola. The Ultra (shown) is thinner than last year's RAZR HD, at almost 7 mm thin, which Verizon calls the world's thinnest LTE smartphone. The Maxx is thinner than last year's RAZR Maxx HD, yet has more battery life (48 versus 32 hours.) The Mini replaces the RAZR M, and is the smallest and cheapest of the three. The Ultra and Maxx have 5-inch 720p displays, while the Mini has a 4.3-inch 720p display. All have a unique processor configuration that allows sensors and voice activation to operate while the phone is idle. The main processor in all three is a 1.7 GHz, dual-core Qualcomm Snapdragon S4 Pro. The Ultra and Maxx have AMOLED displays that can activate just a small section to show time and notifications while using minimal battery life. The Mini has a TFT LCD display. All three have 10-megapixel main cameras, plus front cameras. The Mini will sell for $99 on contract, the Ultra for $199, and the Maxx for $299. They are available for pre-order now, and will ship August 20th.
---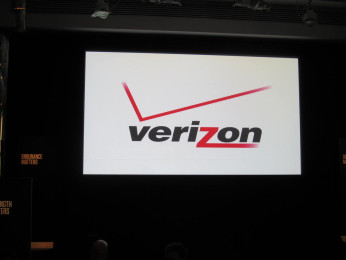 Verizon is holding an event today in NYC to announce the "next generation" of one of its "most popular family of devices." We're expecting new Droid phones. Leaks point to a couple of new models from Motorola, but we won't know for sure until noon Eastern. Follow the news at it happens here.
---