Samsung Galaxy S 4 mini (Sprint, U.S. Cellular)
Info Photos News Forum 26 Reviews 1
Sprint today said an over-the-air software update to the Samsung Galaxy S4 with Sprint Spark will allow owners to use Sprint's Wi-Fi Calling service when traveling abroad. The service lets people connect calls for free over Wi-Fi networks. Wi-Fi calls don't count against plan minutes.
---
Sprint today announced Sprint Spark, its next-generation networking technology that will make use of all three Sprint spectrum bands to boost mobile broadband speeds to 50-60Mbps. "Sprint Spark is a combination of advanced capabilities, like 1x, 2x and 3x carrier aggregation for speed, 8T8R for coverage, MIMO for capacity, TDD for spectral efficiency, together with the most advanced devices offering both tri-band capability and high-definition voice for the best possible customer experience," said Sprint CEO Dan Hesse. Sprint said it will deploy Spark in 100 of the country's largest cities over the course of the next three years, but five markets are launching Spark today: New York, Los Angeles, Chicago, Tampa and Miami. Sprint expects 100 million Americans will have Sprint Spark or 2.5GHz coverage by the end of 2014. Sprint Spark gives tri-band devices the ability to actively hand-off data sessions between its three spectrum bands. Sprint says this helps boost both speed and capacity. The devices first to include Sprint Spark are the Samsung Galaxy Mega and Galaxy S4 mini, and the LG G2. All three handsets will reach stores November 8. The two Samsung phones will receive a system update shortly after they go on sale that will activate their tri-band services, while the G2 will receive the same update in early 2014. The Mega will cost $199.99 with a contract or $19.59 per month with Sprint One Up; the GS4 Mini will cost $99.99 with a new contract or $16.67 per month with Sprint One Up; and the G2 will cost $199.99 with a new contract or $22.92 per month with Sprint One Up. Sprint also said that the HTC One max will be available "soon." It will cost $249.99 with a new contract or $25.00 per month with Sprint One Up.
---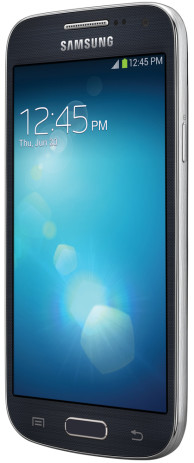 Samsung today announced that the Galaxy S4 Mini will become available from the top U.S. network operators beginning in November. The GS4 Mini was first announced in May. AT&T, Sprint, U.S. Cellular, and Verizon Wireless have all agreed to sell the phone. The Mini swaps out the S4's 5-inch FHD display for a qHD 4.3-inch display; it drops the 13-megapixel camera down to 8 megapixels; and changes out the quad-core processor in favor of a 1.7GHz dual-core processor. The user-facing camera rates 1.9 megapixels and the Mini includes many of the same imaging features found in its larger stablemate. The Mini also carries over the GS4's multitude of apps, such as S Translator, S Health, WatchOn, Samsung Hub, and others. The Galaxy S4 Mini has 8GB of internal memory (5GB accessible by users), 1.5GB of RAM, and supports microSD cards up to 64GB. It includes GPS and GLONASS, Wi-Fi and Bluetooth 4.0, and an IR blaster for the remote control app. Availability and pricing will be carrier dependent.
---