AT&T, Sprint, Verizon, U.S. Cellular to Sell Galaxy S4 Mini
Article Comments 15
Oct 23, 2013, 8:29 AM by Eric M. Zeman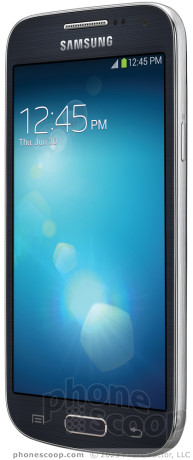 Samsung today announced that the Galaxy S4 Mini will become available from the top U.S. network operators beginning in November. The GS4 Mini was first announced in May. AT&T, Sprint, U.S. Cellular, and Verizon Wireless have all agreed to sell the phone. The Mini swaps out the S4's 5-inch FHD display for a qHD 4.3-inch display; it drops the 13-megapixel camera down to 8 megapixels; and changes out the quad-core processor in favor of a 1.7GHz dual-core processor. The user-facing camera rates 1.9 megapixels and the Mini includes many of the same imaging features found in its larger stablemate. The Mini also carries over the GS4's multitude of apps, such as S Translator, S Health, WatchOn, Samsung Hub, and others. The Galaxy S4 Mini has 8GB of internal memory (5GB accessible by users), 1.5GB of RAM, and supports microSD cards up to 64GB. It includes GPS and GLONASS, Wi-Fi and Bluetooth 4.0, and an IR blaster for the remote control app. Availability and pricing will be carrier dependent.
I dont get it.
What is with all this "Mini" craze. I don't like the "mini" phone option however I guess a consumer would wan to sacrifice performance to have a "smaller" phone sigh.
Well, some people don't like a device that needs both hands to be operational. Or some prefer a phone who's screen's small enough for them to be able to text with one hand. Others may prefer a mini since they have small hands. Some others may want th...
(continues)
A lot of people don't want to carry around some big cumbersome device. Phones are fragile and yet are exposed to more abuse than most other electronic devices, and they are incredibly easy to steal. A lot of people don't want the expense of a device...
(continues)
Everyone wants something a little different (no pun intended.)

Personally, I can't stand the huge size of phones like the Galaxy S 4 and HTC One. So I want something smaller. Of course I also want a great camera, battery and other features, so the ...
(continues)
I'm getting this Phone!
I dont care about what you guys say, this phone is perfect for me, I like the screen size, the processor fits my needs, its SD card capable, removable battery, everything is great. Im a simple guy looking for a not high-end phone, but still has the Majority of the lastest specs. Im defenetly getting it, Specially becuase Id get it for free in my Home country for a two year contract.
I don't see why all the hate, after all it is a "Mini" version of the S4 it is supposed to have smaller features than his "Dad".

I think its a nice device, might be lil too much pricy but I like the phone.
If it feeds your needs go for it!
The biggest mistake: Screen resolution!
All other so-called mini phones with the 4.3" inch size screen feature a 720p HD screen. Not the old dated qHD that Samsung offers here.

This is a big mistake!!
I think they should launch the Galaxy Maxi Pad...
then they can roll out the Galaxy micro... and the Galaxy So-So.... and the Galaxy 4.75 and then for the people who like fractions, they can simul-launch the Galaxy 4 3/4's.

Honestly its gotten so ridiculous they are recycling old model numbers.

Please please please Mr Sung please stop launching "new" versions of your crappy feels like a huawei phone.
I got to play with this phone it doesn't feel cheap at all. Its just a matter of the hardware that I don't agree with. Dual core and lower ram no thank you. :/
How many
Galaxy options does one need? By this time next month, Sprint's lineup will look like this Victory, S3, S4, S4 mini, Note 2, Note 3, Mega. I fear the HTC One, Moto X and LG G2 will get lost in the shuffle.
I think that's what Samsung is trying to do. And then you have people coming in just asking for "a Galaxy" without realizing there are a dozen different options...