Samsung Galaxy S 4 (regional CDMA)
Info Photos News Forum 55 Reviews 1
Cricket Wireless today made several announcements regarding phone financing, Musive Music 4.0, and new device availability. The first bit of news concerns how customers purchase phones. Cricket will offer flexible payment financing options that allow customers to pay for devices over time. There are three financing options. The first requires a 4% downpayment on a new device plus a minimum monthly payment of 4% of the device's retail cost. This plan does not charge extra financing fees. The second option requires a 5% downpayment on a new device plus a minimum monthly payment of 5% of the device's retail cost. This plan does not include extra financing costs if paid in full within six months. The last plan, which does not require a credit check, requires an 8% downpayment on a new device and offers a same-as-cash price for hardware paid off in 90 days. The Samsung Galaxy S4, for example, would require a downpayment of $26 at 4%, $32.50 at 5%, and $52 at 8% (based on the full retail cost of $649). The new Muve Music 4.0 makes major changes to the user interface and speed of the app. It has a new sidebar for accessing all the app's features, and allows for instant streaming of songs. Further, Muve Music will cache music on internal memory or regular microSD cards rather than the special Muve Music-compatible cards that were previously required. Muve Music 4.0 will first be available on the Samsung Galaxy S III, the GS4, Admire 2, and Discover, with other devices to follow later this year. Last, Cricket announced availability of the Samsung Galaxy Admire 2 and the Samsung Galaxy Discover. The Admire 2 is a mid-range Android phone with 4G LTE, 4-inch display, 5-megapixel camera, memory card slot, and Samsung's TouchWiz interface. The Galaxy Discover is a basic Android phone with a 3.5-inch display, 3-megapixel camera, memory card slot, and stock Android 4.0 interface. All the new programs go into effect July 21, which is also when the new phones will be available in Cricket stores.
---
C Spire Wireless today announced the availability of the Samsung Galaxy S4. C Spire is selling the device online, in stores, and via telesales for $199.99 with a new service plan. The C Spire GS4 is compatible with its LTE network. Samsung had originally said the GS4 would reach C Spire in April. Neither company explained the delay in availability. C Spire operates mainly in Mississippi and other areas in the south, but it has a nationwide roaming agreement with Sprint.
---
A newly-revealed vulnerability in Android allows attackers to bypass the usual app authenticity and integrity checks. Normally, the checks allow Android to verify that an app has not been modified. This new issue allows those with ill intent to modify an app with malicious code, without breaking the security signature. This will cause Android to report that the app is genuine and unmodified, when in fact it is not. The issue does not affect apps downloaded and updated exclusively through Google's Play Store. Apps downloaded or updated through any other sources may be affected. Full protection can only be provided by a patch to Android itself, which is up to phone manufacturers (and carriers) to provide. Samsung has implemented a fix on its Galaxy S 4, but the fix has not been confirmed for any other phones, and Google has not yet patched the issue in the base Android code, nor on its Nexus devices. Google was first notified about the issue in February, and notified its major partners in March. It affects all versions of Android from 1.6 through 4.2.
---
At a press briefing this morning, Cricket revealed that it plans to enable LTE roaming later this year on bands 4 (1700) and 25 (1900). Band 25 LTE is used exclusively by Sprint in the U.S. Band 4 (AWS) is used by many carriers, including T-Mobile, AT&T, and soon, Verizon. The Samsung Galaxy S 4 will be Cricket's first phone to support band 25 roaming.
---
Cricket today announced that it will start selling the Samsung Galaxy S 4 on June 7 for $599.99. A financing option starts with a $59.99 down payment, plus monthly payments.
---
U.S. Cellular began accepting preorders for the Samsung Galaxy S 4 on Tuesday, but today announced that the device will include the S View Flip Cover at no extra charge. This accessory costs $59.99 when purchased separately. U.S. Cellular is asking $199.99 for the Galaxy S 4, though it has not yet specified an availability date for the smartphone other than "late April."
---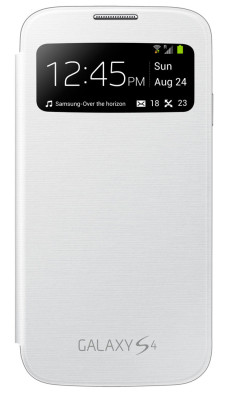 Samsung today announced that the Galaxy S 4 will be available from seven different wireless network operators before the end of April. The four national carriers, AT&T, Sprint, T-Mobile USA, and Verizon Wireless, as will smaller carriers U.S. Cellular, Cricket, and C Spire, will each have customized variants of the device specific for their 4G LTE and 3G networks. Samsung said that individual carriers will announce exact availability and pricing during the course of the next few weeks. In addition to carrier availability, the GS4 can also be purchased at various electronics stores, including Best Buy and Best Buy Mobile, Costco, Radio Shack, Sam's Club, Staples, Target, and Wal-Mart. The Galaxy S 4 has a 5-inch FHD display, 1.9GHz quad-core processor, 13-megapixel camera, Android 4.2.2 Jelly Bean, and tons of Samsung software, including Air View and Air Gesture, Drama Shot and Eraser Shot, and Easy Mode and a customizable notification tray. Last, Samsung revealed a few more details about accessories for the GS4. The S View Flip Cover has a window through which GS4 owners can read text messages, answer or reject calls, and view the battery status. The S View Flip Cover, which is sold separately, retails for $59.99. Availability details of the cover were not shared.
---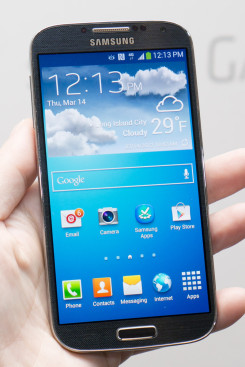 Samsung's new Galaxy smartphone makes minor improvements to the hardware but massive innovations with the software. There's no doubt it will be another winner for Samsung.
---