LG Optimus G Pro
Info Photos Reviews 5 News Forum 16
LG today officially launched the G Pro 2 smartphone in Hong Kong, Taiwan, Singapore, Philippine, Vietnam, Indonesia, and other countries. The phone, which was announced at Mobile World Congress last month, includes a 5.9-inch full HD screen, quad-core processor, 13-megapixel camera, and LG's Knock Code unlocking feature. U.S. carriers haven't yet announced plans to sell the device, though last year's G Pro was sold by AT&T.
---
LG today said that owners of the LG Optimus G Pro may now download and install a feature pack that adds several new capabilities to the device. The feature pack focuses on several neat tools, including Smart Video (pauses/resumes video playback based on user's eye position), Dual Camera (shoots images with both cameras at the same time), and Pause & Resume Recording (lets users create a single file from multiple recordings). The feature pack also makes improvements to the smart remote with support for text entry via the G Pro. Last, the feature pack adds more color options to the LED light. The feature pack is free to download over the air.
---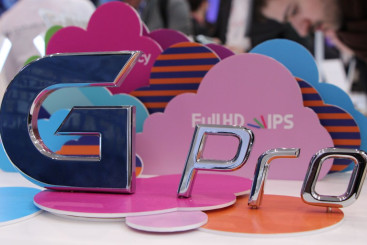 LG had its massive phablet on display at Mobile World Congress in Barcelona. Here's a quick look at LG's Galaxy Note II killer.
---