Samsung Galaxy Axiom / Admire 2
Info Photos News Forum 1 Reviews 1
Cricket Wireless today made several announcements regarding phone financing, Musive Music 4.0, and new device availability. The first bit of news concerns how customers purchase phones. Cricket will offer flexible payment financing options that allow customers to pay for devices over time. There are three financing options. The first requires a 4% downpayment on a new device plus a minimum monthly payment of 4% of the device's retail cost. This plan does not charge extra financing fees. The second option requires a 5% downpayment on a new device plus a minimum monthly payment of 5% of the device's retail cost. This plan does not include extra financing costs if paid in full within six months. The last plan, which does not require a credit check, requires an 8% downpayment on a new device and offers a same-as-cash price for hardware paid off in 90 days. The Samsung Galaxy S4, for example, would require a downpayment of $26 at 4%, $32.50 at 5%, and $52 at 8% (based on the full retail cost of $649). The new Muve Music 4.0 makes major changes to the user interface and speed of the app. It has a new sidebar for accessing all the app's features, and allows for instant streaming of songs. Further, Muve Music will cache music on internal memory or regular microSD cards rather than the special Muve Music-compatible cards that were previously required. Muve Music 4.0 will first be available on the Samsung Galaxy S III, the GS4, Admire 2, and Discover, with other devices to follow later this year. Last, Cricket announced availability of the Samsung Galaxy Admire 2 and the Samsung Galaxy Discover. The Admire 2 is a mid-range Android phone with 4G LTE, 4-inch display, 5-megapixel camera, memory card slot, and Samsung's TouchWiz interface. The Galaxy Discover is a basic Android phone with a 3.5-inch display, 3-megapixel camera, memory card slot, and stock Android 4.0 interface. All the new programs go into effect July 21, which is also when the new phones will be available in Cricket stores.
---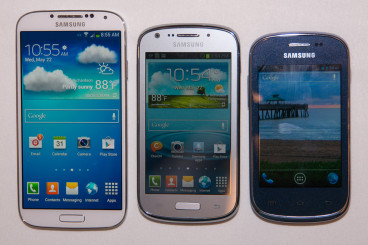 Cricket today showed a sneak peek of two Samsung phones coming this summer. The Admire 2 sports a 4-inch screen and 4G LTE, while the Galaxy Discover is more basic with its 3.5-inch screen and stock Android interface. We checked them out. Read on for our first impressions.
---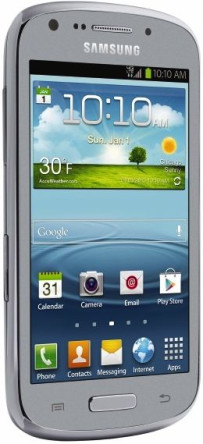 U.S. Cellular has added the Samsung Galaxy Axiom to its lineup of Android smartphones. The Axiom runs Android 4.0 Ice Cream Sandwich and has a 4.0-inch WVGA display. Features of the Axiom include a 5-megapixel main camera and 1.3-megapixel user-facing camera; Samsung's S Voice and S Beam applications; NFC, Bluetooth, Wi-Fi, GPS, and LTE 4G; and 4GB of built-in storage with support for 32GB microSD cards. The Axiom is powered by a 1.2GHz dual-core processor. The Samsung Galaxy Axiom costs $79.99 with a new contract, or $399.99 without one.
---