LG Nexus 4
Info Photos News Forum 65 Reviews 8
Google today said it will begin pushing Android 6.0 Marshmallow to Nexus devices during the week of Oct. 5. Existing handsets, such as the LG-made Nexus 5 and the Motorola Nexus 6, will be able to install the brand new operating system from Google. The Nexus 5X and Nexus 6P will ship with Android 6.0 on board. Android 6.0 Marshmallow brings a number of new features to the platform, including Google Now On Tap. Google's improved voice assistant is more aware of context when users make requests, and will automatically offer up certain types of information. Google Now is also accessible via voice command even when the Nexus 5X and Nexus 6P are locked. Marshmallow adds fast scrolling and faster search, as well as new animations and new notification behaviors. Further, the app drawer will learn which apps people use throughout the day and offer suggestions each time they open the drawer. Android 6.0 introduces a new permission model, and allows people to remove more unwanted apps. Marshmallow was first detailed by Google in May. The company did not say exactly when it will be released.
---
Google today said it plans to push security patches to Nexus-branded Android devices on a monthly basis to make sure they remain protected from potential and developing threats. Google is delivering the first security update today to the Nexus 4, Nexus 5, Nexus 6, Nexus 7, Nexus 9, Nexus 10, smartphones and tablets, and the Nexus Player. Google says the update contains fixes for the StageFright vulnerability and other issues submitted over the last few weeks by its carrier and handset partners. Google will simultaneously release security fixes to the public via the Android Open Source Project. Google committed to updating Nexus devices with major operating system versions for a period of two years, and security patches for a period of three years or 18 months from the date on which the phone is discontinued for sale.
---
Google today said it has begun the Android 5.0 Lollipop rollout to Nexus devices. The company said hardware such as the Nexus 4, Nexus 5, and Nexus 7 will have the new operating system soon. Look for it in your system settings. Android 5.0 Lollipop introduces an entirely new design for the operating system, as well as hundreds of new features.
---
T-Mobile USA announced that the white version of the LG Nexus 4 is available beginning today from the company's web site. T-Mobile is asking for a downpayment of $19.99 followed by 24 equal monthly payments of $17. The full retail cost of the Nexus 4 is $427.99. T-Mobile said the white version of the Nexus 4 will only be available online for a limited time, but the black version is still available at T-Mobile's retail stores.
---
LG today unveiled a variant of the Nexus 4 smartphone that is white. Other than the color, the device is unchanged. It includes a 4.7-inch 1280 x 768 HD LCD screen, 8-megapixel camera, and Qualcomm Snapdragon S4 Pro processor and 2GB of RAM. The Nexus 4 ships with Android 4.2 Jelly Bean, which includes Google Now and Photosphere. It will be made available in Hong Kong first, followed by other markets, including North America, over the next several weeks.
---
T-Mobile USA today said that the LG Nexus 4 smartphone is now more widely available in its larger retail stores, and will reach all its retail stores nationwide in the coming weeks. The Nexus 4 will one agin be available from T-Mobile's web site starting on January 23. Additionally, T-Mobile is now offering SIM cards for the HSPA+ version of the Nexus 7 tablet. The Nexus 7 can be purchased directly from the Google Play Store.
---
Google today began pushing Android 4.2.1 to the Nexus 4, Nexus 10, and other Nexus-branded devices. The minor update fixes a bug that eliminated the month of December from the contact application. The update is being rolled out gradually over the air.
---
LG recently offered an explanation behind the Nexus 4's supposed support for LTE 4G networks. As it is marketed by Google, the LG-made Nexus 4 supports HSPA+ at 42Mbps, but not LTE 4G. However, the Nexus 4 is a variant of the Optimus G, which is sold by both AT&T and Sprint in the U.S. Both these carrier variants include support for LTE. Since the Nexus 4's release, some owners have discovered limited LTE support on some networks with their Nexus 4. LG explains that the reason behind the LTE capability found in the non-LTE device is simple: LTE is included on the chip from Qualcomm. "In order to provide the best possible specification for Nexus 4, LG utilised the same powerful Qualcomm Snapdragon chipset as can be found in its 4G LTE product, namely LG Optimus G," an LG spokesperson told TechRadar. "This powerful chipset is only available with a combined processor and modem and cannot be implemented separately. The modem contains 4G LTE capabilities but is only effective when combined with other essential hardware parts such as a signal amplifier and filter in order for it to work. It therefore cannot be upgraded to 4G LTE capability through software." In the U.S., the Nexus 4 works on the HSPA+ networks of both AT&T and T-Mobile USA. It does not support U.S. LTE 4G networks.
---
The Google Nexus 4 Android smartphone will be available in select T-Mobile USA retail stores beginning today. T-Mobile is selling the 16GB model for $199.99 with a new contract or $499 off contract. The unlocked version of the Nexus 4 went on sale Tuesday through the Google Play Store in several countries. High demand crashed Google's servers. In response, Google said, "There's been so much interest for the Nexus lineup that we've sold out of some of our initial stock in a few countries! We are working hard to add more Nexus devices to Google Play in the coming weeks to keep up with the high demand." Google is selling the 8GB Nexus 4 for $299 and the 16GB nexus 4 for $349. T-Mobile USA is charging a $150 premium for the off-contract model. The Nexus 4 is made by LG.
---
Google has made a small update available to Android 4.2 Nexus devices that enables several features. The primary new tool is the ability to add widgets to the lockscreen. The lockscreen itself has been altered to accomodate the new widgets and lets users choose between using the widgets, unlocking the device, or going to the camera. The widgets available for the lock screen include Gmail, calendar, messaging, and other communications tools. The update is available to the Nexus 7 and Nexus 4, which goes on sale via the Google Play Store today.
---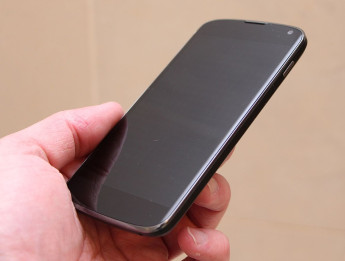 Google's Nexus 4 goes on sale November 13 and Phone Scoop was able to take a brief look at the next-gen Nexus device. It's svelte, it's slim, and it runs Android 4.2 Jelly Bean.
---
T-Mobile has confirmed that its Wi-Fi calling feature will not be supported on the LG Nexus 4, which goes on sale later this month. T-Mobile explained that the feature will be absent because the Nexus 4 is a pure Google device, and does not include carrier or manufacturer software. The Wi-Fi calling feature was developed by T-Mobile to allow customers who may not have a strong T-Mobile signal in their homes make phone calls through their home broadband network. The Nexus 4 is a variant of the LG Optimus G and will cost $199.99 when purchased with a contract through T-Mobile. It can also be purchased unlocked directly from Google for $299 (8GB) and $349 (16GB).
---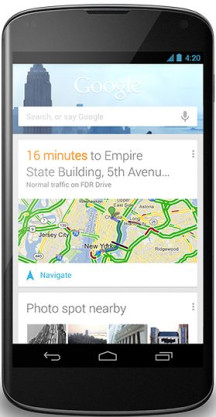 Google today announced a small update to its Android platform. Android 4.2, still called Jelly Bean, adds several new features. Chief among the new powers is an improved Google Now. Google Now is more responsive and adds new cards for detailed information. Android 4.2 Jelly Bean improves the camera with a new feature called Photo Sphere. According to Google, Photo Sphere lets users take 360 degree panorama photos to create a unique image. Photo Sphere images can be shared via Google+ as well as be published to Google Maps. Android 4.2 adds Gesture Type, which is a way to input text similar to Swype or T9 Trace by tracing words across the keyboard with your fingers. Android 4.2 also aldds support for wireless displays for sharing content, such as YouTube, on Miracast HDTVs. The Nexus 4 is the first smartphone to ship with Android 4.2 Jelly Bean. Google hasn't said if or when other devices will receive the Android 4.2 update.
---