Android 4.2 Jelly Beans Adds New Features
Article Comments 1
Oct 29, 2012, 12:11 PM by Eric M. Zeman
updated Oct 29, 2012, 12:53 PM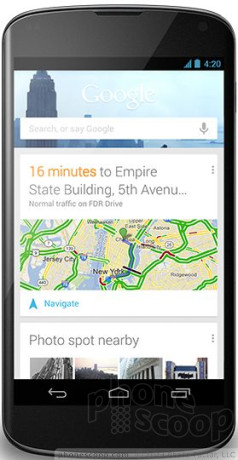 Google today announced a small update to its Android platform. Android 4.2, still called Jelly Bean, adds several new features. Chief among the new powers is an improved Google Now. Google Now is more responsive and adds new cards for detailed information. Android 4.2 Jelly Bean improves the camera with a new feature called Photo Sphere. According to Google, Photo Sphere lets users take 360 degree panorama photos to create a unique image. Photo Sphere images can be shared via Google+ as well as be published to Google Maps. Android 4.2 adds Gesture Type, which is a way to input text similar to Swype or T9 Trace by tracing words across the keyboard with your fingers. Android 4.2 also aldds support for wireless displays for sharing content, such as YouTube, on Miracast HDTVs. The Nexus 4 is the first smartphone to ship with Android 4.2 Jelly Bean. Google hasn't said if or when other devices will receive the Android 4.2 update.
Not mention features
You forgot to mention that this device has multiple lockscreens that supports widgets. The posted url is a video about the making of the nexus line and android 4.2.
http://youtu.be/66-4uMQqerA »