HTC Windows Phone 8X (GSM)
Info Photos News Forum 58 Reviews 2
AT&T is now delivering a minor system update to the HTC 8X. The update, known as Windows Phone GDR2, adds several new features to the 8X. The update improves the performance of Internet Explorer, XBox Music, and Skype on the 8X, as well as adds an FM radio, and Data Sense. The update can be installed over the air.
---
AT&T today made the 'Portico' update available to the HTC Windows Phone 8X. The update resolves Bluetooth and other bugs. The international and T-Mobile variants of the 8X were updated last month. It can be downloaded and installed over the air.
---
HTC today confirmed via email that the T-Mobile variant of its Windows Phone 8X device is receiving the "Portico" update from Microsoft. According to support documentation on T-Mobile's web site, the software update resolves issues concerning Bluetooth, device rebooting, and "being incorrectly routed to tethering upsell pages when browsing." The update is being pushed out beginning today, according to HTC, and can be downloaded and installed over the air. The Portico update was delivered to international variants of the 8X last week. AT&T and Verizon Wireless have not indicated if or when the Portico update will reach their variants of the HTC 8X.
---
Cincinnati Bell recently announced the availability of the HTC Windows Phone 8X. It is available from Cincinnati Bell's web site and stores for $199 after rebate with a new two-year contract.
---
Sprint has indicated that it will get behind Microsoft's latest smartphone platform next year. "Sprint and Microsoft are partnering to bring Windows Phone 8 to Sprint's customers — operating on its 4G LTE network — next year," said the company in a statement provided to PCMag. Sprint has repeatedly said it would not participate in the WP8 launch this year and was taking a wait-and-see approach to the new platform. This represents a change in its stance regarding Windows Phone. It hasn't offered a Windows Phone device since the HTC Arrive, which launched in January 2011. Sprint didn't say which WP8 devices it might offer, nor when in 2013 it would offer them. Meanwhile, AT&T, T-Mobile USA, and Verizon Wireless have all commenced sales of WP8 handsets, including the HTC 8X, Nokia Lumia 920 and Nokia Lumia 810, in the last week.
---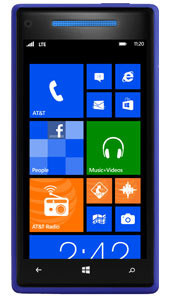 AT&T today announced that the HTC Windows Phone 8X will be available for purchase in stores beginning November 9. The 8GB California Blue model should be available in most AT&T stores. In-store availability of the 8GB Limelight and 16GB California Blue models, however, will be scattered. Customers will be able to purchase the 8GB Limelight and 16GB California Blue versions in stores, and those purchases will ship by next week. AT&T is charging $99.99 for the 8GB Limelight and California Blue models, and $199.99 for the 16GB California Blue model.
---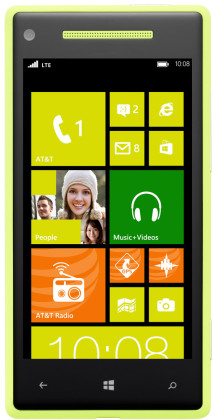 AT&T today announced that the HTC Windows Phone 8X will be available online and in AT&T retail stores before Thanksgiving. The 8X is being sold in two colors: California Blue and Limelight Yellow. The yellow color will be exclusive to AT&T. The blue 8X will be available in two variants: 16GB for $199.99 and 8GB for $99.99. The yellow variant will only be available with 8GB of storage for $99.99. The exact availability date has yet to be determined. The HTC 8X runs Windows Phone and includes Beats Audio.
---
Microsoft today showed off all the features that will be a part of its Windows Phone 8 platform. The company revealed some new features, such as wider hardware support, customizable home screen tiles, and new screen sizes, earlier this year. Some of the new features revealed in San Francisco today include: Kids Corner, which is a way for parents to put their phone into a kid-safe mode; Rooms, which are micro social networks for sharing and coordinating; and Company Hubs for businesses that want or need to manage their own Windows Phone App Store. Some existing apps within Windows Phone see major updates, including: lock screen and notifications, which are more customizable and offer more details; fully integrated Nokia Maps and navigation software; NFC and Isis for making mobile payments and touch-based sharing; native support for Skype with background multitasking enabled; updated SkyDrive with free storage and automatic uploads/backups; improved messaging features, including the email client, SMS/MMS and IM apps; as well as improved productivity software, including the Office Hub, IE 10, and Windows Phone Store. IE 10, for example, uses compression to reduce the size of web sites. Microsoft says this feature, called Data Sense, will save users money on their data plans. It requires carrier support and will be available on the Lumia 822 from Verizon Wireless first.
---
Best Buy has made the Nokia Lumia 920 and the HTC 8X Windows Phones available for preorder on its web site. Best Buy is charging $149.99 for the Lumia 920 and $99.99 for the 8X. Best Buy is offering the black, cyan, white, red, and yellow versions of the Lumia 920, and the purple version of the 8X. Customers must sign a new two-year contract with AT&T in order to get those subsidized prices. The off-contract full retail price is listed as $599.99 for both phones. AT&T has previously committed to selling both devices, but this is the first time a price point has been given for either phone. Best Buy does not list a shipping date for the Lumia 920 or 8X, but says they will ship "when available." AT&T has not said when the devices will go on sale.
---
AT&T today announced that it will sell the HTC Windows Phone 8X in November, though it didn't provide pricing or exact availability details. AT&T also plans to sell the HTC X+ and VX, and Nokia Lumia 920 and 820 smartphones in November.
---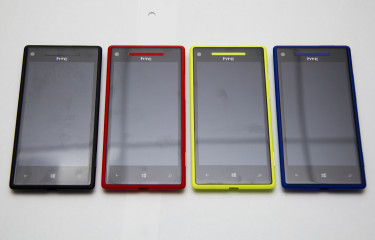 Microsoft has tapped HTC to build the iconic launch phones for Windows Phone 8. These sibling phones are similar, with the Windows Phone 8X being the higher-end of the two. HTC has combined its signature design style with the look and feel of the Windows Phone software itself, for a unique design available in a wide palette of colors. Did they do a good job? Read on to find out, as we go hands-on.
---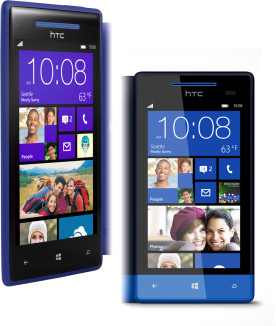 HTC today announced its first two phones for Microsoft's new Windows Phone 8 OS. HTC has exclusive use of the Windows Phone 8 brand for the actual phone model names. The flagship model will be called the "Windows Phone 8X by HTC", and the lower-end model, the "Windows Phone 8S by HTC". Microsoft and HTC will market the phones together as "signature" launch phones for Windows Phone 8. Both phones have a similar hardware design, that evokes the Windows Phone software with its bold colors against black and squared design.
Windows Phone 8X sports 4G LTE (in the U.S. version,) a 1.5 GHz dual-core S4 processor, 4.3-inch 720p HD screen, NFC, 8-megapixel main camera with backside illumination, f/2.0 lens, and HTC ImageChip acceleration, plus a 2-megapixel front camera with wide-angle lens. The 8X also comes with Beats audio, including a unique 4-volt amplifier for better sound. The unibody design features a tapered Gorilla Glass front and a matte back, available in four main colors. The battery and 16GB of memory are embedded.
Windows Phone 8S sports a 1 GHz dual-core S4 processor, 4-inch screen, 4GB of storage plus a microSD memory card slot, 5-megapixel camera with HTC ImageChip acceleration, Beats audio, and Gorilla Glass front. It will be available in four color combinations. An LTE version is not currently planned.
AT&T, T-Mobile, and Verizon will all carry the 8X, and some may carry the 8S as well. The 8X will sport LTE for AT&T and T-Mobile, and HSPA+ 42 for T-Mobile. Other specific pricing and availability was not announced.
---