Kyocera Rise
Info Photos News Forum 20 Reviews 4
Sprint today announced a new application for Android smartphones that enables push-to-talk functionality. The app, called Sprint Direct Connect Now, brings PTT calling features to devices such as the Kyocera Rise and LG Optimus Elite. Some of the capabilities the app offers include the ability to: interact with other Nextel Direct Connect and Sprint Direct Connect devices; connect with up to 21 participants in Group Connect; call alerts; use touch screen controls without the PTT button; interact with the native address book; and set up Direct Connect favorites. The application is available to the Kyocera Rise first, with availability for LG Optimus Elite and other devices to follow. The app is a free download from the Google Play Store, but requires users to subscribe to a Direct Connect plan in order to use the service.
---
Sprint today announced the availability of a new Sprint iD pack that is aimed at making smartphones easier to use for seniors. The Active Senior ID pack includes 20 applications and services that Sprint believes can help to improve the smartphone experience for older users. For example, it includes access to WebMD, the AARP, MedsTimer, and a fall detector, among other services. The Active Senior ID pack is available on select handsets, including the LG Viper, Optimus Elite, and Marquee; the Motorola Photon 4G; the Samsung Galaxy Victory, Conquer 4G, Epic 4G, Galaxy S II, and Transform; the Kyocera Rise; and the ZTE Fury. The Sprint iD pack is free.
---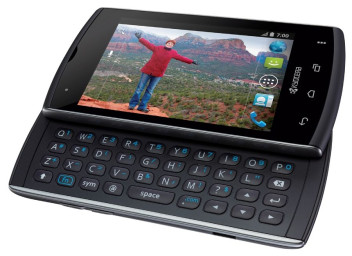 Sprint and Virgin Mobile USA today each announced plans to sell the Kyocera Rise in the coming weeks, an Android 4.0 smartphone with sliding QWERTY keyboard. Sprint is selling the Kyocera Rise starting August 19 for $19.99 on contract. It will be available via all Sprint's retail channels. Virgin Mobile USA will sell the Kyocera Rise starting August 31 for $99.99. The Rise has a 3.5-inch display, 3.2-megapixel camera, 1GHz processor, and Bluetooth 2.1+EDR.
---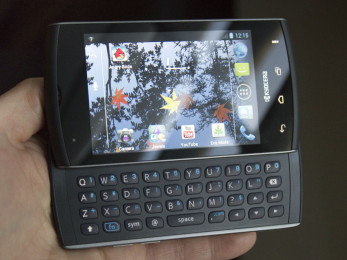 Kyocera's new Rise stands out for having a physical keyboard, when other manufacturers seem to be moving away from such things. We spent some time with it. Read on for our first impressions.
---
Kyocera took the wraps off two new phones today, the Hydro and Rise. Both phones share a similar feature set, though the form factors differ significantly. Shared features include 3.5-inch 320 x 480 IPS LCD displays and 1GHz Qualcomm processors with 512MB of RAM and 2GB of internal storage. Other specs include EVDO Rev. A 3G and 1X Advanced; 3.2-megapixel cameras with LED flash and video capture; aGPS, Bluetooth 2.1+EDR, and Wi-Fi; a bevy of sensors, and 1500mAh batteries. Both phones run Android 4.0 Ice Cream Sandwich.
Hydro: The Hydro is a small bar-style device that is water resistant. Kyocera brings plenty of water-resistant know-how to the Hydro, which can withstand water jets for up to three minutes and immersion in 1 meter of water for 30 minutes.
Rise: The Rise is a sideways slider with a QWERTY keyboard for messaging, but loses the water resistance enjoyed by the Hydro.
Kyocera did not announce pricing nor availability, nor did it say which carrier will offer these phones; however, Sprint is typically the carrier to offer Kyocera devices in the U.S.
---