Samsung Galaxy S III (global)
Info Photos News Forum 100+ Hands-On ›
Apple has filed a request with the U.S. District Court for the Northern District of California in an attempt to add six more Samsung devices to an existing lawsuit against the Korean company. The new devices are the Galaxy S III, Galaxy Note II, Rugby Pro, and Galaxy III Mini, as well as the Galaxy Tab 8.9 WiFi and Galaxy Tab 2 10.1. Apple alleges that these newer devices infringe on many of the same patents it accused Samsung of violating in a lawsuit it filed in February of this year. Apple said that if it isn't allowed to add these device to the existing case, it will be required to file an entirely new lawsuit. This is a separate case from the one that delivered a guilty verdict against Samsung in August of this year.
---
Samsung today announced that Android 4.1 Jelly Bean will be made available to all U.S. variants of the Galaxy S III in the coming months. The update will be provided both over-the-air and via Samsung's Kies desktop software. Timing for the update, however, will be up to Samsung's individual carrier partners. The GS3 is sold by AT&T, Sprint, T-Mobile USA, U.S. Cellular, and Verizon Wireless. So far, none has said exactly when Jelly Bean will become available. Samsung said that the Android 4.1 update will make improvements to the camera, add an Easy Mode for first-time smartphone owners, add the Swype keyboard, and make it easier to block calls/numbers. These new features are in addition to those that come with the Jelly Bean operating system, which include Google Now, improved notifications, adjustbale widgets, and others.
---
Apple has asked a federal court overseeing one of its lawsuits against Samsung to add several devices to the list of smartphones and tablets being targeted. Among the new devices are the Galaxy S III, Galaxy Note, and Galaxy Note 10.1. This particular lawsuit, which is different from the one in which Apple recently notched a victory, claims Samsung is infringing on its patent in a total of 22 devices. Separately, Apple has requested that U.S. District Court judge Lucy Koh, who oversaw its courtroom victory over Samsung, move a planned injunctive relief hearing up. Apple wants sales of eight devices banned in the U.S. following the guilty verdict. Judge Koh won't hear Apple's request until December 6. Apple believes this long wait is unfair.
---
Samsung today provided an explanation of sorts for recent system updates sent to U.S. versions of the Galaxy S III. Both the Sprint and AT&T variants of the GS3 have been updated in recent days with a patch that removes the Universal Search function — a feature for which Apple has an existing patent. "Samsung has updated the software for the Galaxy S III as a precautionary measure to ensure that U.S. consumers may enjoy using our innovative products without interruption," said Samsung in a statement provided to Phone Scoop. Further, Samsung said that this statement does not yet apply to the T-Mobile or Verizon Wireless versions of the GS3. Those two variants have not received updates removing the Universal Search function, and it's not clear if or when they will.
---
Samsung has partnered with Media Mushroom to offer a content-porting app called Easy Phone Sync. The tool allows PC or Mac users of iOS devices such as the iPhone or iPad to easily transfer iTunes content to a Samsung Galaxy smartphone. In order for transfers to work, users must install the app on their computer as well as the Galaxy smartphone. The transfers require a USB cable. In addition to music and movies, Easy Phone Sync will transfer contact data, messages, and photos. Both the mobile and desktop clients are available for free.
---
U.S. District Judge Lucy Koh earlier this week squashed Apple's move to prevent Samsung from launching the Galaxy S III in the U.S. on time. Apple had requested an emergency court order to block the S III based on patent complaints. The judge said Apple's request would put too much pressure on her court's calendar. Koh is overseeing the Apple-versus-Samsung trial that is set to get under way next month.
---
U.S. Cellular today announced that it will begin accepting preorders for the Samsung Galaxy S III starting June 12, but the device itself won't be available online and in stores until some time in July. U.S. Cellular will sell the white and blue versions with either 16GB or 32GB of storage, but it didn't announce pricing for the device.
---
Sprint and T-Mobile USA today announced that the Samsung Galaxy S III will be available online and in stores starting June 21. Both carriers will sell the white and blue colors in 16GB and 32GB variants for $199 and $249, respectively. The Sprint variant will include Google Wallet for mobile payments. Sprint will open preorders for the S III June 5. T-Mobile has not yet announced if or when the S III will be available for preorder.
---
Verizon Wireless today announced that customers wishing to preorder the Samsung Galaxy S III will be able to do so starting at 7AM on June 6. Verizon will offer both the marble white and pebble blue versions, with either 16GB or 32GB of storage for $199 and $249, respectively. The device will be available in Verizon Wireless Communications Stores and online in the coming weeks.
---
Samsung today announced that the Galaxy S III will become available from five major U.S. carriers starting later this month. It will be sold by AT&T, Sprint, T-Mobile USA, U.S. Cellular, and Verizon Wireless. All five versions will feature the same design and use the same name. Additionally, the versions to be sold it the U.S. skip the quad-core Exynos chip and will instead use Qualcomm's dual-core 1.5 GHz S4 Snapdragon processor. Samsung said that pricing will start at $199, though each carrier will set its own pricing. Exact availability will be announced in the coming weeks by the individual carriers.
---
Samsung today announced during the launch of the Galaxy S III that it has refreshed its Music Hub for the new phone. The Music Hub will provide a streaming service to a single phone/tablet for $9.99 per month or to four devices for $12.99 per month. Users will have access to about 17 million tracks. The revised Music Hub will also offer a scan-and-match feature that's similar to Apple's iTunes Match service. The service will scan users' media libraries and match them with tracks that are available in the Music Hub. The tracks can then be streamed to other Android devices. The scan-and-match service is being offered by Samsung for Free, whereas Apple charges $25 per year for iTunes Match. Samsung also announced during the Galaxy S III event that owners of its new smartphone will have access to 50GB of storage in DropBox, and exclusive access to an unreleased version of the Flipboard application for Android.
---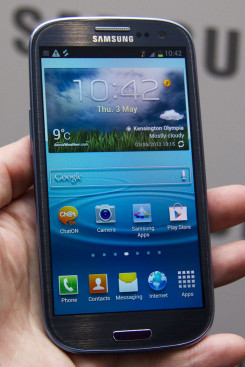 Samsung today announced the Galaxy S III, its global flagship phone for 2012. We spent a bit of time with it. Read on for our first impressions of the hardware and the impressive software, plus photos and video of this sexy phone.
---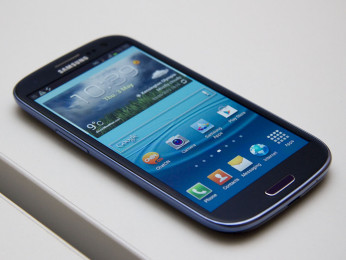 Samsung today announced the Galaxy S III, its new global flagship phone for 2012. The phone sports rounded design, 4.8-inch Super AMOLED HD display, 8-megapixel main camera, 2-megapixel front camera, and NFC. It runs Android 4.0 with a new version of Samsung TouchWiz that trims back some Samsung's earlier customizations, while adding smart features, such as using the front camera to keep the screen lit as long as the user is actually looking at the phone. It also sports automatic facial recognition in photos taken, linking them to contact photos in the phone, enabling easy sharing and album grouping by person. The phone sports a glass front with gently rounded edges and a coated polycarbonate back plate. The international version sports a quad-core Samsung processor and will be available in two colors and three sizes of internal memory: 16 GB, 32 GB, and 64 GB. It will also support SDXC memory cards, up to 64 GB, for up to 128 GB total storage. Samsung said that a version of the S III will be available for U.S. LTE networks in June.
---