Samsung Reveals Galaxy S III
Article Comments 5
May 3, 2012, 1:00 PM by Rich Brome
updated May 3, 2012, 1:48 PM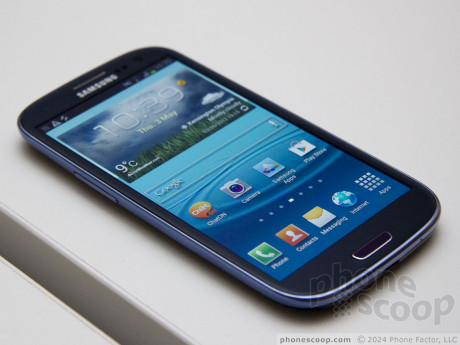 Samsung today announced the Galaxy S III, its new global flagship phone for 2012. The phone sports rounded design, 4.8-inch Super AMOLED HD display, 8-megapixel main camera, 2-megapixel front camera, and NFC. It runs Android 4.0 with a new version of Samsung TouchWiz that trims back some Samsung's earlier customizations, while adding smart features, such as using the front camera to keep the screen lit as long as the user is actually looking at the phone. It also sports automatic facial recognition in photos taken, linking them to contact photos in the phone, enabling easy sharing and album grouping by person. The phone sports a glass front with gently rounded edges and a coated polycarbonate back plate. The international version sports a quad-core Samsung processor and will be available in two colors and three sizes of internal memory: 16 GB, 32 GB, and 64 GB. It will also support SDXC memory cards, up to 64 GB, for up to 128 GB total storage. Samsung said that a version of the S III will be available for U.S. LTE networks in June.
source: Samsung
this phone is good smartphone
😁 Iike me this phone the plus quality...
will it ever come to Sprint?
🙄
Of course it will, came to Sprint the same time as everyone this year so why wouldn't it?
Not as bad of a wait for the SIII as it was for the SII
Samsung says June for the U.S., not too bad. I'm going to sit tight and wait for the price to come down. That's very smart of them to offer 16/32/64gb sizes, for different price points. Choice is good!!!

This is just fine! Hope Verizon doesn't screw with it too much! S4 processor would be just fine with me, just load webpages fast, that's all I ask of a processor!
I am awful on electronics lol I will breeze from app to app to app. Lock em up and freeze em all the time so I am hoping this one will hold up to my abuse 👀