Motorola Defy XT
Info Photos News Forum 7 Reviews 1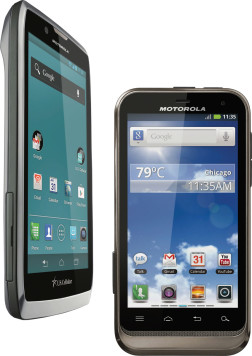 U.S. Cellular today announced the Motorola Electrify 2 and Defy XT. Both are 3G CDMA Android phones.
The Electrify 2 sports a 4.3-inch qHD display with ColorBoost, 8-megapixel camera, Android 4.0 and a 1.2 GHz dual-core processor. Other features include 8 GB of memory plus a memory card slot, 1080p video capture, global roaming, and a 1780 mAh battery.The Electrify is available online today and in stores tomorrow.
The Defy XT is water-resistant and dust-proof. It has a 3.7-inch display and 5-megapixel camera. It has a 1 GHz processor and Android 2.3. It will be available August 3rd.
---