Sony Xperia ion
Info Photos News Forum 26 Reviews 2
Sony today provided an update to its Jelly Bean distribution timeline. According to Sony, the Xperia T, TX, and V will receive Android 4.1 in February and March as planned. The Xperia P and J will also receive Jelly Bean in March. The Xperia S, SL, ion, and acro S will get Jelly Bean in late March or early April. Last, Sony said the Xperia U, miro, tipo, and sola won't be updated beyond Android 4.0 Ice Cream Sandwich.
---
Sony Mobile today revealed a list of its devices that will be updated to Android 4.1 Jelly Bean. According to Sony, the bulk of its 2012 Xperia lineup will receive Jelly Bean, including the Xperia T, TX, and V. These devices will begin to receive Jelly Bean during the middle of the first quarter of 2013. Other devices slated for Jelly Bean include the Xperia S, acro S, ion, P, go, and Xperia J. Sony will provide more information with respect to the timing of the Jelly Bean update for this second list of phones at a later date. Most of Sony's 2011 devices will be updated as far as Android 4.0.4 Ice Cream Sandwhich, but not Jelly Bean.
---
Sony today announced new updates for its Music Unlimited Android smartphone and Android tablet applications. Music Unlimited Android Mobile app version 1.4 lets device owners access the "My Channels" feature. This feature gives users the ability to create and control customized radio stations. The update for tablets adds the ability to cache music for offline listening. Both the smartphone and tablet versions of Music Unlimited are free to download and install, though some features require a monthly subscription in order to access them.
---
AT&T today announced that the Sony Ion, the company's first U.S. LTE 4G device, will go on sale June 24 with an on-contract price tag of $99. The Ion is the first phone to ship from Sony without the Ericsson branding attached to it. The Ion is an Android phone with a 12-megapixel camera. It uses Sony's Exmor R sensor. It boasts a 4.6-inch full 720p HD Reality Display with Mobile Bravia Engine. The front camera supports 720p capture, and the Ion includes HDMI-out, and is PlayStation Certified. The Ion is also the first Sony device in the U.S. to include Sony Music Unlimited and Sony Videos Unlimited entertainment services, which can be used to consume music, movie, and television content on the device. The Ion will be boxed with several SmartTags, which are programmable NFC stickers that can be used to alter the Ion's behavior or change its settings (similar to Samsung's TecTiles). The Ion ships with Android 2.3 Gingerbread, but will be updated to Android 4.0 Ice Cream Sandwich soon.
---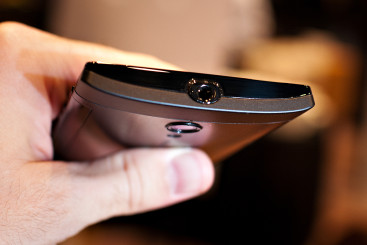 Here is a quick look at the Sony Xperia Ion, an LTE smartphone for AT&T
---
AT&T today announced six new LTE phones, some with record-breaking high-resolution cameras.
Sony Ericsson Xperia Ion, an Android phone with a 12-megapixel camera with Sony Exmor R sensor and 4.7-inch full HD display. A front camera also supports 720p capture. It also sports HDMI-out and is PlayStation Certified.
HTC Titan II, with a 16-megapixel camera and a 4.7-inch Super-LCD display. Powered by a Qualcomm 1.5 GHz Snapdragon S2 processor.
Samsung Galaxy S II Skyrocket HD, with a full HD display measuring 4.65 inches, powered by a 1.5 GHz dual-core processor.
Samsung Galaxy Note, with a huge 5.3-inch display that borders on tablet size. A stylus is included, but not required. 1.5 GHz dual-core processor.
Samsung Exhilarate, an affordable LTE smartphone with a 4-inch Super AMOLED display and made from 80 percent recycled post-consumer materials.
Pantech Burst, with 4-inch Super AMOLED display and Android.
The last two devices will be available for less than $50 each.
---