Motorola Atrix 2
Info Photos News Forum 8 Reviews 6
AT&T today announced that the Android 4.0 Ice Cream Sandwich update is now available to the Motorola Atrix 2. The update can be downloaded via Wi-Fi and then installed on the device. The update is free and adds many new features to the Atrix 2.
---
AT&T today published a list of devices that it plans to update to Android 4.0 Ice Cream Sandwich in the coming months. The devices include the LG Nitro; the Motorola Atrix and Atrix 4G; the Pantech Burst and Element; and the Samsung Captivate Glide, Galaxy Note, Galaxy S II, Galaxy S II Skyrocket, and Galaxy Tab 8.9. These devices will all be updated in the coming months, according to AT&T, but more precise times weren't provided.
---
Motorola has provided a system update for the Atrix 2, which is sold by AT&T. The software update, which must be downloaded via Wi-Fi, makes a number of adjustments to the Atrix 2. According to Motorola, the update improves the performance of the camera; adds the Google Music application; patches security holes; adds emergency alerts from government agencies; and improves the keyboard, device stability, and performance of the Webtop application. The update is free to download and install.
---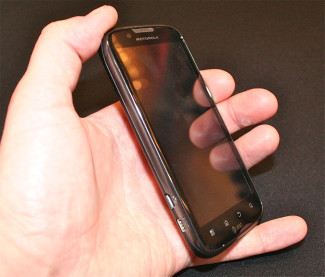 Motorola offers a follow-up to the Atrix with the Atrix 2. This sequel goes for the gusto with major spec improvements, such as a qHD display, 8-megapixel camera, and 21Mbps HSPA+. Here are our initial impressions.
---
AT&T announced a slew of new Android smartphones today from Motorola, Samsung, Pantech, and ZTE.
Motorola Atrix 2: The Atrix 2 is a follow up to this year's Atrix with a few spec bumps. It includes a dual-core 1GHz processor with 1GB of RAM; 4.3-inch qHD display with 960 x 540 pixels; and a 2GB microSD card. The Atrix 2 can access AT&T's HSPA+ network at 21Mbps. It also includes an 8-megapixel camera with LED flash, 1080p HD video capture, fast-camera start-up, and a user-facing camera. The Atrix 2 runs Android 2.3 Gingerbread, supports HDMI mirror mode, Motorola's Lapdock accessory, and Zumocast.
Samsung Captivate Glide: This sideways slider has a 4-inch Super AMOLED Plus display in addition to a slide-out QWERTY keyboard. It features a dual-core 1GHz Nvidia Tegra 2 processor, 1GB of RAM, 1GB of internal storage and support for microSD cards up to 32GB; Android 2.3 Gingerbread; 8-megapixel main camera with autofocus, flash, and 1080p HD video capture; a 1.3-megapixel user-facing camera, and support for HSPA+ at 21Mbps.
Samsung DoubleTime: This Android 2.2 Froyo smartphone has a dual-screen design and a flip form factor that features a 600MHz processor with 260MB of RAM; a 3.2-inch 320 x 480 pixel display; 3.2-megapixel camera with video capture, and voice recognition. It supports microSD cards up to 32GB.
Pantech Pocket: This Android 2.3 Gingerbread phone has a 4-inch display with 600 x 800 pixels; 5-megapixel camera with flash and 720p HD video capture; support for 32GB microSD cards; Wi-Fi, Bluetooth 2.1+EDR, and 600MB of RAM.
ZTE Avail: This device is aimed at customers of AT&T's prepaid GoPhone service. It has a 5-megapixel camera with autofocus and video capture; 512MB of RAM and 512MB ROM, 3.5-inch touch display; Wi-Fi, and Android 2.3 Gingerbread.
AT&T did not announce availability or pricing details for any of these phones other than that they will be available in the fourth quarter of this year.
---