Hands-On: Motorola Atrix 2
Article Comments 6
Oct 11, 2011, 11:05 PM by Eric M. Zeman
updated Oct 12, 2011, 3:00 PM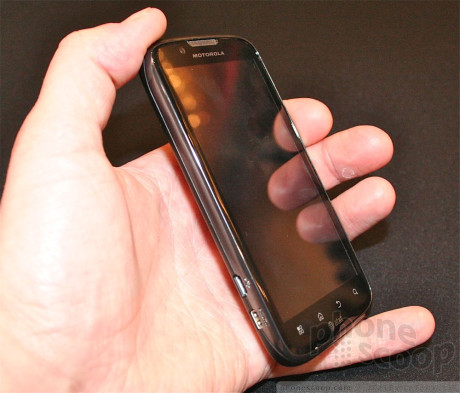 Motorola offers a follow-up to the Atrix with the Atrix 2. This sequel goes for the gusto with major spec improvements, such as a qHD display, 8-megapixel camera, and 21Mbps HSPA+. Here are our initial impressions.
Motorola had the new Atrix 2 on hand and it is a significant improvement over the original, which debuted earlier this year. The Atrix 2 steps up the quality of the display, the processor, and the wireless speeds in what is a worthy sequel.
As with most Android devices the Atrix 2 is a rather large phone. It certainly isn't the largest, but it is sizable just the same. It feels good in the hand, though the unit Motorola had on hand were a bit creaky. Motorola's reps were unable to say if they were final production builds. The seams weren't tight and the plastics were a bit more pliable than they ought to be.
The display looks great. It measures 4.3 inches and has qHD resolution (540 x 960 pixels). It really looks nice, was bright, and colorful. There are capacitive buttons below it for accessing the standard Android controls.
The buttons on the right side of the phone — volume toggle and camera button — were absolutely terrible. They had far too much travel to them, and the overall feel was mushy. The screen lock/power button on the top was good.
Using the Atrix 4G, it was instantly noticeable how fast the device was. The bumped up processor and added RAM made a significant difference in the performance. (The original was horridly slow and underpowered). The user interface is a typical Motorola treatment for Android 2.3 Gingerbread. The home screen panels are loaded with widgets and Motorola has given them their own look.
The Atrix 2 also has an optional lap dock accessory. The new lap dock that is being made available for the Atrix 2 is a universal dock that also fits other Motorola phones that support the WebTop mode.
Rounding out the feature list, the Atrix 2 also supports HSPA+ at 21Mbps, meaning it is a much truer 4G-ish device. It also includes an 8-megapixel camera with LED flash, 1080p HD video capture, fast-camera start-up, and a user-facing camera.
Screen/Display
Can anyone tell me if the screen is "gorilla glass" or plastic?
No Fingerprint Reader??
Can you please confirm the presence or lack of a fingerprint reader?
Honestly.....the fingerprint reader needs some work.....it's much better with the latest Gingerbread firmware but has its moments. Surprising they omitted it but looks like the Photon may be the last device their pushing the fingerprint reader.....Hon...
(continues)