HTC Titan
Info Photos News Forum 28 Reviews 8
AT&T has indicated through its forums that it will provide a system update for its Windows Phone devices (including the HTC Titan, Samsung Focus and others) at some point in the coming months. For reasons unknown, AT&T has not distributed the 8107 system update. This update fixes several bugs as well as boosts performance. The company is looking at delivering Tango, or Consumer Release 3 (CR3) of Windows Phone, down the line. When it arrives, this update will include the 8107 fixes and more.
---
AT&T today announced via its Facebook page that it will begin offering the HTC Titan Windows Phone Mango device starting November 20 for $199.99 with a new agreement.
---
AT&T today announced that it will sell the HTC Titan, and the Samsung Focus S and Focus Flash later this fall. All three devices will run Windows Phone 7.5 Mango. These are the first new WP7.5 handsets from AT&T since last year's models. Additionally, AT&T will start updating its existing Windows Phone 7 lineup — including the HTC HD7S, Samsung Focus, LG Quantum, and HTC Surround — to Windows Phone 7.5 Mango later this fall. AT&T said that some of the new WP7.5 devices would include HSPA+ 4G mobile broadband capabilities.
---
Phone Scoop spent some time with HTC's new Windows Phone 7.5 Mango handsets, the Titan and Radar. Here are our first impressions of these second-generation WP7 smartphones.
---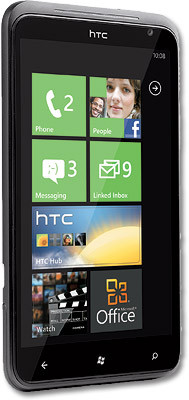 HTC today announced its new flagship Windows Phone 7.5 Mango smartphone, which boasts a Titanic-sized 4.7-inch WVGA (800x480) display. This massive smartphone is powered by a 1.5GHz dual-core SnapDragon processor and includes up to 16GB of storage for media. It comes with an 8-megapixel camera with F2.2 lens, autofocus, dual LED flash, and 720p video capture. It also has a 1.3-megapixel user-facing camera. Other features include GPS, Wi-Fi, stereo Bluetooth, 5.1 surround sound, a bevy of sensors, and HSPA+ 3G at 14.4Mbps down and 5.76Mbps up. HTC has expanded the presence and scale of the HTC Hub, which can be used by customers to snag HTC-developed applications. It also interacts more seamlessly with Microsoft's Zune content store, where video and music content is available. The HTC Titan will become available in European markets first. HTC didn't immediately say if the Titan would be sold by U.S. carriers, but the Federal Communications Commission recently approved a variant of the HTC Titan with support for WCDMA in the 850/1900MHz bands. These are the same bands AT&T uses for its HSPA+ network, though AT&T hasn't announced that it will sell this device.
---