Pantech Burst
Info Photos News Forum 17 Reviews 4
Pantech has made the Android 4.0 Ice Cream Sandwich system update available for both its Burst smartphone and Element tablet. The upgrade includes all the standard improvements inherent in Ice Cream Sandwich, such as face unlock and the holo theme. Changes specific to the Burst include new self-portrait and panorama capture modes in the camera, and a time-lapse recording function in the video camera. Both devices are sold by AT&T. The update must be downloaded and installed through a laptop or desktop computer.
---
AT&T today published a list of devices that it plans to update to Android 4.0 Ice Cream Sandwich in the coming months. The devices include the LG Nitro; the Motorola Atrix and Atrix 4G; the Pantech Burst and Element; and the Samsung Captivate Glide, Galaxy Note, Galaxy S II, Galaxy S II Skyrocket, and Galaxy Tab 8.9. These devices will all be updated in the coming months, according to AT&T, but more precise times weren't provided.
---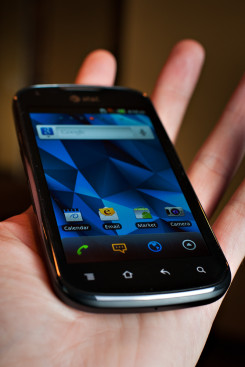 Pantech was one of a slew of companies that outed new Long Term Evolution 4G gear for AT&T today. The Pantech Burst is a nice little $50 LTE 4G smartphone.
---
AT&T today announced six new LTE phones, some with record-breaking high-resolution cameras.
Sony Ericsson Xperia Ion, an Android phone with a 12-megapixel camera with Sony Exmor R sensor and 4.7-inch full HD display. A front camera also supports 720p capture. It also sports HDMI-out and is PlayStation Certified.
HTC Titan II, with a 16-megapixel camera and a 4.7-inch Super-LCD display. Powered by a Qualcomm 1.5 GHz Snapdragon S2 processor.
Samsung Galaxy S II Skyrocket HD, with a full HD display measuring 4.65 inches, powered by a 1.5 GHz dual-core processor.
Samsung Galaxy Note, with a huge 5.3-inch display that borders on tablet size. A stylus is included, but not required. 1.5 GHz dual-core processor.
Samsung Exhilarate, an affordable LTE smartphone with a 4-inch Super AMOLED display and made from 80 percent recycled post-consumer materials.
Pantech Burst, with 4-inch Super AMOLED display and Android.
The last two devices will be available for less than $50 each.
---
The FCC this week approved a unique phone with specific radio functions that suggest AT&T may be planning to deploy LTE technology in the 850 Mhz frequency band. The Pantech P9070 will be the first phone to support LTE 850. It also supports the standard set of modes for an AT&T LTE phone, including LTE in the 700 and 1700 bands, plus GSM and WCDMA. The specific LTE 700 band supported by the P9070 - band 17 - is unique to AT&T. AT&T deploying LTE in the 850 band could be a "plan B" in case the company is unable to purchase T-Mobile USA. Re-farming the 850 MHz band for LTE would allow AT&T to deploy a robust LTE network nationwide, although migrating customers away from GSM and WCDMA technology in that band - without disruption - could be challenging in many markets.
---