BlackBerry Curve 9350
Info Photos News Forum 24 Reviews 2
Research In Motion was hit with a lawsuit by NXP, which alleges that RIM's BlackBerry Torch, Curve, and Bold smartphones infringe on six of its patents. NXP wants sales of the devices halted, and compensatory and triple damages. It's not immediately clear to which technologies the patents pertain.
---
Research In Motion today announced a forthcoming update to its BlackBerry 7 platform that will add an application called Tag. The application makes use of the near-field communications chip on recently released BlackBerry smartphones so users can share contact information, documents, URLs, photos, and other multimedia content by tapping their BlackBerry smartphones together. BlackBerry Tag will also let people add one another as contacts on BBM. The application will work on handsets such as the BlackBerry Bold 9900/9930 and Curve 9350/9360/9370. RIM didn't say when the update is scheduled to arrive,
---
Research In Motion and HID Global today announced that the BlackBerry Bold 9900/9930 and the BlackBerry Curve 9350/9360 will add support for HID's iCLASS digital keys and readers within the near-field communications chip. By including support for HID's digital key readers, users of these BlackBerry devices will be able to use their phone as an identity card, such as those used to access office buildings and other controlled locations. The companies believe businesses and universities will find this feature appealing, as it may allow them to offer alternatives to key cards for entering buildings. The companies are piloting the technology now, and it should be available in the Curve and Bold lines by early 2012.
---
The latest version of the BlackBerry Curve is the smallest yet, but offers many of the same features found on its bigger BlackBerry brothers.
---
Sprint recently revealed via its support forums that the BlackBerry Curve 9350 will not launch on September 9 as originally planned. Instead, the launch has been delayed until an undetermined date in October. Sprint blamed the delay on "unexpected circumstances" but gave no other reason for the delay.
---
Sprint today announced that it will launch the new BlackBerry Curve 9350 on September 9 for $79.99 with a new contract after rebates. Sprint's business customers may get the 9350 for $49.99.
---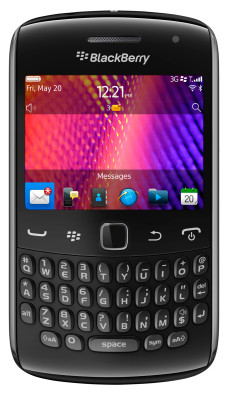 Research In Motion today announced a new line of BlackBerry Curve smartphones, the 9350, 9360, and 9370. All three devices offer identical hardware and run the new BlackBerry 7 operating system with the latest version of BlackBerry Messenger and the new BlackBerry browser. They each feature a 2.44-inch display with 360 x 480 pixels and RIM's Liquid Graphics; optical trackpad; 800MHz processor; 5-megapixel camera with flash, face detection, and VGA video capture; and built-in near-field communications. They also include GPS, Wi-Fi, Bluetooth, 512MB of RAM, and support microSD cards up to 32GB.
9370: The 9370 is a dual-mode world phone that has quad-band EDGE for roaming and CDMA/EVDO for use in the U.S. It has 1GB of internal storage.
9360: This version includes tri-band UMTS and quad-band EDGE support, and offers 512MB of storage.
9350: This version runs CDMA only and has 512MB of storage.
RIM expects all three models to become available starting in September. Pricing for each model was not announced.
---