Motorola Droid Bionic
Info Photos News Forum 100+ Reviews 25
Motorola recently revised the customer support page that lists which smartphones will receive updated versions of Android and approximately when those updates will arrive. The RAZR M, RAZR HD, and MAXX HD have all received Jelly Bean. The Atrix HD is next on the list, and should get Jelly Bean beginning this month. Devices slated to receive Jelly Bean during the first quarter of 2013 include the Electrify M and the Xoom tablet. Other devices that will receive Jelly Bean at some point in the future include the Photon 2, Electrify 2, RAZR, RAZR MAXX, Droid 4, and Bionic. As a reminder, Motorola is offering a $100 rebate toward an Android 4.x device to current owners of Motorola smartphones running Android 2.3 Gingerbread.
---
Motorola has updated the list of devices that will receive updated versions of Android and is revealing for the first time those slated to get Android 4.1 Jelly Bean. The Droid RAZR M, RAZR HD, and MAXX HD are all schedule to receive the Jelly Bean update before the end of the year. Other devices that will be updated to Android 4.1 include the Atrix HD, Photon Q, Electrify 2, and the Droid RAZR, RAZR MAXX, 4, and Bionic. Motorola didn't say when this second group will receive Jelly Bean. Devices not on these lists are likely to be updated only as far as Android 4.0 Ice Cream Sandwich.
---
Motorola has indicated that the Android 4.0 update for the Droid Bionic that was scheduled to occur in during the third quarter of this year has been delayed until the fourth quarter. No details were provided as to why, but Motorola VP of product Punit Soni promised that the update will be delivered before the end of the year. Soni also noted that the company will try to be more transparent about when device updates will be delivered, and will also try to make the updates more timely. Motorola said it will have more information about updates for the Photon 4G / Electrify soon.
---
Motorola has provided an update to its support forum pages, outlining when some devices can expect to see the Android 4.0 Ice Cream Sandwich update. The RAZR and RAZR MAXX should see Android 4.0 during the second quarter, while the Atrix 2, Atrix 4G, Droid 4, and Bionic should see ICS during the third quarter. The Photon 4G is slated to receive ICS during the fourth quarter. Most other Motorola Android devices will remain at Android 2.3, 2.2, or 2.1.
---
Verizon Wireless today published a list of its Android devices that it plans to update to Android 4.0 Ice Cream Sandwich. The devices include the: HTC ThunderBolt, Droid Incredible 2, Rhyme, and Rezound; Motorola Xoom, Bionic, RAZR, RAZR MAXX, Droid 4, and Xyboards 8.2/10.1; Samsung Galaxy Tab 7.7/10.1; and the LG Spectrum. Verizon said that it will add to this list over time. Verizon didn't say anything other than "later this year" regarding when these devices will be updated. Some of the manufacturers of these devices have provided guidance on the timing of the updates. For example, Motorola said its devices won't see Android 4.0 until some time in the third quarter of the year, while HTC has indicated that Android 4.0 might arrive during the first half of the year.
---
Verizon Wireless today announced that it is pushing system updates to the Motorola Droid Bionic, RAZR, and RAZR MAXX. The updates improve performance, fix bugs, and add Verizon-branded apps/services. Users can download the updates over the air.
---
Motorola and Verizon Wireless have finally brought the LTE-packing Droid Bionic to market after a prolonged nine-month delay. Was the wait for Motorola's first LTE 4G smartphone worth it?
---
Verizon Wireless and Motorola today announced that the Droid Bionic Android smartphone — the first from Motorola to support Verizon's Long Term Evolution 4G network — will be available for sale starting Thursday, September 8 for $299.99 with new two-year agreement. The Droid Bionic has been re-realized since its first introduction in January of this year and looks like an enhanced Droid X/X2. According to Verizon, it is the thinnest LTE handset at 11mm, and also has the largest battery at 1735mAh for longer life. It features a 4.3-inch qHD (540 x 960 pixel) display with Gorilla Glass, a dual-core 1GHz processor, and 1GB of RAM to aid performance. It runs Android 2.3.4 Gingerbread and features Motorola's Webtop capability, which allows the Droid Bionic to act as a laptop with a full Firefox browser when attached to the laptop dock (or other Webtop accessories). It also includes the new ZumoCast application, which is used in conjunction with a home PC to provide access to the music, photo, and video files stored on the customer's computer via the network. The Droid Bionic ships with Motoprint for Wi-Fi-based printing; mirror mode with HDMI out; enterprise-grade security; and Citrix GoToMeeting and Citrix Receiver software for business users. Other features include an 8 megapixel camera with autofocus, flash, and 1080p HD video capture; user-facing camera with Google Talk video chat; 16GB built-in storage and support for microSD cards up to 32GB; and support for Xi-based wireless inductive charging. The Droid Bionic requires a minimum $30 monthly data plan and a minimum $39.99 voice plan. The laptop dock is being sold separately for $299.97, but customers who buy the laptop dock together with the Droid Bionic will receive a $100 mail-in rebate promotion.
---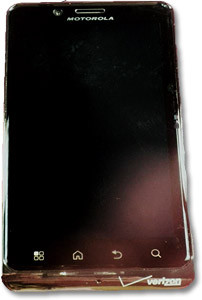 Documents seen on the Federal Communications Commission web site today provide information about the revised Motorola Droid Bionic. The Droid Bionic was first announced in January at the Consumer Electronics Show along with the rest of Verizon's LTE-equipped smartphones 9HTC Thunderbolt, LG Revolution, Samsung Droid Charge). The Bionic, however, was delayed and eventually revised by Motorola. These are the first images that confirm the look of the new device. The Droid Bionic is a slab-style Android device with a 4.3-inch qHD display and dual-core 1GHz processor. The FCC documents confirm that it supports CDMA/EVDO, Bluetooth, Wi-Fi, and LTE. Images posted by the FCC show that the device has a microUSB port, microHDMI port, 8 megapixel camera with flash, and 3.5mm headset jack. Neither Verizon Wireless not Motorola have confirmed details about the revised Droid Bionic.
---