FCC Docs Show Revised Droid Bionic in Full Form
Article Comments 26
Aug 7, 2011, 6:34 PM by Eric M. Zeman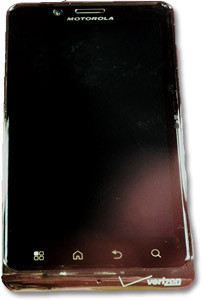 Documents seen on the Federal Communications Commission web site today provide information about the revised Motorola Droid Bionic. The Droid Bionic was first announced in January at the Consumer Electronics Show along with the rest of Verizon's LTE-equipped smartphones 9HTC Thunderbolt, LG Revolution, Samsung Droid Charge). The Bionic, however, was delayed and eventually revised by Motorola. These are the first images that confirm the look of the new device. The Droid Bionic is a slab-style Android device with a 4.3-inch qHD display and dual-core 1GHz processor. The FCC documents confirm that it supports CDMA/EVDO, Bluetooth, Wi-Fi, and LTE. Images posted by the FCC show that the device has a microUSB port, microHDMI port, 8 megapixel camera with flash, and 3.5mm headset jack. Neither Verizon Wireless not Motorola have confirmed details about the revised Droid Bionic.
Seriously, who told Motorola that tgey could build smartphones?
Before now their only attempt at a smartphone was the MOTO Q and Q9C, before that was the overdone Razr line (not a smartphone but their only discernable success since the STAR TAC.

They all come preloaded with manufacturer and carrier BLOATWARE ie MOTOBLUR. They are for the most part thoughtlessy engineered pieces of crap that are a cheap knock off of what their competitors have already done. You would think since GOOGLE created then GIFTED the OS to them (Android) by making it freeware that they would of spent more time on developing the hardware. But no, they jumped on the Android bandwagon and spent development money on advertising and licensing of Lucasart's Droid name because they were just that insecure about their inferior equipm...
(continues)
Seriously, your actually bashing on Motorola cause of the windows based Moto Q series from 4 years ago!?!?! When it comes to Android platform phones, Motorola is simply leading in the terms of specs/quality. No droid is perfect but since 11/2009 the ...
(continues)
Go eat a cheeseburger, Mr FatMan 🤣
There are actually 2 Droid smartphone not made by Motorola. The Droid Incredible (HTC), and the Droid Charge (Samsung), and I beliece it's Vzn that licenses the name Droid, not Motorola.
I am intrigued. I was under the impression that motorola made some nice pieces of hardware. I have read reviews on the newest Photon 4G and all I hear are good comments.
Maybe not selling in a dictatorship of a country was the reason they felt they could make phones however they wanted.
Just a 4G X2?
is that all this phone is going to turn out to be? Why the wait? The specs sure sound like a 4G variant of their X series....
About the Motorola Droid Bionic...
Which is what these discussions are supposed to be about...

So far, it is a GREAT device. Extremely fast and suprisingly stable (for a Motorola Android phone).

😎
The question though is with Motora how long does the stability last? They shod have used physical buttons on the bottom instead if capacitive.

Personally I'm done with Motorola.
Snapper314 said:<

Extremely fast and suprisingly stable (for a Motorola Android phone).

😎
Key words "For a Motorola Android"... Yeah it tries so hard.. pardon me for not investing in a "short bus" device that i >...
(continues)