Review: Motorola Droid Bionic
Form Basics Dock Extras Video Wrap-Up Comments 2
Is It Your Type? Body The Three S's
Sep 9, 2011, 4:13 PM by Eric M. Zeman
Motorola and Verizon Wireless have finally brought the LTE-packing Droid Bionic to market after a prolonged nine-month delay. Was the wait for Motorola's first LTE 4G smartphone worth it? Phone Scoop tells you in this full review.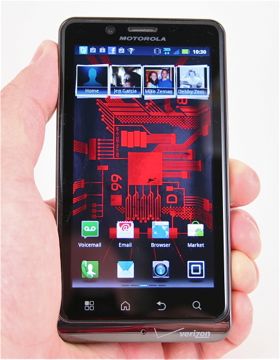 Motorola swings for the fences with the Droid Bionic, its latest flagship Android smartphone and first Long Term Evolution 4G device for Verizon Wireless. This behemoth of a phone claims to do it all with its huge display, dual-core processor, speedy 4G radio, and suitcase full of accessories. Does it make good on these claims? Phone Scoop finds out.
How To
Can we have a how to section here?

My biggest problem with my Bionic is the keyboard. I liked the one on my original Droid better. The one on the Bionic does not give you feedback for the letter you just pushed, it just lights up. The Droid would repeat the letter and that was a great confirmation. The other thing the Bionic does not do is advance to the next word if you choose the word they offer as the type ahead. With the Droid, there was always an added automatic spacebar after this, with the Bionic, I have to hit the spacebar to advance to the next word. If there is a setting for this, I have not found it.

For whatever reason, I find I make more typing errors on the Bionic keyboard than I did on the Droid. When I gave up my slide...
(continues)
Laptop replacement?
Not even close.