Samsung Replenish
Info Photos News Forum 23 Reviews 4
Sprint has indicated via its support forums that Android 2.3 Gingerbread is now available to the Samsung Replenish. The update also offers a fix for an SMS bug. It will be released in stages over the next 10 days and can be downloaded over the air.
---
A new wireless service provider called PrepaYd Wireless launched today and offers an unlimited talk, text (SMS only), and 3G web data "Power" plan for $40 per month. The company also offers an unlimited talk and text "Advantage" plan for $35 per month. To get unlimited picture messaging and instant messaging, users must choose the $45-per-month "Ultimate" plan. The company is offering a free feature phone to new customers while supplies last, and also sells devices such as HTC Arrive, LG Optimus S, LG Remarq, and the Samsung Replenish for prices ranging between $75 and $399. PrepaYd's service runs on the Sprint network, and is available across most of Sprint's CDMA footprint. PrepaYd Wireless's parent company, PrepaYd, runs a debit card business and targets the underbanked, which it believes gives it a unique position in the prepaid mobile market. PrepaYd phones and services are available directly from its web site.
---
Sprint held a small press event this afternoon to show off the new Samsung Replenish, its new "green" Android smartphone. What sets the Replenish apart, aside from its environmentally-friendly build?
---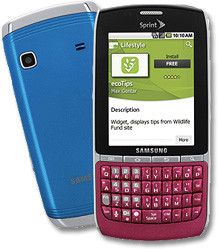 Samsung has posted information on its web site about an unannounced Android handset. The SPH-M580 Replenish is a monoblock QWERTY device that has both a full keyboard and a touch screen. According to the few details shared by Samsung, it has a 2.8-inch QVGA display, camera, Wi-Fi, and uses recycled and recyclable plastics. The FCC recently approved a Samsung device with the same M580 designation, and confirms that it has dual-band 850/1900MHz CDMA and Bluetooth 3.0. Sprint has offered a few environmentally friendly handsets from Samsung in the past, though neither company has confirmed this existence of this handset. According to Samsung's web site, the device will become available in June.
---