Samsung Outs QWERTY-Equipped Replenish with Android
Article Comments 5
Apr 14, 2011, 1:30 PM by Eric M. Zeman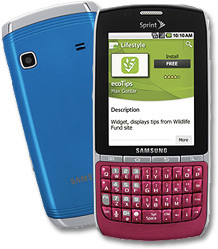 Samsung has posted information on its web site about an unannounced Android handset. The SPH-M580 Replenish is a monoblock QWERTY device that has both a full keyboard and a touch screen. According to the few details shared by Samsung, it has a 2.8-inch QVGA display, camera, Wi-Fi, and uses recycled and recyclable plastics. The FCC recently approved a Samsung device with the same M580 designation, and confirms that it has dual-band 850/1900MHz CDMA and Bluetooth 3.0. Sprint has offered a few environmentally friendly handsets from Samsung in the past, though neither company has confirmed this existence of this handset. According to Samsung's web site, the device will become available in June.
outing
Umm. Wouldn't the listing on its website seem to "confirm the existance" of this phone by Samsung?
I work for Sprint and was in a training seminar today. This device will be coming to Sprint some time in June. I don't know if it will be exclusive to just Sprint though...