HTC HD7 / HD7S
Info Photos News Forum 66 Reviews 14
AT&T today announced that it will sell the HTC Titan, and the Samsung Focus S and Focus Flash later this fall. All three devices will run Windows Phone 7.5 Mango. These are the first new WP7.5 handsets from AT&T since last year's models. Additionally, AT&T will start updating its existing Windows Phone 7 lineup — including the HTC HD7S, Samsung Focus, LG Quantum, and HTC Surround — to Windows Phone 7.5 Mango later this fall. AT&T said that some of the new WP7.5 devices would include HSPA+ 4G mobile broadband capabilities.
---
Dell has indicated via one of its Twitter accounts that it will start pushing out the NoDo update to the Venue Pro WP7 smartphone starting today. Dell will also be pushing a Dell-specific update to fix bugs at a later date.
---
Microsoft has published a web site to provide Windows Phone 7 users with a general idea of when they might expect their devices to receive the NoDo update. According to the site, Microsoft is scheduling the update for the Dell Venue Pro and HD7 (both on T-Mobile), which means it should be available in the next 10 days or so. The update is still being tested for other phones, such as the Surround, Quantum, and Focus, and the update has yet to be scheduled for them. NoDo provides copy and paste and better Marketplace search.
---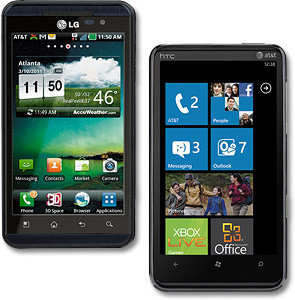 AT&T today announced two new high-end smartphones. The LG Thrill 4G is AT&T's version of the LG Optimus 3D announced last month. The HTC HD7S is AT&T's version of the HD7, already available from T-Mobile USA.
The LG Thrill 4G is the first phone announced by a US carrier with a glasses-free 3D display, and a 5-megapixel 3D camera. Other features include Android 2.2, 16 GB of memory, HD video capture, dual-core 1 GHz processor and "4G" data. It will be available in "coming months."
The HTC HD7S is a Windows Phone 7 device sporting a 1 GHz processor and a 5-megapixel camera. The large 4.3-inch display is a Sony SuperLCD, an upgrade over the screen on the HD7 version offered by T-Mobile. It will be available in the "coming weeks."
---

Hands-on with the full range of Microsoft Windows Phone 7 devices announced this week, including the HTC HD7 and Surround, LG Quantum, Samsung Focus, and Dell Venue Pro.
---