Samsung Captivate (Galaxy S)
Info Photos News Forum 100+ Reviews 51
Samsung recently announced the availability of Android 2.3 Gingerbread to the Captivate smartphone. Installing the new system software requires the use of Kies Mini and a computer.
---
The U.S. International Trade Commission today voted in favor of investigating Apple's patent and design complaints made against Samsung. In April, Apple sued Samsung alleging the company "slavishly" copied its designs and violated its smartphone and tablet patents. In July, Apple filed a complaint with the ITC, seeking to block Samsung from importing the infringing devices (a number of Android-based smartphones) into the country. The ITC will explore Apple's claims and see if an injunction against Samsung is warranted. Samsung has filed a similar complaint with the ITC against Apple, and also countersued Apple both in the U.S. and abroad.
---
AT&T today announced that all of the Android handsets it has released in 2011 will receive the Android 2.3 Gingerbread system update. The Motorola Atrix 4G will receive Gingerbread starting today, and the HTC Inspire 4G will have access to Gingerbread in the coming weeks. Other devices to receive the update include the LG Phoenix, Pantech Crossover, Samsung Captivate 4G, and Samsung Infuse 4G. AT&T will announce Gingerbread availability for these other devices closer to when the update is ready. AT&T said Gingerbread will be available for install over Wi-Fi, 3G, and via PC, depending on the device.
---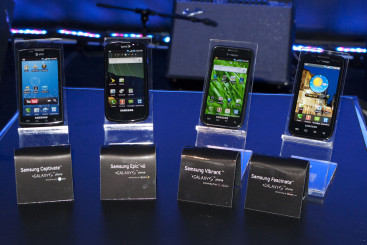 Hands-on with the new Samsung Galaxy S series phone, including the Captivate for AT&T, Fascinate for Verizon, Epic 4G for Sprint, and Vibrant for T-Mobile.
---