Nokia N95 8GB
Info Photos News Forum 100+ Reviews 14
Nokia has released the first firmware upgrade for the U.S. version of the N95. This is significant because Nokia has regularly offered firmware updates to the European version of the phone. The firmware update, 20.02.011, brings in a number of welcome features, including demand paging, Flash Lite 3, Web Run Time, Idle Screen Nokia Search, as well as improvements in the performance of the phone. The speed at which the camera can capture images has also been improved. The upgrade is available for free from the Nokia web site.
---
Nokia released four new handsets at its Go Play event in London. Here are previews of the N81, N95 8GB, 5610, 5310 and the Nokia Music Store.
---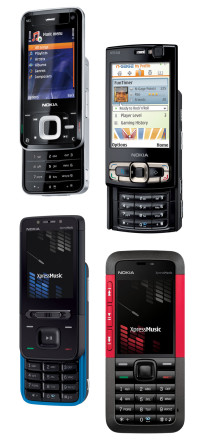 Nokia unveiled four new handsets at an event in London that are compatible with some of the services announced today. Two phones are N Series multimedia computers running S60 3rd Edition and two are Series 40 3rd Edition-based additions to the Xpress Music lineup. They all ship in the fourth quarter.
N81: This new slider is a quad-band GSM/EDGE and WCDMA 2100 MHz 3G phone that comes in two variants. One model has 8GB of storage built in, and the other has a microSD slot for additional storage. It is the first handset that will be compatible with the new Nokia Music Store and N-Gage services and has a new 3-D menu system. It has stereo speakers, a 3.5mm headset jack, as well as stereo Bluetooth and an FM radio. It has a 2.4-inch QVGA screen, 2 Megapixel camera, and 802.11b/g Wi-Fi. The 8GB model will cost 430 Euros and the standard edition will cost 360 Euros.
N95 8GB / N95 U.S.: This update to the N95 includes 8GB of internal storage, as well as a new 2.8-inch QVGA screen. Most of the other specifications are unchanged from the original. It will cost 560 Euros. Nokia also officially announced the N95 for the U.S. market. The U.S. variant will include quad-band GSM/EDGE as well as dual-band 850/1900 WCDMA radios compatible with U.S. 3G networks. It comes with a microSD slot for additional storage. It has the original 2.6-inch screen. It will cost $699.
5610 XpressMusic: This slider phone is a step up from the similar 5300 XpressMusic. It has quad-band GSM/EDGE and dual-band 850/2100 WCMDA 3G radios. It features a music slider key that will automatically launch the music player from a blank screen. It has a 2.2-inch QVGA screen that is scratch proof. It offers 22 hours of music playback, support for 4GB microSD cards for storage and a 3.2 megapixel camera with LED flash. It also has an FM radio and secondary camera for video calling, but a 2.5mm headset jack. It will cost 300 Euros.
5310 XpressMusic: This candybar has tri-band GSM/EDGE radios and dedicated external music controls. It has a 3.5mm headset jack as well as stereo Bluetooth. It has a 2-inch QVGA screen and a 2 Megapixel camera. It supports up to 4 GB of miscroSD storage and will cost 225 Euros.
---