Hands On with Mozilla's Boot To Gecko
Article Comments 3
Feb 27, 2012, 10:38 AM by Rich Brome
updated Feb 27, 2012, 11:38 AM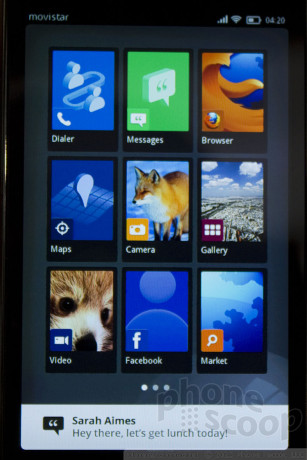 Mozilla's latest project aims to make the whole phone interface web-based; a kind of Chrome OS for phones. Actually called the Open Web Device project, it's really a set of open standards to make phones web-based. Read on for more details about this interesting concept and our thoughts on it.
We sat down with the fine folks from Mozilla to chat about Boot To Gecko and get a demo. We learned a few things you might not know about this curious project.
If you only read the headlines, you might think Boot To Gecko is a new, web-based phone OS from Mozilla, along the lines of webOS back in the Palm days. Actually, it's more like webOS today, although even more open. Really, it's a loose set of standards for web-based phone apps, being driven by Mozilla.
But let's back up a bit. The story starts with Firefox for Android. This browser isn't much in its current version, but the new version coming soon (the beta should hit in 2-4 weeks) is a complete revamp with dramatically better performance and a rich set of APIs that let web apps hook directly into the phone hardware (with appropriate safeguards) such as the camera, GPS, accelerometer, battery status, etc. Really, most of the APIs that full-fledged apps can access.
So Mozilla has decided to take that idea to its natural end, making a phone OS where the apps are web apps, and the whole phone interface is just a web app running. Really, the phone itself is nothing but a bare browser, with web apps providing everything from the status bar to phone calls to messaging. (Even the browser app controls are written in HTML 5; a browser within a browser!) It looks and works just like any modern smartphone.
We tried a demo unit running Mozilla's reference build of the software, which has a Mozilla-designed example interface called Gaia. Although it's clearly an early build, and not intended for commercial devices anyway, it works well. For demo purposes, they have one of the hardware keys configured as a "view source" button, so you can see for yourself that everything you see really is just a web page written in HTML 5. Camera, music, browser, messaging and phone calls all work. There are even working games like Cut The Rope. It's not complete, but all of the basics are there and working. The interface is very simple, but it's all just intended as an example anyway. The one major part not working is the Market, and that's because it will depend on the manufacturer, or - more likely - the carrier, to create and run that service.
Manufacturers might choose this OS if they don't like the terms that Google places on Android, or the hardware requirements (Mozilla claims this is a pain point for many manufacturers.)
Carriers might want phones based on this platform because they can offer a rich smartphone experience on a cheaper phone than is possible with Android. Since carrier subsidies mean all low-end phones are free on contract to the consumer, that gives the carrier a lot of incentive to go for the cheapest possible phone. If two phones are both offered for free to the consumer, but one costs the carrier $200 while the other costs $100, the latter one means an extra $100 in profit for the carrier. But consumers want smartphones, hence the hunger for cheaper smartphones.
Carriers might also like Boot To Gecko because of how easy it is to customize with a carrier interface. Since it's all just HTML5, it's relatively easy and cheap for a carrier like Telefonica to create their own interface and offer across a wide range of web-based phones.
And, in fact, Telefonica is doing just that, partnering with Qualcomm and Mozilla to create a reference design, which manufacturers can then use to easily make cheap web-based phones for Telefonica.
Unlike Android or webOS, Boot To Gecko is just one example implementation of a set of standards. Mozilla isn't trying to get "their" OS (based on the Gecko web rendering engine) to compete directly with Android and iOS. Rather, Mozilla is creating a set of open standards for web-based phones, including the APIs related to phone hardware, which are being submitted to standards groups to be made official. There are also specs for how apps should be packaged and installed, the permissions model, and more. There isn't a standards group to handle that, so Mozilla is simply publishing the "standard" it's come up with, and anyone is free to build something else based on the same standards.
In fact, there's nothing stopping Google, Opera, or anyone else from creating an Open Web Device based on the WebKit or other web rendering engine that would be 100% compatible with Boot To Gecko.
Mozilla says it is currently in talks with many companies, and may have a device on the market with a partner by the end of 2012. However, since everything is open, published, and free, companies may be building Open Web Devices that even Mozilla doesn't know about.
The whole concept is interesting, and we're always glad to see some new entrant shake up the mobile platform game. It can only help keep Google, Apple, and Microsoft on their toes. Diversity and competition spur innovation and all that jazz.
But we can't help but be skeptical of the chances for success here. Android is successful because Google is behind it, steering and pushing it. Hard. iOS is successful because Apple controls it. Many in the industry see the open-sourcing of webOS as the equivalent of a funeral. It's hard to see how the Open Web Device standard will gain much traction without a major player behind the wheel, with a lot at stake, driving it forward. Mozilla isn't talking as if it wants to play that role.
Here's a quick video tour:
I smell fragmentation problems
Because everyone can make each phone completely different, but let's hope I'm wrong. Still it's good to see more ideas being tested.
The goal is actually to reduce fragmentation by making everything standard HTML 5. Web apps have taken over the desktop for many people, (Gmail, etc.,) so Mozilla is trying to bring that standardization to phones.