Hands-On: Samsung Galaxy Beam
Article Comments 3
Feb 27, 2012, 5:47 AM by Eric M. Zeman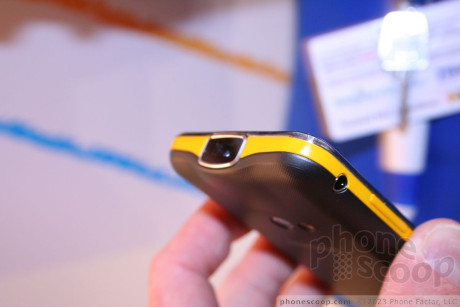 Samsung's latest Galaxy smartphone comes with a pico projector. We go hands on with this tiny home-theater-in-a-phone.
The Galaxy Beam isn't the first projector phone from Samsung, but it's certainly one of the best efforts I've seen. Samsung did a really nice job integrating the projector into the top of the phone so that it looks natural and not like a a tacked-on feature.
The overall look is similar to that of many other Samsung devices. It is a monoblock slab with rounded corners and a somewhat thick profile. The materials feel really good in the hand. I like the overall weight of the device, which is much lighter than I expected it to be. It feels solid and well put together.
One thing that sets it apart is the yellow plastic band circling the outer rim. We don't see yellow on smartphones too often, but it is tastefully done on the Galaxy Beam — i.e., it doesn't make the phone look like a bumblebee.
The controls are bunched up on the right edge of the phone. There's a projector button at the top, then the screen lock key and a hatch covering the microSD card port. They all function well enough.
The display is somewhat disappointing. It's WVGA, and not all that bright. It's not a terrible display, not at all, but it doesn't compare to some of the other displays Samsung has kicked out in recent months.
The user interface is Android 2.3.6 Gingerbread with the latest version of TouchWiz. In other words, it is identical to nearly every other Galaxy phone released by Samsung in 2011. The software worked fine and the user interface was fairly speedy.
So, how does the projector work? Essentially, you press the projector button and it comes on. It will then project whatever is on the display into any surface. So, if you're browsing the web, or watching videos, or working on an email, you can project it onto a surface and make the projected image up to 50 inches across. The projector has a rating of 15 Lumens, which Samsung claims is really bright. It's not. In a darkened room, the projected image was fairly dark, with little contract, and devoid of details. Of course, we can't expect too much from such a tiny little lamp. It's not going to replace your home theater projector by any stretch. Still, it's an interesting little phone. Here's a video tour so you can get a better sense of how it works.
Projector review
I own a PK201 from optoma. It has a 20 lumen rating. I use it offen as an outdoor theater. Easy setup and easy cleanup. I don't think the phone is a good substitute for what I use it for. The pk201 has all kinds of inputs such as rca, hdmi, vga, and an "iPod" connector. There is nothing like playing perfect dark on N64 outside while drinking and smoking a cigar. The beam would be a great way to share media quikly with friends. A late night movie outside, sure. The issue is obviously battery life. This limits the use because you MUST be plugged in! 1 hour and the battery is shot. So if you use your phone all day and the projector for 20 minutes, you're done. Samsung isn't making claim to the contrary though. Just be an informed buyer and don'...
(continues)
this phone is perfect for..
those nights when mom and dad is not home. 😁


..no more lonely nights!!! 🤣
The phone looks cool, but...
Get some hand lotion please. Damn.