Hands On with the HTC One V
Article Comments 2
Feb 26, 2012, 8:12 PM by Eric M. Zeman
updated Jul 6, 2012, 6:31 PM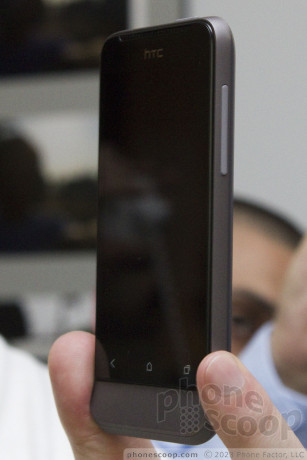 The least spec'd-out new Android smartphone from HTC still manages to impress. Here's why.
HTC One V
The One V is an interesting character. It brings HTC's modern look and features to an old design and the result is akin to the New Beatle's appeal: It's familiar, yet new.
The One V is milled from a single block of aluminum. The metal materials feel really nice. It, too, has a soft-touch finish, but it isn't as fancy as that of the One S. It's a regular old paint job to make the phone feel good. It has a dense feel in the hand, but the small footprint makes it easy to hold and carry around. The smooth textures are comfortable.
The display takes yet another step down from the One X and One S. It has a standard 800 x 480 pixels, but still manages to look good, even when held side-by-side with its more impressive brothers. I found it to be relatively bright and colorful, and sharp enough for most users.
Like the others, it runs Android 4.0 with Sense 4.0. It has a 1GHz processor, but I though it still ran without any problems.
Taiwan
Shows us all where Motorola, Nokia have gone. The sleeping Dragon has awakened!!!!
Mr. Zeman
Which manufacturer of Androids do you currently prefer? To be more specific, which overlay of Android do you prefer?