Hands On: LG Optimus 3D Max
Article Comments
Feb 26, 2012, 1:03 PM by Eric M. Zeman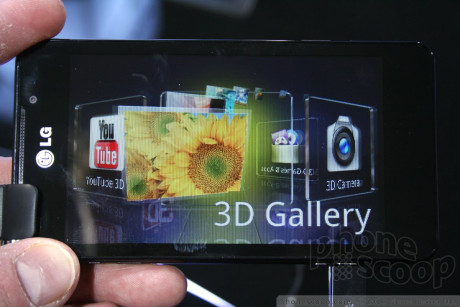 LG's newest 3D-capable phone makes improvements on last year's model, but we're not convinced updated specs make for a better phone.
The LG Optimus 3D Max is another Android smartphone from LG that can capture 3D still images and 3D video at 1080p HD resolution. It can also be used to view 3D content without the need for special glasses.
The 3D Max is, thankfully, thinner than its predecessor. It is light, and feels good in the hand overall. It is a nice size for a smartphone, not too big and not too small. The materials feel somewhat cheap, though, and I wish LG put a little more pride into its work. There's nothing high-quality about it the way it feels in the hand.
The big deal with this phone is the display, which is bright, colorful, and 3D. When viewing 2D content — i.e., the normal Android menus — it looks clean and sharp, though it isn't as stunning as the display found on the Optimus 4X HD. The 3D effect is evident and you need to really adjust how you hold it, as the effect only works when the phone is held at a certain distance from your eyes (which is about 18-20 inches).
The 3D content is certainly neat, Not only are there photos and videos., but games and YouTube in 3D as well. LG didn't say if the phone will be preloaded with 3D movies or 3D television content.
The controls are the phone are easy enough to find and use. I liked that there are dedicated buttons for the camera and video camera and switching between 2D capture mode and 3D capture mode is a breeze.
The user interface is Android 2.3 with light customization from LG. I didn't notice and speed or performance issues, and it looked clean and free of clutter.
Will the 3D Max succeed where the Thrill 3D failed? Hard to say. It's a decent enough phone, at first glance, but LG needs to be sure it delivers a usable product.
No messages