Liveblog: Huawei
Article Comments
Feb 26, 2012, 8:30 AM by Rich Brome @rbrome
updated Feb 26, 2012, 9:45 AM
We'll be live from Huawei's press conference today in Barcelona.
Advertisements article continues below...
Feb 26, 2012, 11:01 AM: (We had a connectivity issue. But that's the end of the live coverage. Look for our hands-on article in a few minutes.)
Feb 26, 2012, 10:25 AM: The D1 uses a dual-core processor from TI, the OMAP4460.
Feb 26, 2012, 10:21 AM: The D1, which is dual-core, is the one that will support LTE initially. The D quad will support penta-band WCDMA at first. Some quad-core phone with LTE will come in Q3 or Q4.
Feb 26, 2012, 10:18 AM: That's it for the main presentation. Now for Q&A.
Feb 26, 2012, 10:16 AM: ...AND LTE versions for North America and Japan!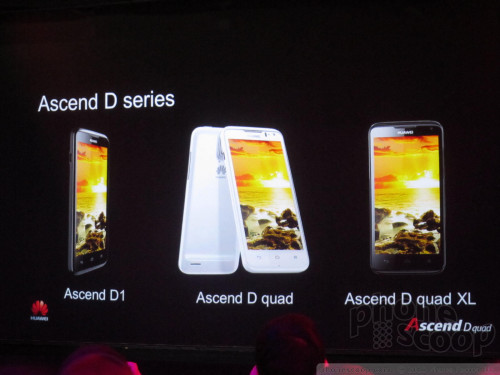 Feb 26, 2012, 10:15 AM: There will be both a WCDMA/UMTS version - with five bands...
Feb 26, 2012, 10:13 AM: ...they claim 30% better battery life, compared to competition with similar battery sizes.
Feb 26, 2012, 10:12 AM: Regardless, they claim to have many proprietary technologies to achieve lower power consumption / longer battery life than the competition.
Feb 26, 2012, 10:11 AM: What on earth is "Dync-leakage control"?!
Feb 26, 2012, 10:11 AM: Now talking power efficiency. The slide has a bunch of chip engineering data that I'm sure no one here understands.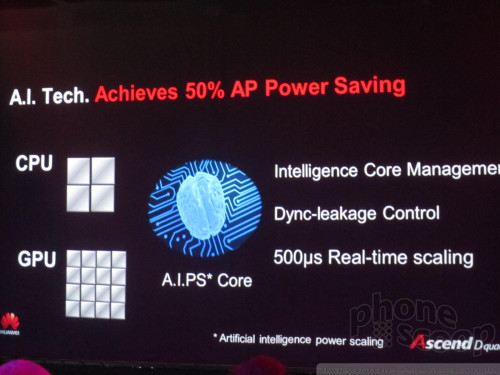 Feb 26, 2012, 10:09 AM: Backside-illuminated sensor, for better low-light performance. That's always nice.
Feb 26, 2012, 10:07 AM: 32-bit display. This may be the first time I've ever seen a whole slide dedicated to the color depth of a phone's display.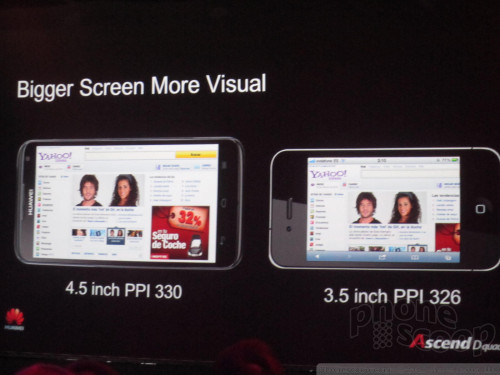 Feb 26, 2012, 10:05 AM: Now on the screen. It's 330 ppi, which is slightly denser (sharper) than the iPhone's Retina display, (which is 326 ppi.)
Feb 26, 2012, 10:03 AM: Now they're talking about audio quality. There are benchmarks - against the iPhone 4S and Samsung Galaxy Nexus - showing better sound quality. It features earSmart background noise cancellation from Audience, which uses dual mics to remove background noise.
Feb 26, 2012, 9:57 AM: 16-core GPU for graphics. Again, benchmarks showing it's the fastest... but I'd like to see independent benchmarks.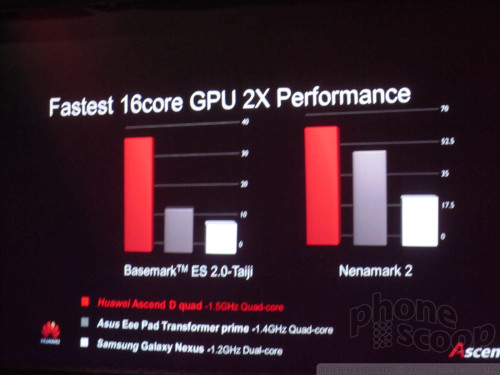 Feb 26, 2012, 9:56 AM: It's not clear why the slide showing "fastest quad-core" is comparing it to a dual-core phone...
Feb 26, 2012, 9:55 AM: The benchmarks are comparing the new processor with an Asus tablet and the Galaxy Nexus... suspect choices.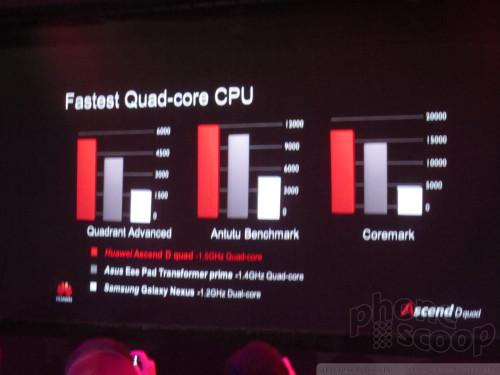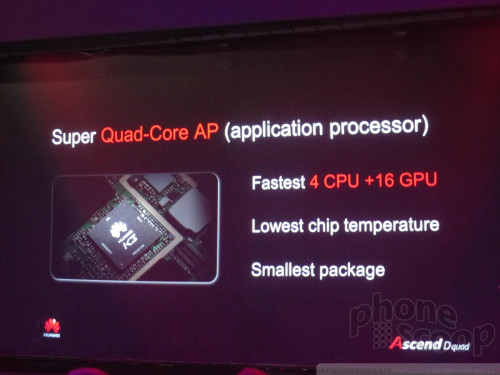 Feb 26, 2012, 9:54 AM: So these new phones are part of the new, flagship "Diamond" series, which is one step above the "Platinum" series.
Feb 26, 2012, 9:52 AM: The XL version measures 10.9mm thick.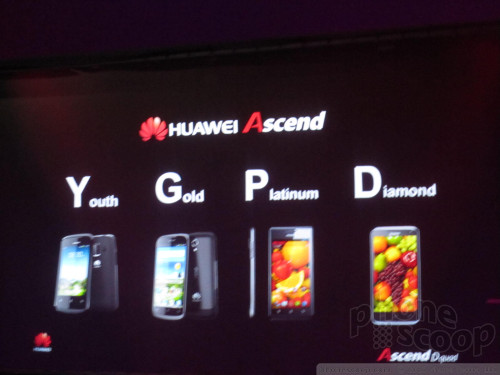 Feb 26, 2012, 9:51 AM: Huawei aims to bring both phones to global markets - including North America - in Q2.
Feb 26, 2012, 9:50 AM: ...and a "D1" version, which steps down to a dual-core processor.
Feb 26, 2012, 9:50 AM: There's also an "XL" version, which - just like the RAZR MAXX - keeps the same specs while adding a bigger (2500 mAh) battery.
Feb 26, 2012, 9:49 AM: Other features include a 4.5-inch display 720p HD display, 8-megapixel backside-illuminated camera, 1.3-megapixel front camera, and 1080p HD video capture. The battery is 1800 mAh, all in a body that measures 8.9mm thick.
Feb 26, 2012, 9:47 AM: The Ascend D Quad runs Android 4.0.
Feb 26, 2012, 9:46 AM: The Ascend D Quad is powered by Huawei's own quad-core processor, called the K3V2. It runs at 1.2 or 1.5 GHz... apparently there are two version of this phone?
Feb 26, 2012, 9:45 AM: Okay... apparently, we're starting now!
Feb 26, 2012, 9:44 AM: Well, okay, they've handed us the news. It's the Ascend D Quad.
Feb 26, 2012, 9:43 AM: We're in, seated, and ready to go.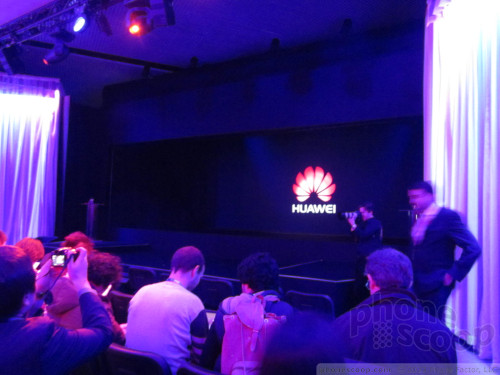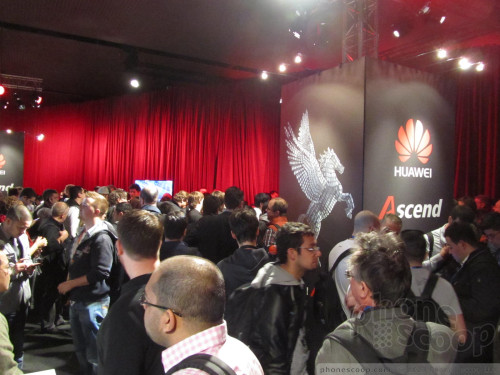 Feb 26, 2012, 9:35 AM: Hey there. Rich here. I'm at the Huawei event, ready to go. Were waiting for them to open the theater doors, so it looks like the start time is in 30 minutes. Hang tight!
No messages