Hands On with the Huawei Ascend D Series
Article Comments 1
Feb 26, 2012, 11:25 AM by Rich Brome @rbrome
updated Feb 26, 2012, 8:48 PM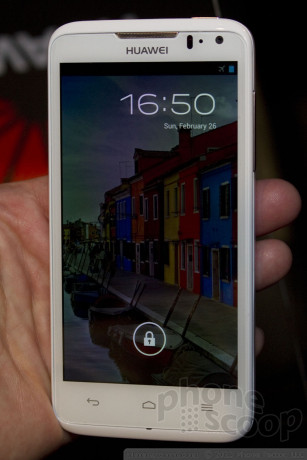 We take a quick hands-on look at the new Ascend D series, which includes the just-announced D1 and D quad.
Advertisements article continues below...
The D series phones are all pretty much the same phone on the outside, and have the same features. The differences are only in the processor inside and the networks supported. The D quad has Huawei's own quad-core processor, while the D1 has a TI OMAP dual-core chip inside. The D1 is the model we'll probably see first in the US, supporting LTE for US networks (no word on which bands or carriers yet.)
The Ascend D feels quite thin and light. It's all plastic and feels like it, but it feels solid enough. The keys work well, although there's no camera button. The 4.5-inch true HD screen is large and looks great.
The performance is snappy, although we're eager to really put it to the test when we have more time with it.
The interface is all standard Android 4.0, except for the camera, which is all Huawei. Right up front, you're bombarded with options for Instagram-style special effects. I'm not a fan of those, so I find that annoying. Others might love it. There's also touch-to-focus, some quick options along the left, and a deeper settings menu with a full range of advanced features, such as face detection.
The settings menu also has a few extra options, but otherwise it's just like using a Galaxy Nexus.
The features are all respectable, including an 8-megapixel backside-illuminated camera and front camera. Look for the Ascend D series to go on sale starting in April.
ScratchMe
The casing looks very scratchable 😲