Hands On with GreatCall Responder and iOS Apps
Article Comments
Jan 11, 2012, 2:59 PM by Rich Brome @rbrome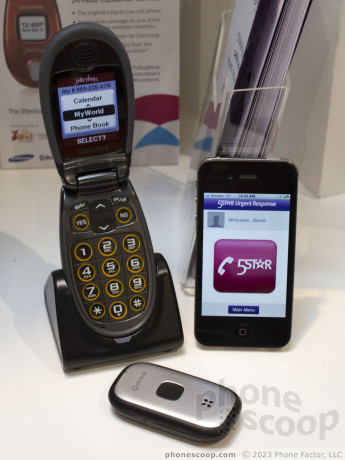 GreatCall is known for their Jitterbug phone, but this year they're expanding both up and down. For people who want something even simpler or cheaper, there's now the one-button Responder. They also have a new suite apps and services for your tech-savvy grandma who loves her iPhone. Read on for our quick hands-on.
Advertisements article continues below...
GreatCall's Jitterbug has long been the gold standard for phones for older Americans. It's easy to use, and well-designed for people with imperfect vision and hearing. The phone is only half of it, though, with a complete service offering backing up the phone.
In 2011, GreatCall added a pill-reminder service to Jitterbug. There's also a new concierge-like emergency service called 5-Star Urgent Response. It's for real emergencies, but also semi-emergencies, like getting lost, have a panic attack, or even just walking down a dark, scary street. You simply dial 5*, and you're connected to an operator who can see your location and profile - even medical info if you set that up - and help you through any situation. They can conference in family or friends, or contact 911 operators if necessary.
That's great for Jitterbug users, but what if you really just want the 5-Star service for emergencies, and not a full phone service for $40/month? Or what if you want a real phone, like an iPhone? GreatCall is now addressing both of those markets, as well.
The Responder is for people who just want something small for emergencies. Instead of a full phone and a plan, it's only $50 up front, and $15/month. That gets you the tiny Responder device, location tracking, and one-button access to the 5-Star Urgent Response service.
It's equally useful for tots and gramps. Give one to your little tyke for emergencies and semi-emergencies like "mom was supposed to pick me up but she's not here." It also lets parents track the location of their offspring.
The Responder is very small and light, and seems well-designed and well-built. There's not much to say about the hardware.
As for your iGrandma with her iPhone, GreatCall has three apps for her.
The first is 5-Star, which works just like it does with the Jitterbug and Responder, and runs $15/month.
The second is LiveNurse, a straight-forward app that does what it exactly says. It provides basic health info in an easy-to-use app, but can also connect you to a real live nurse at the touch of a button. That service runs $4/month.
Finally there's MedCoach, an extremely comprehensive medication app that goes way beyond most basic pill reminders. The best part: it's free! GreatCall promotes their other sevices within the app, but there's no cost nor obligation for MedCoach; it's a loss leader for GreatCall.
The apps all seem well-designed. Some of the buttons could be a tad larger given the intended audience, but if the rest of the on-screen buttons of the iPhone are big enough for you, these are no smaller.
No messages