Hands On with Moneto Secure NFC Payment microSD Card
Article Comments 9
Jan 10, 2012, 4:40 PM by Rich Brome @rbrome
updated Jan 13, 2012, 9:26 PM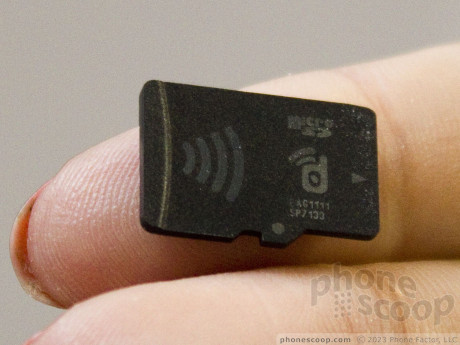 DeviceFidelity this month is launching Moneto, a new independent NFC payment solution. It lets you add tap-to-pay to any Android phone just by inserting a microSD card. We took a look at this revolutionary - and very tiny - NFC payment system.
Advertisements article continues below...
Moneto as a service isn't anything special: use a prepaid MasterCard account to buy things with your phone. But the physical product for Android phones is an engineering marvel. In one tiny microSD card, they've crammed a secure element (for encryption,) an NFC radio, and an NFC antenna, plus the controller circuits to make it all work. It's something that's been talked about for a long time, but these guys seem to be first to bring it to market.
The service works much like a basic Google Wallet app. You launch the app, tap a pay button, and tap your phone on any MasterCard PayPass terminal, and you're done! You can require a PIN code to access the app, and/or ro make make individual payments, if you wish. The PIN code is stored inside the secure element on the card, which means that - unlike Google Wallet - you make payments even when you don't have a network signal.
Like Google Wallet, it comes linked to a prepaid bank account, which you can fund from your existing credit or debit accounts. You can make such transfers right from the app.
Unlike Google Wallet, you don't need a special NFC phone or be on a certain carrier. It works with most Android phones with a standard microSD card slot. Nor do you need to wait until ISIS (the NFC payment system for Verizon, T-Mobile, and AT&T) launches in June.
There's an iPhone case version, but it's a rather bulky case. For Android, all you need is the tiny little microSD card, plus a clever sticker you place inside your battery cover to augment the NFC antenna. (The sticker doesn't need to physically connect to the card.)
Moneto is from DeviceFidelity, a company with a lot of expertise in NFC payments. They're also involved in ISIS, for example. They work with major card companies like Visa in various projects, but in this case they've partnered directly with MasterCard. University Bank is providing the banking services behind the prepaid account, via Spring Card Systems, which specializes in prepaid accounts like this.
As a backup, you also get a plastic MasterCard to access your prepaid account.
The app has a history function, as well as a mapping tool to find locations that accept PayPass.
The service is up and running now. The Android card is expected to be available in two-three weeks, and will sell for $30. The iPhone case version is available now, directly from Moneto's web site for $80, which includes a $10 starting balance on your prepaid account.
I don't get why NFC for credit cards is significant
I cut my apart my PayPass contactless credit card (with the chip in it) years ago and shoved the little tiny chip in my phone battery compartment. My latest credit card I got last month came with a secondary tiny card (about 1" x0.5") with a chip in it that was meant to be stuck on the back of your phone. So why spend $ for NFC? I guess there's software you can use, but for contactless payment, seems like it's a whole lot of something over nothing. Please tell me what I'm missing about NFC.
The whole point of it is security through the Google Wallet Application. Also for those people who dont want to carry around a credit card or want to try something new. I have everything you have and I rarely even use it. However I do plan to use this...
(continues)
One is security. You can PIN-protect it so that other people can't just bump into you to steal money from you. You can also remotely lock it, so you're safe even if the phone is stolen.

Also, with Google Wallet and ISIS, you can have multiple cards...
(continues)
Storage?
Does the microSD card also provide storage, or is it simply meant to house the NFC unit? I find the idea interesting, but swapping out my card evry time I want to make a payment is not nearly as convenient as just using my debit card.
thats a really good question. It would be far far less useful if it had no actual storage, but I'm thinking with how advanced we are with miniturized electronics, we can probably make one that doubles as NFC + actual SD storage. Even 8 GB would be go...
(continues)
A lot of high-end phones have large (16 GB) internal storage, plus a memory card slot.