Review: Samsung Focus S for AT&T
Article Comments 7
Dec 12, 2011, 9:28 PM by Eric M. Zeman @zeman_e
Samsung's Focus S is a superlative Windows Phone for AT&T. Nearly every feature performs flawlessly. Find out in Phone Scoop's full review if there's anything about the Focus S to dislike.
AD article continues below...
Form
Is It Your Type?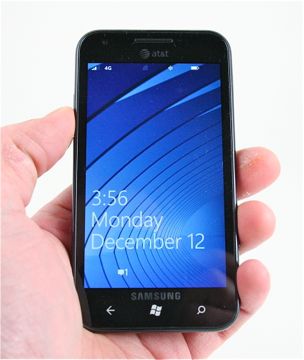 The Focus S is Samsung's best Windows Phone to-date, boasting speedy performance, a solid camera and of course Microsoft's Mango operating system. It also manages to fit snugly between the HTC Titan and Focus Flash in AT&T's Windows Phone lineup. Is it the Goldilocks of Windows Phones?
Body
The Focus S for AT&T is hardly discernible from Samsung's extensive line of Galaxy S/S II smartphones. From a distance, only the sharp-eyed geek would spot the only obvious difference between the Focus S and the Galaxy S II: three capacitive buttons instead of four.
It is an inky black slab of plastic and glass, and looks like about two dozen other smartphones on the market. The Focus S is a generic piece of smartphone kit from Samsung, but the feel of it in the hand is very good. It is thin, light, and the 4.3-inch display cuts down on the dimensions a bit. I found it very comfortable to hold and use. That plastics don't have the best feel in the world, but they don't feel as cheap as those Samsung has used on its Galaxy phones. The Focus S is solid and the build quality is excellent. Thanks to the smooth and somewhat curved surfaces, it will easily slip into most pockets.
With 4.3-inches of Super AMOLED Plus display stretching across the face of the Focus S, there's little room for anything else. Samsung did manage to place three capacitive Windows Phone keys at the very bottom edge. They all worked fine.
Other controls are kept to the bare minimum. On the left, you'll find the volume toggle in its customary place. It's well defined and has excellent travel and feedback. The lock button is opposite the volume toggle, on the right side. The lock button is also well defined; travel and feedback were acceptable, but not quite as good as the volume toggle.
As with all Windows Phone devices, the Focus S has a dedicated camera button. It's on the right side of the Focus S, and protrudes quite a bit from the side surface. It's a dual-stage button for focusing and closing the shutter. Both stages are well-defined. It's a good camera button.
The microUSB port is tucked into the bottom edge. The 3.5mm headset jack is on top.
The battery cover — which is identical to most current Galaxy S phones save for the Windows Phone logo — peels off easily enough, but it is extremely flimsy. The huge battery is accessible once the cover is removed. The SIM card can be taken out without removing the battery. Since Windows Phone doesn't yet support removable storage, there is no microSD slot on the Focus S.
Over all, the Focus S is an impressive phone. It may take a me-too approach to its design, but the hardware is functional and solidly put together.
The Three S's
Screen
The Focus S's 4.3-inch Super AMOLED Plus display is another great display on a Windows Phone device. It has the standard 480 x 800 pixel count, and is bright both indoors and out. Not even direct sunlight curbed viewability. I was able to use it outdoors to stay on top of my inbox whilst walking to the corner store to buy lunch. It's sharp, crisp, colorful, and easy on the eyes. Samsung's Super AMOLED Plus displays continue to be excellent and the Focus S is no different in that respect.
Signal
The Focus S was reasonably good at attaching itself to AT&T's network. Traipsing about northern New Jersey, it ranged between 2 and 5 bars, and never lost the signal entirely. I didn't miss any calls while testing the Focus S, but I had trouble connecting two. Coverage directly affected data speeds. When there was good coverage, data speeds excelled, but when coverage was not good, web sites slowed down noticeably. It performed on par with other AT&T devices in the same environment in most cases, though.
Sound
The voice calls I made with the Focus S on AT&T's network sounded very good. Most were loud, free of noise, and consistent in their tone. I didn't hear any network-based garbage and the earpiece broadcast clear conversations. It can be set to a loud — but comfortable — volume, so calls can be heard in noisier environments. The speakerphone also sounded very good. Use of the speakerphone did not introduce any unwanted interference, and it could be set loud enough to handle conversations in even the largest board room. Ringers and alert tones were extremely loud, but I thought the vibrate alert was a bit weak.
Battery
The Focus S's battery life seemed a bit inconsistent. One day it powered through an entire 24 hours with no problem, while the next day it died by dinner time (a difference of almost 12 hours, though admittedly a lot of it would be stand-by time over night). I made sure none of the settings were altered. It's safe to say that it will get you from the early morning to early evening each day, but whether it lasts past 7PM is hard to say. Keep an eye on the battery level and be prepared to charge it.
Basics
Menus
The Focus S runs Windows Phone 7.5 "Mango". Because licensees aren't allowed to modify the user interface, the Focus S runs menus and software that are identical to that of the Focus Flash. It looks and behaves the same as other Mango phones.
The unlock screen includes a set of notifications at the bottom that let you see missed calls, emails, and messages. They are easy to jump into once you unlock the phone. There aren't any cool lock screen features that take you directly to your inbox, though.
The home screen is made up of dynamic, Live Tiles that update their content throughout the day. You can pin applications to the homes screen in the form of Live Tiles — some active, some static — where they can behave, in effect, like widgets. I takes a little bit of time to grasp the concept, but after a while, it's really neat to watch the Tiles do their thing.
The Metro interface of Windows Phone requires you to swipe your finger to the left to discover more content/info in most apps/menus you happen to be using. For example, swipe to the left from the home screen, and you go into the main menu. The main menu is where you'll find the full list of apps, settings, and other tools.
Most individual apps can also be tweaked a little bit. Mango itself supports multitasking, or fast-app switching. Press and hold the back button, and you'll see a collection of all the recent applications you've used. Simply pick the app you want to return to, and you'll jump directly there. Mango preserves each apps' state, so when you return to it, it will be exactly where you left it.
As far as performance goes, the Focus S is extremely light on its feet. It never felt slow or bogged down.
Calls/Contacts
Calls
Press the Phone app — which is found only on the home screen — and the call history is the first thing you'll see. There are icons at the bottom that open the dialer, the People Hub or voicemail.
After a call has connected, a small pull-down menu lets you do most of the expected things, such as add a call, put a call on hold or mute, or activate the speakerphone.
Contacts
The People Hub is an essential part of the WP7 Mango experience. With Mango, Microsoft has fully integrated the contact application with Facebook, Twitter, and Linked In.
The main view is a huge list of all your contacts. Your most recent Facebook status appears at the top. There are two little buttons that, when pressed, allow you to search through your contacts or add a new one. The fastest way to search for contacts is to open the People Hub.
Swipe the entire page to the left, and you see the "What's New" column. This is a list of the most recent status updates from your contacts. It's neat way to interact with contacts.
Each contact page holds plenty of information, including email addresses, numbers, street addresses, birthdays, web sites, and so on. Making calls or sending emails directly from the People Hub is easy.
Messaging
The Samsung Focus S has the same, simple set of communications tools found on other Mango phones.
The email app supports Microsoft Exchange as well as POP and IMAP email accounts. Gmail works really well in Mango, and thanks to the Exchange support built into Gmail, you can add Google Calendar and Google Contacts as easily to the Focus S as you can Gmail itself.
The SMS/MMS application offers threaded conversations. Text appears in colored bubbles in a way that will be familiar and intuitive to most people.
As for instant messaging, the only client built into the OS is for Windows Live and Facebook. For all other IM services, you'll have to seek out third-party apps from the Marketplace.
The People Hub serves as your nerve center for social networking. It provides a rich, well-rounded social networking experience that includes Facebook, Twitter, and Linked In.
In addition to the People Hub, Twitter and Facebook both offer full apps built for Mango available in the Marketplace.
Extras
Media
Music
The Zune player is functionally and graphically rich. The player interface itself is easy to navigate and use, and the on-screen controls make interacting with your tunes easy. I like the other parts of the Zune app as well, which pull down info about your artists, and provides suggestions on other music services you might use.
Speaking of which, AT&T Radio is the only other music app installed; you'll have to download others from the Marketplace.
Video
Samsung did nothing to provide anything beyond the stock Mango video player tools. HTC, for example, added its own movie rental service and YouTube application to the Titan. With the Focus S, you're stuck with fewer options unless you go diving into the Marketplace.
AT&T did load its U-Verse mobile service, which lets subscribers of its U-Verse television services access some of their content from their phone.
Camera
Camera
The Focus S will launch the camera when you press the camera button, even if the phone is locked and asleep.
There's a box that appears in the center of the screen to help with centering the shot. Basic controls to access zoom and the video camera are stacked on right side of the display. The Focus S offers a lot of tools for controlling the camera, including the ISO, metering, photo quality/resolution, white balance, and so on.
The Focus S has touch-to-focus, and will focus on whatever you touch in the viewfinder. It focuses really fast. If you use this feature, be sure to hold the phone still. After you touch the screen, it focuses, and then shoots the picture. Alternately, you can use the dedicated camera button. Either way works.
Once images are captured, they slide off one edge of the screen, with a thin strip still visible; touching that strip takes you to the gallery app.
The camera performs lightning fast, which is what I want most from a cell phone camera (aside from great pictures, of course!).
Gallery
Microsoft assigns a lot of importance to The Pictures Hub. Your own photos are stored in one place, but the Pictures Hub also syncs the photos shared by your Facebook friends. The result is lots of pictures to look at all the time.
The Pictures Hub is all about the community experience. It lets you easily upload images to Facebook, SkyDrive (Microsoft's photo upload service), Flickr, or send them along via MMS or email. Microsoft wants users of Windows Phones to spread the photo lovin'.
The native gallery app doesn't have any editing tools other than using the "auto-enhancer" setting. All this does is fix exposure, white balance, color, etc. You can't crop or rotate, and you have no control over how the auto-enhancer works. It does its thing, and you either have to take it or leave it.
Thankfully, the Focus S includes the same Photo Studio application found on the Focus Flash. This separate app is a rich photo editor with a vast set of features that include crop, rotate, fix brightness, fix contrast, fix color, etc. It works with the pictures you've taken with the Focus S itself, but not those in your Facebook folder (it will share directly to Facebook, Picasa, and other web services, though).
Even more interesting, the Photo Studio software can act as a camera and lets you apply a lot of effects to shots as you take them. For example, you can pick panorama mode for wide vistas, or "plus:me" to add yourself to existing photos, and so on. It's a neat tool that bolsters the Focus S's otherwise stock camera.
Pictures/Video
Pictures
The Focus S has an 8-megapixel camera and the images I captured with it were all quite good. I saw accurate color, sharp focus, and crisp, clear results. There's little grain and some of the images really "popped" with detail. You have to manually choose the Macro setting for close-ups, as the Focus S doesn't focus on close subject without it. Other than that, the Focus S has a really good fire-and-forget camera that you don't need to adjust much to get good pix.
Video
The Focus S captures video in either VGA or 720p HD resolution. The VGA setting was stunning. I've never seen such good-looking VGA video in my life. The 720p HD video was quite excellent. It didn't have any of the over-sharp and jitter problems I saw on the Focus Flash. Instead, video was accurately exposed, in focus, and colors looked rich and warm.
Browse/Customize
Browser
Internet Explorer 9 is a solid alternative to the likes of the Android and Safari browsers. The speed improvements made by Microsoft are real, and both mobile and full HTML sites look really good on the Focus S's display. Browsing speeds were a bit hit-or-miss, depending on network coverage, but the browser did the best it could with whatever signal was available. It supports the standard list of features for a smartphone browser, including pinch-to-zoom, double-tapping to zoom, multiple tabs, etc.
Customize
Windows Phone 7 Mango offers few customization tools. Users can recolor, rearrange, delete, and otherwise organize how the Live Tiles behave on the home screen. But that's about it. The main menu is stuck in the list view, which gets kind of old if you install a lot of apps. Being able to pin apps, shortcuts, web pages, etc., to the home screen as Live Tiles is cool. Beyond these simple controls, however, the Windows Phone interface remains relatively locked down. It would be nice to see even the color palette for icon/background colors changed up a bit.
Extras
Apps
The Focus S doesn't have too many apps preloaded. I count 25 out of the box, which is half od what most Android phones ship with. AT&T has preloaded five of its own, branded apps on the handset. There's very little bloat. The Marketplace for Mobile is a pleasant place to browse for apps, which are plentiful enough to make up for the lack of apps pre-installed on the Focus S.
Bluetooth
The Focus S's Bluetooth radio worked as it is supposed to. I had no trouble pairing with any device. Phone calls via mono Bluetooth headset sounded excellent. Music pushed through stereo headphones was also good.
Clock
Most smartphones these days offer a white, digital clock of some sort on the lock screen. The Samsung Focus S does this, too. It is a bit too small, if you ask me, and isn't as noticeable as the date is (which I usually don't care that much about). I wish there were a way to control the clock on the lock screen. There isn't. It suffices, but just.
Maps
The Focus S uses Microsoft's Bing Maps. The feature set is the same as most other free mapping services, and it offers a rich user interface and step-by-step directions. The Focus S also has AT&T Navigator, which works very well, but costs $10 per month to use.
Office
As with all Windows Phone devices, the Focus S syncs well with Microsoft-based work and productivity tools. The versions of MS Word, Excel and PowerPoint that are in the Office Hub sync perfectly back and forth with the desktop versions. Users can save files to their personal SkyDrive for access later or from PCs. The Office Hub also lets people share documents and files if using the Focus S on a corporate network.
Wrap-Up
The Focus S takes all the good things I saw in the Focus Flash and offers them in slightly larger and better-looking package. The Focus S performs well across the board and there's little negative I can say about it.
The worst problems the Focus S has are related to Windows Phone 7's rigid appearance and behavior. If you don't care all that much about customizing the appearance of your smartphone, however, this needn't concern you.
Bottom line? All three Windows Phone 7.5 Mango smartphones offered by AT&T are excellent devices. The HTC Titan is the enormous Father Bear. The Samsung Focus Flash is the Baby Bear. The Samsung Focus S is akin to the Mother Bear. It's not too big, it's not too small. It works well, and is a good addition to AT&T's roster of devices.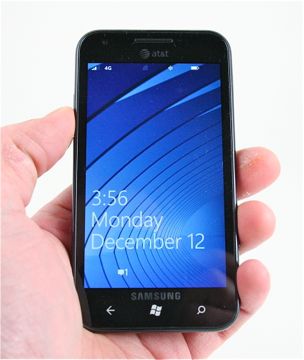 Android option?
When will there be an Android option for this phone? Seems like a waste to only provide WP on a good piece of hardware...
jjprusk said:
When will there be an Android option for this phone? Seems like a waste to only provide WP on a good piece of hardware...
Totally agree. WP7 is such a hard sell anyway. No one wants it.
The Galaxy S II for AT&T is essentially an Android version of this phone.
WP7 is so hideous
It literally hurts my eyes looking at it. Those big a$$ fonts and then sometimes the words overlap to the next screen. Ridiculous! Then those ugly square tiles all one solid color on a plain black background. Yuck just yuck!!! Metro UI is the ugliest, most dull interface I have ever seen on a smartphone. WTF was Microsoft thinking. I just can't get over how ugly it is SMFH!!!
To each their own in this smartphone race.

😛