Review: LG DoublePlay for T-Mobile
Form Basics Extras Wrap-Up Comments
Is It Your Type? Body The Three S's
Dec 8, 2011, 8:06 PM by Eric M. Zeman
LG's DoublePlay features two screens, a split keyboard, and the ability to multitask like almost no other smartphone. Can anything hold this Android device back?
Advertisements article continues below...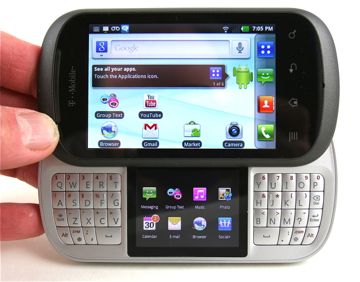 LG takes a different approach to Android smartphones with the DoublePlay. It's a sideways slider with full QWERTY keyboard and a trick, second display that lets you multitask like no other Android phone. But is the second screen truly useful, or just a gimmick?
No messages