Hands-On: LG DoublePlay
Article Comments
Nov 17, 2011, 8:10 PM by Eric M. Zeman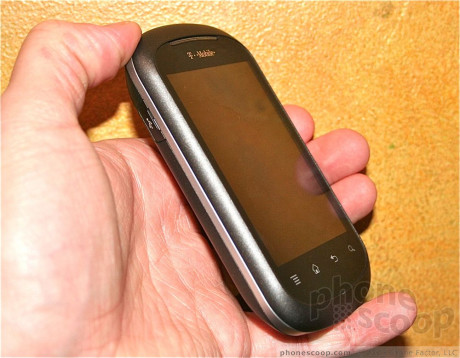 The DoublePlay from LG targets multi-taskers with its duo-display set-up. Are two screens really better than one? Phone Scoop digs in to let you know.
The LG DoublePlay brings a whole new meaning to the term "multitasking." This unique Android smartphone has not one, but two displays that can be put to task.
It is a sideways slider, which means it carriers some bulk to it. It is plain looking, made of simpler plastics, and doesn't come off feeling like a high-end handset — it doesn't feel cheap, either. Despite the thickness, it has a nice texture to the outer shell that is pleasing to touch. I liked the way it felt in my hand when I gripped it tightly.
There are four capacitive buttons below the display on the front to control the usual Android menu items. They all worked well. There are few other buttons on the outside of the device, save for the volume toggle and power/screen lock key. They have a decent feel to them, but not the best feedback. There's also a 3.5mm headset jack on top, and a port for microUSB cables for charging and data transfer.
The slider mechanism feels OK, but not great. It wasn't loose or anything, but the spring assistance is minimal, and it felt as though there was sand in there somewhere, causing there to be a grittiness when sliding the DoublePlay open and shut.
Once open, the DoublePlay has a split keyboard, with a small secondary display in between. The keyboard itself was decent, but not awesome. The keys have a nice rounded shape to them, but are slippery under the thumb, and don't have the best travel and feedback. Also, it will take most users a while to adapt to the split-screen set-up.
So what's the deal with the second screen?
It acts as a little multitasking pane. Users can add shortcuts for up to eight applications. Accessing them in the little display does *not* load the app on the main screen. Instead, a small, customized version appears on the small screen, letting you compose text messages or emails, surf the web, load music or photos, and so on. While you're doing this, the main screen can still be used for whatever other task you're doing. If you *want* to send the small screen up to the big screen, all you need do is press a little button and it duplicates.
It's a neat concept that will surely be useful for some users.
Otherwise, the phone runs a fairly stock version of Android 2.3 Gingerbread.
No messages