Hands-On: Samsung DoubleTime
Article Comments 3
Nov 17, 2011, 8:03 PM by Eric M. Zeman
updated Nov 19, 2011, 5:42 PM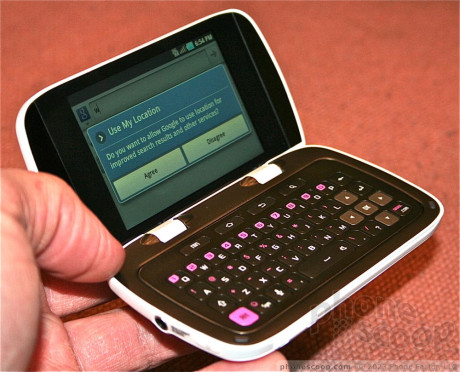 The DoubleTime is an entry-level clamshell Android phone aimed at converting the quick-messaging device crowd to smartphone users.
The DoubleTime is a form factor we haven't seen on an Android smartphone in a while — it's a clamshell flip with a full QWERTY keyboard.
The DoubleTime is definitely an entry-level smartphone. The materials were the lowest quality of all the devices we saw this evening. The white plastic alone says "low-end" to me. It reminds me a bit of the character EVE from WALL*E, but not nearly as attractive or shapely as EVE was.
It is a thick phone, feels fairly heavy, and the smooth finish gave it a slippery feel. There are no controls on the right edge - where the hinge is — but the volume toggle was on the left edge, near the top. It was stiff, and stuck out a bit too far for my tastes. The power/lock button was up on top, as was the 3.5mm headset jack.
Rather the use capacitive controls, the DoubleTime has four physical buttons below the display for accessing the Android menus. These four buttons worked very well, were easy to find, and felt great. The display is not as dazzling as the higher-end Super AMOLED displays, but it still holds its own.
The hinge to open the DoubleTime is solid as a rock. It reminds me a lot of the enV series of phones from LG. The hinge locks in place, and can be set to make the DoubleTIme look like a miniature laptop of placed on a desk. The inter display offers the whole Android experience and doesn't skimp on anything. It is nice to have two, fully functional displays on a smartphone. Too band you can't use them both at the same time.
The DoubleTIme has a really good keyboard. SInce this is a lower-end handset, Samsung didn't have to work as hard to make it thin and pretty. That means it is more functional. The keys have a good feel to them, they are easy to find and use, and the travel and feedback is excellent. The DoubleTime is clearly aimed at the QMD crowd.
As for performance, it didn't appear to run any slower than the Captivate. Everything was quick and responsive.
wish this came to Verizon
My girlfriend loved all of her LG EnV phones and has a Pixi now, but wishes there was an EnV Droid on Verizon so she can enter the modern age, this would be the perfect design
VZW had the opportunity for something probably nicer than this. There was an EnV Pro device that VZW was testing but decided not to pick up, actually decided not to pick up twice. I saw the EnV Pro and it was a good looking device, VZW could still c...
(continues)
very odd Samsung
Everything about this device just screams LG to me. It's like the ally on top of an enV3